The Scouting Report: Memphis Grizzlies, Game 2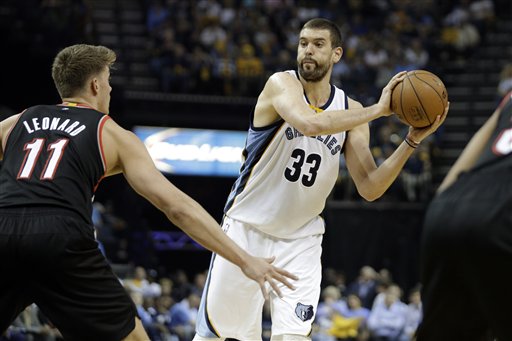 Projected Memphis starters: Mike Conley, Courtney Lee, Jeff Green, Zach Randolph, Marc Gasol
Projected Portland starters: Damian Lillard, CJ McCollum, Nicolas Batum, LaMarcus Aldridge, Robin Lopez
Injuries: Arron Afflalo (shoulder) questionable
Damian Lillard didn't play his best game and forced some shots he didn't need to take in Game 1. Like this one below. Peep a wide-open Meyers Leonard in the right corner, a spot where he shot 61 percent in the regular season, while Lillard puts up a shot with three white shirts in the vicinity.
But Dame also missed a lot of shots that came in the flow of the offense: an open corner-3 in the first quarter, another that came off a dribble-handoff play that was wide-open. Not to mention the types of dribble pull-up 3-pointers that's taken him to All-Star games, won a playoff series that makes him Damian Lillard.
He had a bad game and did force the issue at times. When Lillard has a bad game, throughout his career, he usually knows when to dial it back and get back to being the guy he is. Getting Portland into their offense, hitting shots that come in the flow before unleashing some of his trickier shots. It just so happened a lot of those flow shots just didn't go in in Game 1.
Transition defense: 
The Blazers showed confusion in the fast break a few times. Leaving Courtney Lee in the corner to close out on Zach Randolph at the 3-point line or leaving open the red-hot Beno Udrih in transition.
These are things that the Blazers should be able to fix. Missed shots leads to quick run outs and if Portland can't find reliable ways to score (more on that below) and make Memphis play against a set defense, it's gonna be a short series.
Making shots will go a long way. For as unsightly as Lillard and Portland's defense was against Mike Conley, a fair number of Conley's makes came from plays in transition off missed shots.
Here we see Batum pointing to Lillard to pick up his man, Green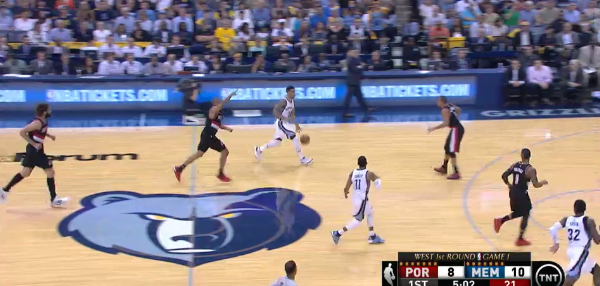 Batum is on Conley and tries to reach in for a steal on the outside with no rim protection back in transition.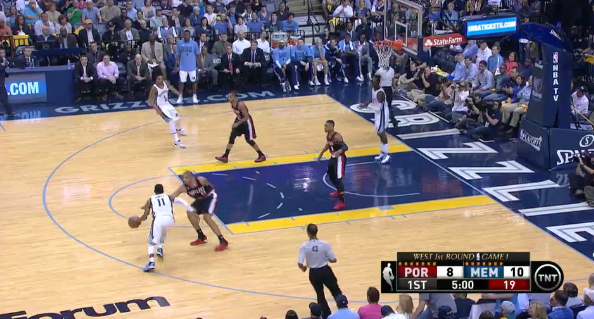 Batum gets on Conley and reaches in. Conley blows past him.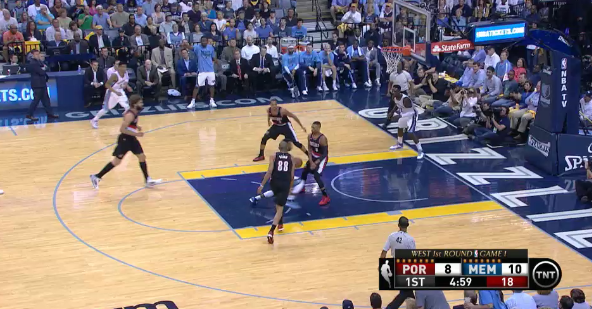 Lillard tries to take a charge on Conley but Conley side-steps it for an open lay-up.
This was one of many suboptimal defensive plays in transition.
The Grizzlies outscored the Blazers 15-6 in fast break points but their communication, even in semi-transition plays, looked poor.
Take this play after another Portland miss. Conley uses the confusion to his advantage again, blowing past Lillard who lazily passes Conley off to Aldridge.
But by that point, Conley has the corner, going to his strong hand and it's a bucket.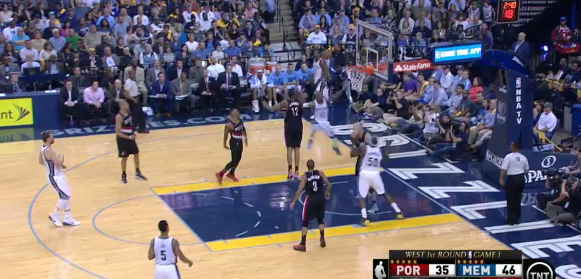 As many problems as Portland had with their defense on hand-off plays and pick and rolls, transition is something that can be stemmed by forcing the Grizzlies to take the ball out of the net.
So how does Portland find ways to score?
The Meyers Leonard question:
There's no reason Meyers Leonard shouldn't start Game 2 or at least get a significant minutes increase.
Robin Lopez has been an integral part of this Blazers team as we know it. By doing the dirty work, he helped elevate everybody's game on the Blazers. He's been great in his career and what I'm about to say isn't ever going to takeaway his selflessness and character he brings every night. And he's not the type of guy, or hasn't shown to be the type of guy, that would take offense to Portland making a switch.
If Portland isn't going to switch the match-up with the starters by putting Aldridge on Gasol and putting Lopez on Z-Bo, what's the upside of having Lopez out there if he's not protecting the rim? And it wasn't as if Portland's starting line-up with Lopez played well defensively, posting a D-Rtg of 108.1 in Game 1 per NBA.com.
Portland can't afford to let the Grizzlies to play from the lead again.
Portland is never going to out-tough and out-grit-and-grind the Grizzlies. Portland's starters had a 73.4 offensive rating, meaning they averaged 0.73 points per possession. With Leonard in, instead of Lopez, they scored at a rate of 93.8 points per 100 possessions. Not great but still much better.
Portland must attack Memphis by air and not by land. Lopez protects the rim well, but he's not protecting the rim guarding Gasol from 15-feet out. And Lopez has never been a shut-down one-on-one defender. He took his lumps against Dwight Howard last season but Howard almost always lurked on the block, meaning Lopez could help protect the rim more. Guarding Gasol at the midrange neutralizes his best defensive skill.
It also feels like concerns about Leonard holding up against Z-Bo and Gasol on defense are based more on the perception than it is on what he's actually doing. Kaman looked great in Game 1 but he can't hold up playing starters minutes and Stotts has been cautious of not over-extending Kaman all season.
Meyers was not afraid to use his strength, banging Marc around during his garbage time minutes and it looked like Gasol wanted to kill him. He'll jump up and lose track of the ball on occasion, but he's not providing those same "OH MEYERS" moments as he used to.
I am starting to wonder whether the perception of Leonard is outweighing the actual risk of playing him defensively. And whatever risk it is, it doesn't outweigh the reward of living with terrible spacing. Here, Gasol is cheating over to help on Aldridge but Aldridge gives it up to Leonard who knocks down a trey. And the more Leonard makes, the less Gasol can cheat over.
Leonard grabbed nine defensive rebounds in his 17 minutes of play. Lopez grabbed two in 19 minutes. One of the few positives for Portland in this game was when Vince Carter tried to punk Leonard before a shot, hitting him in the chest, Leonard then threw the 17-year veteran aside like a rag doll before grabbing a rebound. And he also whacked Gasol multiple times.
Here's a gem of nice pick and roll defense from Leonard in the fourth quarter.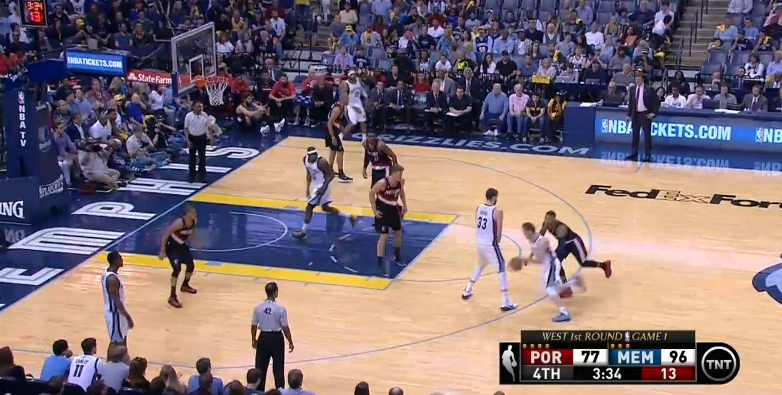 Meyers stunts over to get in front of Udrih who was red hot all game. Udrih makes a nice bounce pass to Gasol.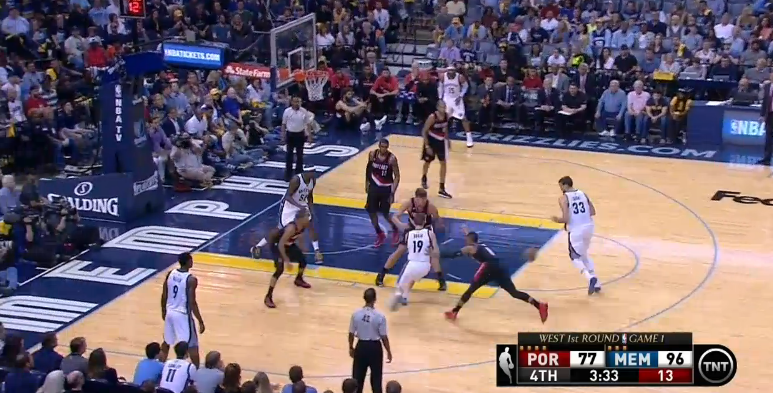 Then Leonard darts back to beat Gasol to the spot and make him take a tough shot around the basket without letting him get right to the rim.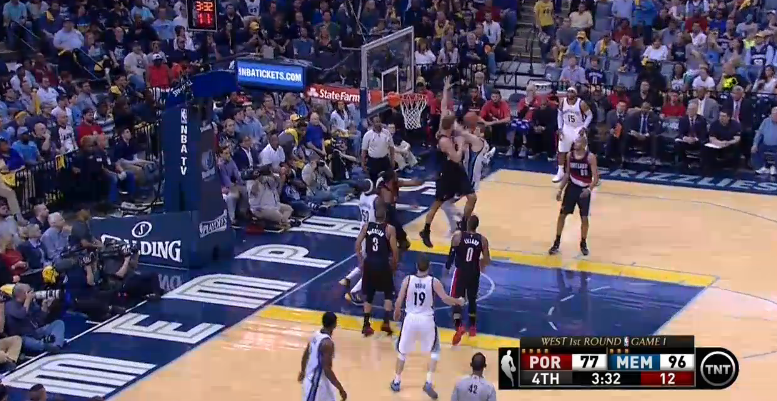 Here Meyers does a nice job on the left block against Zach Randolph which he shuts down well forcing Randolph to pass out when he can't overpower Leonard.
Is playing Lopez worth this type of attention on Aldridge?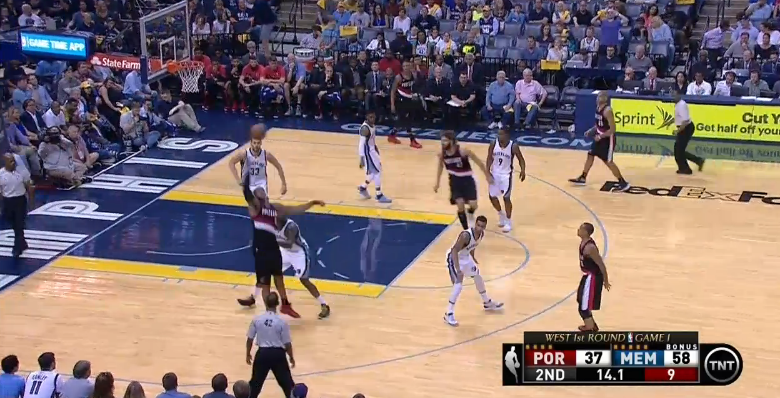 And Leonard's shooting isn't the only thing he can do on offense. The guy can run the court like Aldridge used to in his younger days. Look at the open look Aldridge gets because of Leonard's rim run. Aldridge misses it but the look was one of his rare good looks all night.
Lopez isn't a bad player but for Portland to succeed, they have to score. Right now, Leonard gives them a better chance to do that. And even if Leonard starts, Stotts could still give him some minutes at 4 with Lopez at center when Aldridge rests some.
Leonard's defensive minutes didn't look bad and in an even game, the intensity will be higher from Gasol and Z-Bo. But Leonard looked ready for the challenge and physicality in Game 1.
It would be unlikely to see Leonard start in Game 2 just because Stotts isn't a coach that is going to make wholesale changes like that. But Leonard has to play more and play more with Aldridge. Not to mention how that will open things up for Lillard. Stotts has already hinted at changing their big-man rotation per Mike Richman of The Oregonian.
Leonard's confidence in himself has never been higher. If he can be the stretch-five he considers himself to be, he'll not only help Portland's spacing but most importantly: make Aldridge happy by doing work at the five on the other end.
Lopez will certainly still play and he's got to play better.
But Leonard's shooting and the threat of his shooting could change this series.