Trail Mix: Blazers reportedly scared Aldridge will leave and "Pancarta-gate"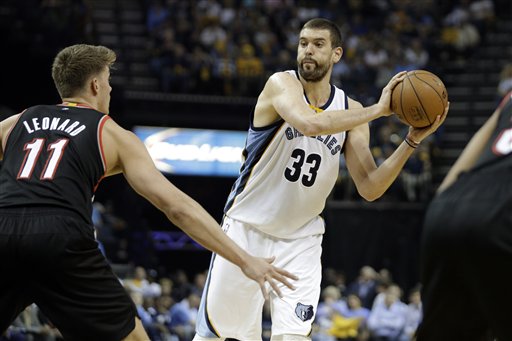 So you thought Game 1 was bad? Well the news cycle has done the Blazers one better. Not only is their fear of LaMarcus Aldridge leaving in the offseason, they also have a sign in their locker room, that, among other things, says "we don't lose to Spanish players."
Which, yes, that is correct. They don't lose to Spanish players. They only got their asses kicked by one. But before we go more into that topic, we shall discuss the bomb from Jason Quick of The Oregonian regarding Aldridge's future in Portland.
Some Blazers players have already said they are worried free agency will take Aldridge away from Portland this summer. Earlier this month, before a home game, a Blazers player estimated the chances of him returning to Portland at 50-50.

…

But one Blazers player cautioned that Aldridge already has enough money. Happiness is what he is truly seeking, and that could be found in being closer to family in Texas.
So, the Blazers looked really bad last night and the question of whether Aldridge will comeback, which has always been a fair one to ask.
Aldridge told the Oregonian last summer that he planned to say. But anybody who could look through the public relations curtain of that move knew that the announcement only meant that he wasn't going to sign an extension last summer. That was it. That was the news. Anybody saying anything publicly, before free agency, is a moot point. This is the post-Decision era we are living in.
Aldridge's return to Portland has never been a guarantee and the injury to Wesley Matthews made that a much more believable turn of events. Remember him wanting to play for Team USA for over a year before deciding to back out? What Aldridge says has never been what we go by. To me, the action of him turning down surgery to play the rest of the season was a much more important gesture. But of course, Matthews went down about a month later.
So, while the report may be alarming to some, it's not exactly breaking news that he could leave in the summer. Because that's been the situation for several years. It's going to be a tough choice, especially if the Spurs come calling.
Of course, that's a lot of money to leave on the table if he choses to leave. And also the chance to be the best player in a franchise's history. There's a lot of series left to go and a whole summer left to speculate. And only Aldridge truly knows what's in his head. He could stay or he could go. Always has been that way and it always will. So let's just leave it at that.
But on to another Blazers topic sweeping the interwebs, what I'm calling "Pancarta-gate."
In a column from The Oregonian's John Canzano, where he rightfully called out that Damian Lillard was a no-show in Game 1,  he also revealed an odd sentence that was on a placard (una pancarta en español) in the Blazers locker room. On it, among other things, it said  "We don't lose to Spanish players."
From Canzano's piece:
Because that middle section included such oddities as, "We don't lose to Spanish players," and "Nobody can beat us eight times in one year." Also, it includes a vow to, "Win the dog fight," and, "We will play as a team and outwork Memphis each and every night." Also, "We are better when we come to play," and a promise to be, "(Expletives) on defense."
The statement of "we don't lose to Spanish players," is, as they say, problematic. And it may also be part of Terry Stotts' underground ties to France and Nicolas Batum's known aggression towards the Spaniards! The French-speaking Coach and the the Frenchmen have take over the asylum! It's a French-driven conspiracy! (These are jokes, for those of you who lack a sense of humor).
In all seriousness, it was pretty stupid to say anything remotely like this about a guy who has routinely owned all of your big men. The Blazers have also had a host of Spanish players throughout the franchise's history, including Rudy Fernandez, Victor Claver, Sergio Rodriguez and the first ever Spanish NBA player, Fernando Martin. According to Brian Schroeder, Portland or Memphis have employed 7 of the NBA's 11 Spanish NBA players.
And also, seeing headlines like "anti-Spanish players sign" is pretty ironic, if you have any sense of history and have studied Spain's history extensively as I have been lucky enough to do. It's especially funny when you consider Spain's history of, you know, being anti-(insert ethnic group here). I lived in Spain a few years ago during college and the racism (spanning from Muslims, to people of Asian decent, to African and Latin American immigrants) is just as real now as it was then.
But that's not the point here.  This was weird and it was stupid to say, even if it was "light-hearted."
How about you just get your team ready to stop Beno Udrih hand-offs like you've seen them before? Or have your guys ready to stop a fast break without getting confused on rotations? Or maybe stop trying to play like a team you're not.
Canzano said it best. It was just odd and it shouldn't have had a place in a locker room.
Moving on!
Corbin Smith had a great recap of Game 1 in the Willamette Week including where Beno Udrih's game ranks in the Slovenian Museum of Basketball History and Miscellany.
I broke down the film of last night's game but that's for another post that will come before Game 2 including more investigation into the Meyers Leonard question.