Blazers get beat up by Grizzlies in Game 1, 100-86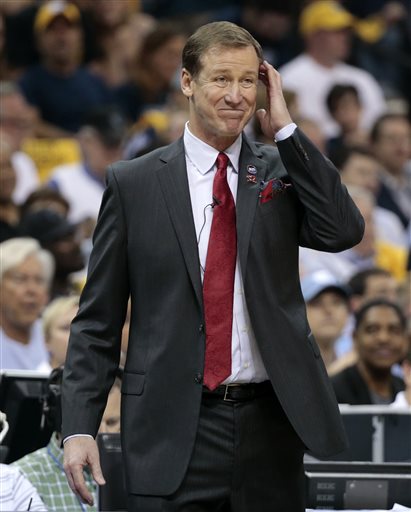 Let's start with the bad news for the Portland Trail Blazers first.
They got beat on 100-86 and Memphis didn't really let them get comfortable. LaMarcus Aldridge looked like Zach Randolph got in his head at times, though Aldridge's physicality was more life than most of the Blazers showed. He got an early technical and it led to some more favorable whistles. But he was visibly heated in a game where most of his teammates did not show the same fight.
The good news: it's only Game 1.
There are some things to unpack about this game tonight.
Let's start with the beginning.
After leading on that he would start Allen Crabbe if Arron Afflalo couldn't play, Blazers head coach Terry Stotts changed course by starting CJ McCollum.
The Blazers ran a play for McCollum at the outset but he missed an open 3-pointer. That would be a theme for the Blazers guards for the rest of the night.
But where the strategy had a major drawback was at the end of the first quarter.
Portland was down by only five points when McCollum picked up his 2nd foul with 3:34 left. This led to the Blazers having to go to war with a backcourt of Nicolas Batum, Steve Blake and Allen Crabbe. Portland ended the quarter down by 10. Crabbe did alright on both ends while Beno Udrih ate Blake for breakfast. With two ball-handlers who always look to pass first and a non-creator in Crabbe to close the quarter, it put Portland's offense in a tough spot.
Of course, the Grizzlies blew the game open later on and that wasn't the only thing Portland didn't do well. But it let Memphis play with a 10-point lead for the next three quarters and you never want to let Memphis play from the lead.
The 2nd foul forced Batum to come back into the game and it limited the time of the game where Portland could best maximize McCollum's shot creation.
McCollum had a bad night and was 1-for-8, but his role was much different on Sunday than it has been for most of the season. Stotts apparently wanted to play McCollum for scoring reasons but unless there's something wrong with Damian Lillard, I don't see why Portland needed another creator out there, at least to start the game. If he makes an open 3-point shot on the first play we're probably singing a different tune. But the NBA is a make or miss league.
But McCollum wasn't the only Blazers guard who had an off night. Which brings us to the man who will be the focal point of many columns in the next few days: Lillard.
The Grizzlies attacked Lillard early and he acquitted himself well against some sets that were meant to free Mike Conley early on. But Conley, playing with one leg and having to take off his shoe when he sits on the bench, still got the shots that he wanted and torched Portland. Lillard, at least in Game 1, had no answer on the other end.
You have to wonder how he's doing if he's unable to take advantage of a hobbled Conley, as many speculated on twitter during the game. He also missed some easy ones. It wasn't his night and he has to be a reliable No. 2 for Portland to have a chance.
But it's unlikely Udrih puts up another superstar line of 20 points, seven rebounds and seven assists again.
Aldridge played with fire and maybe sometimes, too much. On one drive in the third quarter, Lillard set up Aldridge with an easy 10-footer and Aldridge proceeded to try and backdown Zach Randolph, turning down one of his easiest looks of the night.
It seemed like Memphis' physicality got to him. But Portland, as a group, didn't show half of the fight that Aldridge displayed for much of the game. His early technical resulted in some easier calls. And he might very well get more of those calls in Game 2. He finished with 32 and 14 on 34 shots. He'll be fine in Game 2.
Portland also missed a lot of shots they would normally make. But the Grizzlies defended them well and Portland looked out of sorts.
One thing that Portland may have to look at in Game 2 could be starting Meyers Leonard, who helped Portland get the game back under 20. Robin Lopez was invisible and Chris Kaman did a great job in spot minutes with good defense and excellent passing. Kaman could be a temping guy to start but he can't handle starters minutes.
According to NBA.com, the Blazers' line-up of Leonard-Aldridge-Batum-McCollum-Lillard outscored the Grizzlies in nine minutes by six points.
Portland's defense did not inspire a whole lot of hope, but what hope is there in this series for the Blazers if they can't score? Memphis is a mediocre offense and they're less explosive with Conley hobbled.
Stotts may have to employ guerilla tactics and start Leonard in Game 2. It's the playoffs, after all. The "a" in April, is for adjustments, didn't anyone tell you?  At least a minutes increase would be warranted. Memphis is a team where Leonard's lack of quickness can't be exposed by quick stretch-fours and he rebounded surprisingly well on the defensive end, finishing with nine defensive boards.
The Grizzlies were running away with the game and those line-up numbers should be taken with a grain of salt. Still, it something that deserves further investigation. Leonard held his own on defense and Lopez's rim protection is less useful when having to cover Gasol at the free-throw line extended. The spacing that Leonard can give Aldridge, not to mention Lillard off the dribble, is something no other big man can give Aldridge.
Afflalo coming back would also be a boost for the Blazers. But if Portland can't open things up for their stars, they're as good as done.
Blake, Lillard, Lopez and McCollum have to answer the bell.
And Stotts might have some decisions to make.