The Scouting Report: Memphis Grizzlies, Game 1
Memphis projected starting line-up: Mike Conley, Courtney Lee, Tony Allen, Zach Randolph, Marc Gasol
Portland projected starting line-up: Damian Lillard, Allen Crabbe, Nicolas Batum, LaMarcus Aldridge, Robin Lopez
So it begins. Sunday at 5PM the Grizzlies and Trail Blazers will kick off the first of a best of seven series at the Fed Ex Forum in Memphis aka "The Grindhouse."
The Blazers are going to be in one of the toughest venues to play in in the league. The Grizzlies are heavily favored to the series and Portland is starting the series behind the 8-ball as Arron Afflalo is doubtful to play with a shoulder injury.
But health is an issue for both teams. And no player's healthy will be more important to the series than that of Mike Conley. Conley is a Star level point guard and is arguably better than Lillard. But his injury sounds a lot like plantar fasciitis, an injury which rendered Charlotte's Al Jefferson meaningless in last year's playoffs.
Above any match-up, the health of Conley could determine this series.
But, even if Conley is not in full health, the Grizzlies have found ways to attack Damian Lillard.
Marc Gasol is the fulcrum of the offense. But against the Blazers, the Grizzlies have gone out of their way to attack Lillard. In a series where each team is ready for anything, the Blazers must be able to communicate better and execute better around screens.
The Grizzlies are 29th in the league in 3-point rate. They are averse to the point of playing right into Portland's defense. They have scored well against the Blazers overall, but Portland must be better and more aware of the ways that Memphis will try to get midrange shots for their guards.
For Conley:
This is the first play of the last regular season match-up between the two teams. Memphis actually scored a little bit less in this last meeting and Portland had Afflalo. The Blazers are going to need Crabbe or CJ McCollum to play good defense but here we see the Grizzlies attacking Lillard to start the game. Lillard has got to know where screens will come from. Here they run Lillard around the baseline as he chases Conley.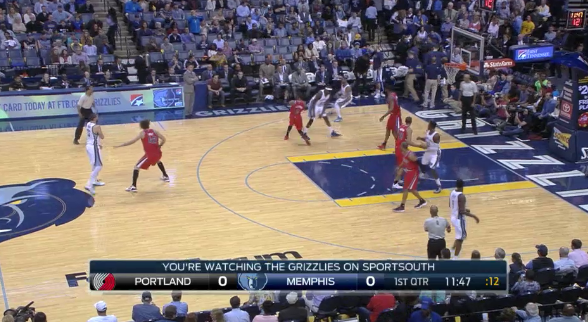 But rather than shoot right away, Randolph comes to the corner for a side pick and roll.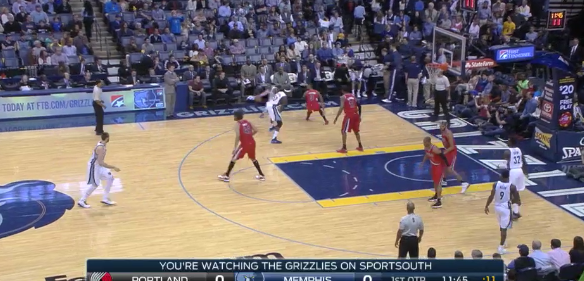 The result is a jumper. The Grizzlies will rarely attack Lillard without some kind of screening action.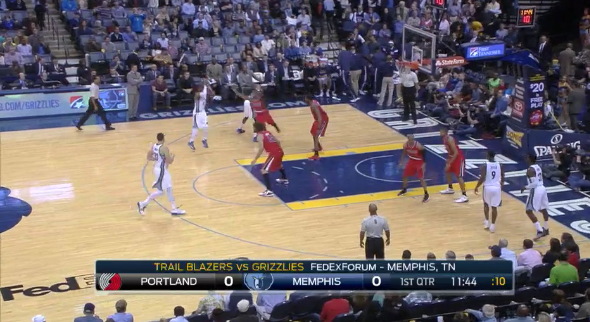 Here's another way they try to free up Conley.
As the game went on, Lillard started to go under the screens and Conley would get good 3-point looks.
Early 1-3 pick and roll:
The Blazers will almost always switch this play with perimeter players. It will mostly happen when Jeff Green is in the game. The Grizz didn't have Courtney Lee in this one and their line-ups with Green have done especially well. But Portland must be ready for this action. They switched with Batum, but it sets up another favorable pick and roll look for the Grizzlies.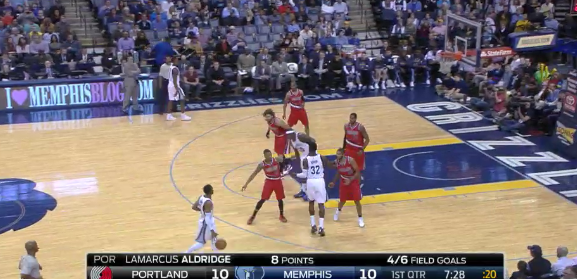 Randolph picks Batum and he gets around it.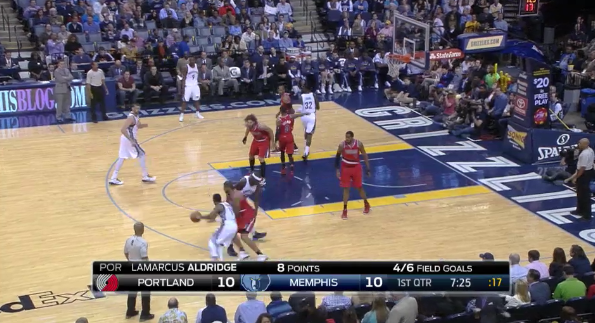 But Conley does a nice job keeping Batum on his hip and creating enough separation in the paint to make a tough shot. 
In the one match-up Conley did not play, the Grizzlies used more dribble-handoff plays to free up Beno Udrih. Lillard  Portland simply has to be better in anticipating these plays and beating them. If they don't sell out to get around these screens, it could be a short series. They stepped up their defense in the first round last year and Portland should be able to pack it in more against Memphis, especially when Allen is on the floor.
But it doesn't mean Portland can sleep on backside actions which are effective for Memphis even if they're not the prettiest.
For Udrih: 
They set up this look with a Marc Gasol post-up with Green crashing into Lillard to help free Udrih to the midrange.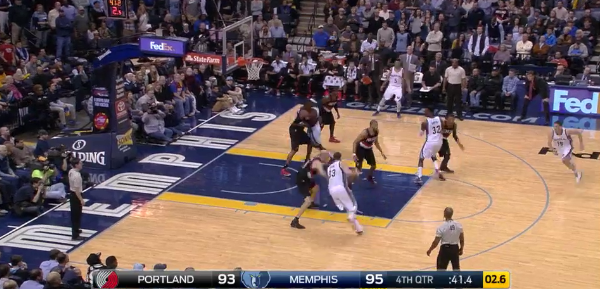 The screen from Green (the GREEN SCREEN HI-YO), catches Lillard completely off guard. 
Finally, there's some stuff that just can't happen. Lillard will be fine if he can just move his feet and stay disciplined. Reaching in 35 feet away from the basket is not something he should or can do in this series. If Portland is going to advance, Lillard has to be solid, much like he was last postseason when he was matched-up in switches against James Harden.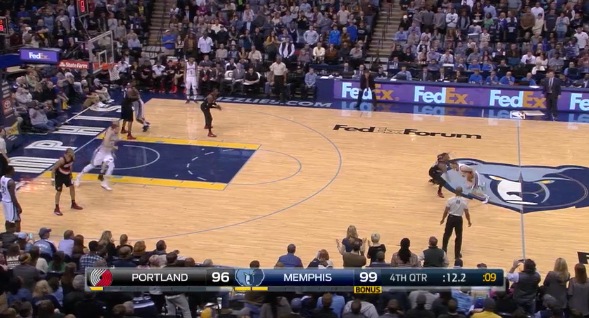 Lillard reaches and Udrih gets in front of him.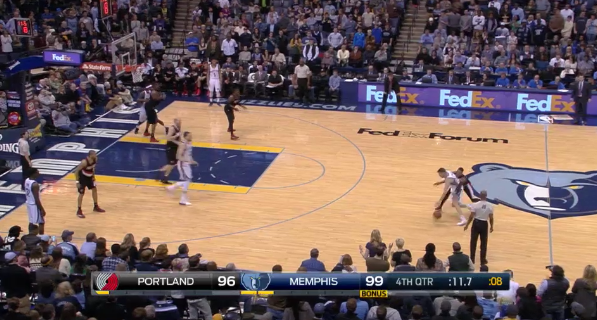 Udrih skips the screen from Gasol and just pulls up to put the Blazers away.
The Blazers need to find reliable ways to score. In the last meeting, Lillard got to the rim pretty often.
Aldridge was extremely efficient in the first half but was forced to leave the game after injuring his hand. Nicolas Batum hadn't played very well but he also had to leave that game early.
Lillard and Aldridge will find ways to get theirs. They played like superstars in last year's playoffs and they'll need to again. Portland needs to get to the free-throw line more often and Lillard can do that as well.
But Batum, of all three of Portland's most important players, has been a complete no-show against the Grizzlies. He has to rebound at his position against an aggressive rebounding wing in Allen. He also has to convert outside opportunities. He's shot 32 percent from long range and 24 percent from the field against Memphis.
He's banged up right now but he's a different player in the second half of the season and Portland needs him to be the Batum to facilitate Portland's other players but also knock down shots when they need him to. At least more than he did against Memphis in the regular season.
But above all, the health of Conley will be the biggest factor in the series and the biggest thing to watch for in Game 1.
Images provided from NBA.com's media stats site.