Blazers' guard Arron Afflalo (shoulder) doubtful for Game 1, Alonzo Gee questionable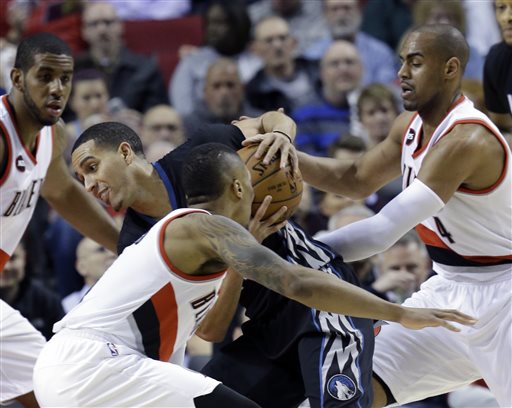 The Portland Trail Blazers updated their injury report for Game 1 on Saturday morning. And unpredictably, it showed that Arron Afflalo is doubtful for the first game of their Western Conference Quarterfinal series against the Memphis Grizzlies.
The Blazers will be trying to get a win at the Grindhouse in Game 1 without one of their better two way players.
In a surprise addition to the injury report, the Blazers said that Alonzo Gee was questionable with a foot industry. The trio that missed the season finale after getting hurt in the penultimate game in Oklahoma City: Nicolas Batum, Chris Kaman and CJ McCollum are all probable.
As we reported from Portland's final practice of the regular season, Game 1 didn't look too promising for Afflalo. He was grimacing after shooting 3-foot shots for no longer than five minutes while being supervised by Chris Stackpole.
From Saturday's Columbian:
Afflalo's shooting took place while most of the gathered reporters were distracted by the photo opportunity of Wesley Matthews taking shots while wheeling around on a scooter as he continues to recover from a ruptured left Achilles.

…

He didn't take a shot from outside of three feet and could be seen grimacing as he walked off the court with Stackpole after a session that lasted no longer than five minutes.

It didn't appear to be positive for Afflalo's Game 1 status though he was drenched in sweat immediately after reporters were left into practice.

Matthews was made available to reporters while Afflalo was not.
If Afflalo does not play, which is highly likely,  it appears that Terry Stotts will go with Allen Crabbe in the starting line-up according to the Oregonian's Joe Freeman.
Assuming Arron Afflalo's injured right shoulder is not healed, it seems most likely that coach Terry Stotts will feature second-year guardAllen Crabbe, not CJ McCollum, at shooting guard to open the game.

"I think Allen complements Damian (Lillard) and (LaMarcus Aldridge)," Stotts said, "as far as being defensive minded, not needing shots, not needing the ball."
This makes sense because it allows McCollum to use a lot of possessions when Lillard or Aldridge sits. It helps maximize the time he's out on the court. He's a great scorer and Portland usually struggles to generate looks when both Aldridge and Lillard sit. In the playoffs.
Crabbe has started in several games this season and has shown an ability to blend into Portland's team scheme. He also has fantastic length on defense and has more blocks than any perimeter player on Portland's roster.