The Scouting Report: at Dallas Mavericks (Game 82)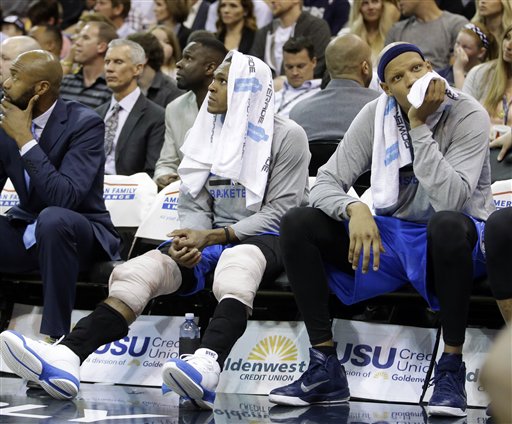 Projected starting line-up:  Rajon Rondo, Monta Ellis Richard Jefferson, Dirk Nowitzki, Tyson Chandler
Key injuries: Chandler Parsons, Devin Harris
The Dallas Mavericks have made what the Blazers have done to end the second half of the season not look as bad. They've gone .500 since the All-Star break and a win tonight give them a winning record in that portion of the season.
Obviously the scapegoat for their play since a hot start to the season that saw them become the league's best offense has been the trade for point guard Rajon Rondo.
We talked about the Rondo trade and whether Dirk Nowitzki is actually your cool uncle on the Blazer Banter podcast with Connor Huchton.
Chandler Parsons' knee injury has kept him out for the last six games, which is the biggest concern for the Mavericks heading into the playoffs. He is their best wing on the offensive end and he gives their offense more dynamic ability. Getting Parsons back would seem to be a requirement for Dallas to have a competitive series.
Devin Harris has also been a thorn in Portland's side this season in Dallas' lone win against the Blazers.
Portland blew an 11-point lead with three minutes left back on February 7th and Harris was a major factor in that loss. But even if this game is close, it will likely be decided by the Raymond Felton-Tim Frazier battle more so than seeing LaMarcus Aldridge and Dirk go mano-a-mano.
Both teams are expected to play their guys, at least for sometime. But since neither team can change their playoff destiny with the result of tonight's game, we should see a lot of the deep reserves for both teams in the second half.
Aldridge is probable to play but I doubt that we see him play more than 25 minutes. Lillard might play less than that after he keeps his consecutive games streak alive. Robin Lopez might also be a candidate for limited minutes. IT'S JOEL FREELAND! IT'S DWIGHT POWELL! THE REGULAR SEASON FINALE ON NBA LEAGUE PASS FOR 6.99!
Of course, the things to watch for the Blazers will be out of their control.
The Spurs play the Pelicans and the Rockets host the Jazz at 5PM, the same time the Blazers tip-off. The Grizzlies also pay the Pacers at 6:30. If the Spurs lose, Houston wins and the Grizzlies lose, the Blazers would face the Spurs in a nightmarish scenario for them.