Blazers vs. Grizzlies: First round schedule, brief analysis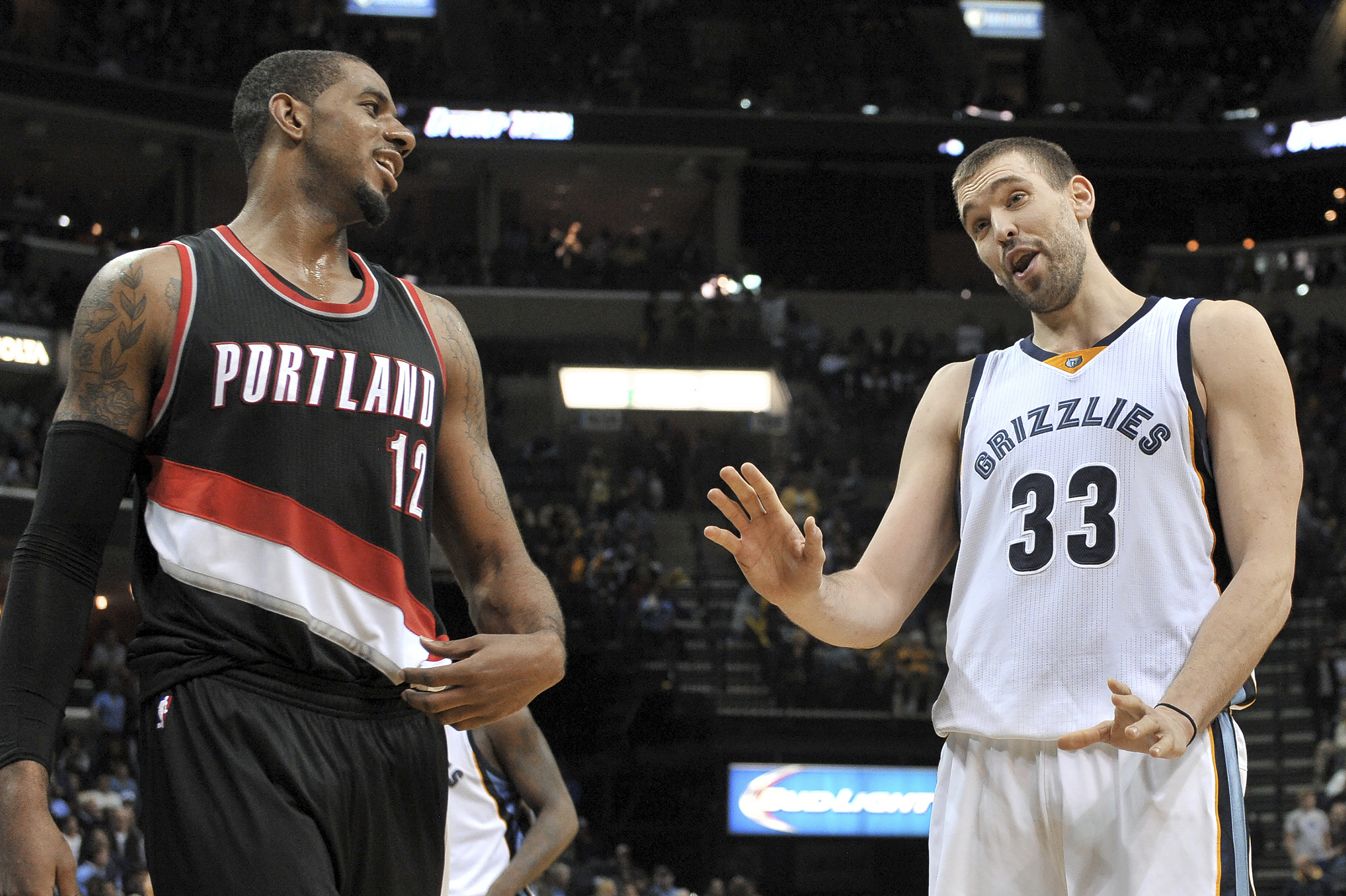 Here we go.
The Portland Trail Blazers will face the Memphis Grizzlies in the first round of the Western Conference playoffs. It's the first ever meeting between the two sides in the playoffs. Memphis won the series 4-0. But it's 0-0 now.
Game 1 is on Sunday at 5PM which will be the second to last of the Game 1's. It will be shown nationally on TNT and locally on KGW as will all first round games.
| | | | | |
| --- | --- | --- | --- | --- |
| GAME | DATE | LOCATION | TIME (PDT) | Television |
| Game 1 | Sunday, April 19 | Memphis | 5 PM | KGW/TNT |
| Game 2 | Wednesday, April 22 | Memphis | 5 PM | KGW/TNT |
| Game 3 | Saturday, April 25 | Portland | 7:30 PM | KGW/ESPN |
| Game 4 | Monday, April 27 | Portland | 7:30 PM | KGW/TNT |
| Game 5* | Wednesday, April 29 | Memphis | TBD | KGW/TBD |
| Game 6* | Friday, May 1 | Portland | TBD | KGW/TBD |
| Game 7* | Sunday, May 3 | Memphis | TBD | KGW/TBD |
The Grizzlies and the Blazers are not in good health.
Mike Conley has been dealing with an injury that sounds a lot like plantar fasciitis which is an injury that is known to linger. Tony Allen has also been injured. According to Ronald Tillery of the Memphis Commercial Appeal, Memphis head coach Dave Joerger says there is no timeline for their return.
The Blazers have injury problems of their own with Arron Afflalo about to finish up the first week of a one-to-two week timeline to return from a shoulder injury. Nicolas Batum has a bruise in his knee but is likely okay for the playoffs. Dorell Wright appears to be doing anything he can to get back on the court.
Chris Kaman was out tonight with lower back issues and this gives him and his 11-years of service some more time to rest. CJ McCollum turned his left ankle but should be ready to go.
Having Wright back would be a major help for the Blazers, especially against Memphis' second unit.
As much grief as Jeff Green has caught for how Memphis has played since he came there in a trade, the Blazers are  the one match-up where he is going to be a plus for Memphis.
Without Wright, the Blazers don't have a smallball four that can hang with Green on the perimeter and prevent him from getting to the basket. He loves to go right and Meyers Leonard is a smart player, but in his own words, he's a "stretch-five," not stretch four. Staying in front of quicker forwards is a task that he hasn't shown he is really ready for.
Where Leonard could make a mark in a match-up like that is the offensive end. He's shown great confidence in backing down smaller players and turning over his left shoulder to unleash a nice right-handed hook as of late. If there's a place where Portland can make Memphis pay for having Green go against Leonard, it's on the offensive end.
Wright, however, would be a much better match-up defensively. He was projected to be out 4-6 weeks and Friday would mark week two of that timeline.
But the schedule makers have done Portland and the Grizzlies a huge favor by giving them time to get right. Or at least something close to it. We'll have more analysis and some film study as we provided during last year's playoffs.
The home crowds for both teams are fantastic and will be the best of any first round series.
And, lest we forget, this series will be LAMARCGASOLDRIDGE.