Blazers lose fourth straight in regular season finale 114-98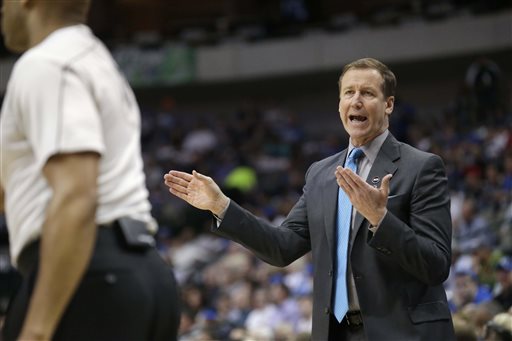 This game started poorly for the Portland Trail Blazers and finally ended. The Blazers lost to the Mavericks 114-98 in the regular season finale, extending their losing streak to four games heading into the postseason.
Of course, nothing was at stake for the Blazers tonight and they were without Nicolas Batum, CJ McCollum, Chris Kaman and Arron Afflalo. LaMarcus Aldridge played 30 minutes and looked like he was shaking off rust. Aldridge took 12 shots in the first quarter in an attempt to get his rhythm back.
Aldridge finished with 19 points and eight rebounds in 30 minutes of play. He got his cardio up and played in a real NBA game. As we've written here before, Aldridge is very particular about his rhythm. He likes preseason for just this reason. His numbers tonight, much like the result of the game, were irrelevant.
Robin Lopez played under 20 minutes and Lillard played 28. Lillard had 17 points on the night.
The best performance this evening for the Blazers came from back-up point guard Tim Frazier who finished with 13 points and 10 assists. His 10 assists were one shy of his career-high of 11, which he notched in his first ever NBA game.
Frazier did an admirable job running the offense and setting up teammates. The Blazers didn't have a whole lot of good things going for them tonight but Frazier was one of those good things.
For the Mavericks, Tyson Chandler was dominant in the first quarter and he continued that dominance throughout the game. Chandler scored 22 points and grabbed 15 rebounds while only attempting seven field goals. Rondo found him for a few alley-oops early on and the Blazers had no choice as the game went on but to foul.
Monta Ellis had 15 points for the Mavs and Amar'e Stoudemire had a throwback game scoring 13 points and grabbing six rebounds.
Truth be told: I was not watching this entire game with full attentiveness. There wasn't a whole lot to glean from watching a depleted Blazers squad with nothing to play for while three other games going on at the time were going to determine what everyone wants to know.
The Blazers will play the Memphis Grizzlies if the Grizzlies can hold on to their 13-point halftime lead against the Indiana Pacers. If the Grizzlies lose, the Blazers will play the Spurs, or as they say in spanish, Buenas Noches.
The Blazers haven't played well but they've had nothing to play for since the loss to the Warriors. Aldridge looked rusty but it's better that he shakes off the rust tonight than in Game 1 of the playoffs.
Lillard got some run in but wasn't overextended. Alonzo Gee was getting checked out by Portland's trainer Geoff Clark in the fourth quarter but it remains to be seen if that injury is serious at all.
Now the hope is that their injured guys like Batum, Afflalo, Kaman and McCollum can get healthy before they have to play in the playoffs. The Blazers' broadcasters said that Batum expects to play in Game 1 but Afflalo may not be back until Game 2.
If the Blazers were to play Memphis, they'd have a much better chance. Mike Conley's health is of great concern for Memphis, as is the health of Tony Allen. Ronald Tillery of the Memphis Commercial Appeal reports that there is no timetable for their return.
While the Grizzlies will grit and grind the Blazers in a very tough series, it's a much easier task than going up against Kawhi Leonard, Tim Duncan and co., who demolished Portland in last year's playoffs. Leonard was the difference in that series, dominating Portland's wings. He's better this season and you could argue that Portland's wing situation is even worse.
But, for now, we wait.