VIDEO: Blazers forward Nicolas Batum leaves game Monday with right knee injury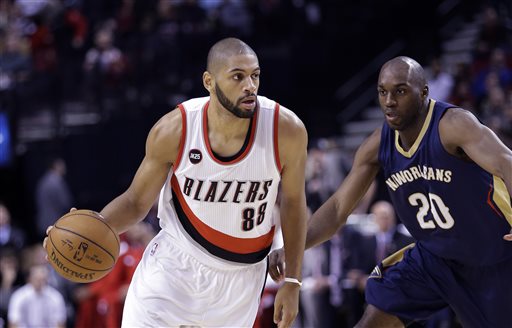 In a meaningless game, an important member of their team left Monday's game against the Oklahoma City with an untimely injury.
Nicolas Batum appeared to land awkwardly after going for a rebound alongside Joel Freeland in the first quarter of Monday's game. It was initially thought that he banged knees with Freeland but a replay showed that his knee appeared to buckle without any contact.
UPDATE 5:58 PM: The Blazers say that Batum will not return to the game with a right knee injury. They said that x-rays are negative. But of course, with knees, an X-ray doesn't mean much. The results of an MRI are much more important and the team has nothing on that front. So, we continue to wait for more on the Batum front.
[youtube http://www.youtube.com/watch?v=4_YAi-CGxjM]
(Video via YouTube user watchNBA201415, hat-tip to SI.com's Ben Golliver)
The same knee that Batum appeared to be favoring after the play is the same knee that Batum injured back in November. It's also the same knee in which he received a PRP injection.
As captured by The Oregonian's Mike Richman, Nicolas Batum sent a tweet after heading to the locker room. So, who knows how he is doing.
Batum rested last Monday back in Portland when the Blazers flew to take on the Nets. He also said following Saturday's loss against the Jazz that his back was hurting him "a little bit."