The Scouting Report: at Oklahoma City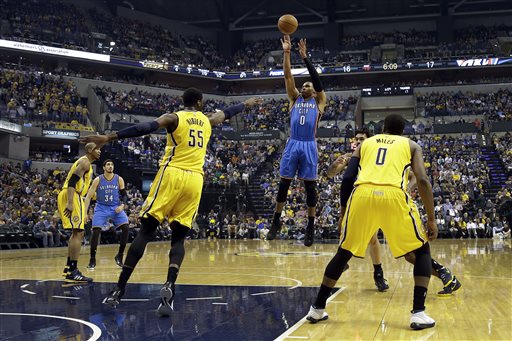 Projected starting line-up: Russell Westbrook, Dion Waiters, Andre Roberson, Steven Adams, Enes Kanter
Key injuries: Kevin Durant (foot) out for the season, Serge Ibaka (knee) out indefinitely
(The league rescinded Russell Westbrook's 16th technical foul of the season, which looked pretty tame and would have suspended him for Monday's game.)
The Oklahoma City Thunder are right up against it in their hopes for making the playoffs. The New Orleans Pelicans still control their own destiny in the race for the 8th seed in the Western Conference.
Westbrook has put up video game type numbers in the second half of the season but the Thunder have been unable to win consistently. While he has been in the MVP conversation it's clear that he did not do as much as Durant did last season. The Thunder have also played terrible defense and been without more than just Durant.
Without Serge Ibaka, their defense has completely fallen off a cliff. Enes Kanter and Mitch McGary are both skilled offensively but are turnstiles on the defensive end. Steven Adams is a tough customer but not really the type of rim protector you need.
Westbrook has done everything he can offensively. He dropped 54 on Sunday to go with eight assists and nine rebounds. He was criticized by some for taking 43 shots but I mean, who else is going to shoot?
And this brings me to another thing? Can my man Kyle Singler get some minutes. Maybe I'm totally off base here but he seems to be an ideal three and D guy to play along side Westbrook. He's long, athletic and shoots 38 percent from the 3-point line. He registered a DNP-CD on Sunday and I can't understand why.
The Blazers slipped defensively in the second half of the season but the Thunder's second half of the season makes the Blazers post-All-Star slide seem tame. The Thunder are 28th in defensive efficiency since the All-Star break and have been unable to stop anybody. For every amazing game by Westbrook there have been defensive performances like Sunday where they give up 116 points to the Pacers.
The Pacers have been a decent team since the All-Star break and have a full compliment with Paul George back, albeit in limited capacity. But they shouldn't be dropping 116 points.
It doesn't seem like LaMarcus Aldridge will go. Portland's defense is going to get tested if the league rescinds Westbrook's (UPDATE: The league rescinded the technical), and Westbrook might go for 50 again. Portland couldn't stop a D-League team without Aldridge on Saturday so all bets are off.
Portland is locked into their seed and starting on the road after Houston reached 54 wins with a win over the Pelicans Sunday. The most wins they can finish with is 53.
But for themselves and their coach, they need to show some signs of improvement heading into the playoffs. Their focus has to be there for 48 minutes, Aldridge or not.