Batum, McCollum and Kaman leave early in Portland's 101-90 loss to Thunder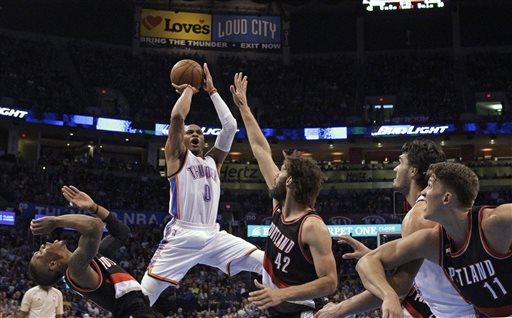 It was a rough night for the Portland Trail Blazers. First they lost Nicolas Batum to a right knee injury that didn't look very good. Then CJ McCollum turned his left ankle while trying to create separation in the backcourt.
And despite valiant efforts from Portland's reserves, the Thunder defeated the Blazers behind another great performance from Russell Westbrook of 36 points, 11 rebounds and seven assists.
Damian Lillard and Robin Lopez didn't play in the fourth quarter, and understandably so.
LaMarcus Aldridge sat out the game the game with a left foot sprain.
The Thunder jumped out to a 14-point first quarter lead. From that moment on, the Blazers played the Thunder mostly evenly. After McCollum went down towards the end of the quarter, the focus simply turned to not having anybody else get hurt, at least on twitter.
Portland's reserves, on the other hand, played their butts off in an attempt to win the game.
Meyers Leonard set a new career-high with 24 points including a career-high five 3-pointers. Leonard was basically carrying the Blazers offensively as Lillard sat the rest of the time. Lillard was also getting beat up quite a bit on drives to the rim.
Against the Mavericks, I would assume that we see even fewer minutes for Lillard. He hasn't missed a start in his career but as we've written in this space earlier today, cutting his minutes back makes sense.
Joel Freeland also made some big plays, knocking down midrange jumpers and grabbing five rebounds with a career-high 16 points.
Tim Frazier did a wonderful job running the team and passing the rock to open shooters and racking up seven assists. But he also showed why he was in the D-League for much of they year by bricking all but one of his shots on the night. Still, there's no reason not to expect that he doesn't play at least as many minutes as he played tonight against the Mavericks in the season finale.
It was incredible that the Blazers played the Thunder as close as they did but it also wasn't. The Thunder have been a bottom-five defensive team in the second half of the season.
According to Jabari Young of CSNNW, Batum said it's safe to to rule Batum out for Wednesday. Casey Holdahl of TrailBlazers.com said reports that CJ McCollum doesn't think his ankle is bad enough to get an MRI and his status for Dallas is uncertain. And Joe Freeman of The Oregonian reports that Chris Kaman tweaked his back.
Aldridge might play so he can get a rhythm back after missing a few days of action. But all of that is still up in the air.
We will wait for news of an MRI on Batum. Any bad results on that front would surely mean a short postseason for the Blazers, even if Arron Afflalo is able to come back relatively soon.
Portland's reserves played the Thunder tight down the stretch and cut the Thunder lead to as little as six in the fourth quarter.
So, Blazers fans, I hope you like watching the Tim Frazier-Alonzo Gee-Allen Crabbe backcourt because we're likely going to see a lot of it on Wednesday night.
Other things: 
For as much as I bemoan Alonzo Gee dribbling the ball, he made a few nice plays tonight. So long as it's a straight line drive or an immediate shot, he can do some things offensively. He scored 11 points and five rebounds. He's still very athletic.
Allen Crabbe didn't have a great shooting night, going 2-for-8 with four points. He did grab seven rebounds but he likely would have wanted to have a better shooting night. He was also 0-for-2 from the three.
Kaman had 14 points but he's apparently tweaked his back. He rested last week when the team went to Brooklyn so I wouldn't bet on him participating on Wednesday.
Robin Lopez somehow managed to grab 0 rebounds in 25 minutes of play.
Enes Kanter had 27 points and it looked like he and Meyers were about to get into a fight at one point during the game.
Dion Waiters took 21 shots and made four of them on his way to a 13-point night. Protect this man. He's a national treasure.
The Thunder have to win on Wednesday and hope the Pelicans don't win against the San Antonio Spurs. The Thunder play the Timberwolves who are in the lead for the league's worst record. If both teams lose, the Pelicans make the playoffs.
The Clippers and Grizzlies are both playing right now so any analysis of possible playoff scenarios will be postponed until those games are over. I don't want to give myself a headache. But we will clarify that, hopefully with some help from the league, before the regular season finale.