Trail Mix: Jazz 111, Blazers 105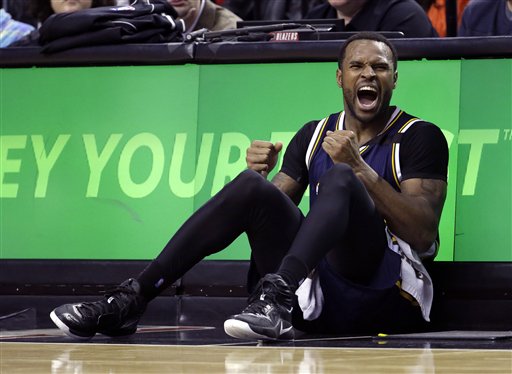 This is the look of a man who had the game of his life. Trevor Booker led the Utah Jazz to a 111-105 win over the Portland Trail Blazers with a career-high 36 points and nine rebounds.
If only there were photos of the Trail Blazers having to give jerseys to season ticket holders after the game, a tradition the team does every year after the last regular season game of the season.
Nicolas Batum sat with a glum look on his face after a 1-for-10 night that was topped off by a five-second violation. Allen Crabbe looked equally unhappy. But the Blazers professionally carried out their duty. Robin Lopez even cracked a smile in a photo.
But Terry Stotts couldn't hold back his disappointment after his squad lost to a team of D-League call-ups and Summer League stars.
"They had a lot of young kids, guys getting an opportunity, and they played hard," Stotts said, indirectly throwing shade to his team of adults. "They deserved to win. There's really not an excuse for playing the way we did. It's very disappointing, very frustrating, and hopefully it was very sobering for everybody."
According to Damian Lillard, the tone Stotts carried after the game was one of disappointment.
"I've seen him frustrated," Lillard said. "I think he was more disappointed honestly."
Chris Kaman, who played just over four minutes on the night, thought that the Blazers underestimated their opponents who were without their two best players.
"It's tough at the end of the season and you're in a tough spot with positioning, the games are important and then they're also not," Kaman said. "They didn't play Favors or Hayward. So you think, everybody thinks going into it they're not going to play their two guys. They stuck around and played hard. and we give them credit. Guys played hard and played well. Booker had a birthday night. You know, they beat us. Sometimes you're shorthanded a little bit without Aldridge. They beat us. We had ego take responsibility with that as a veteran and not coming out to play."
After the Clippers defeated the Grizzlies on Saturday, it does not matter. The Blazers are locked into their 4th seed for good and they have a very remote chance of hosting a first round series. Their only chance of that happening in the first round now rests on the Rockets losing their final three games which include two games against the Charlotte Hornets and these same Jazz.
For Robin Lopez, the Blazers continued a trend of a underestimating their opponents.
"I think we've taken a lot of games for granted against what we perceive as lesser opponents," Lopez said. "So I don't think that should be an issue for the next two games or playoffs. But it's something that somewhat worrisome."
The Blazers are locked into the fourth seed with them most likely starting their first round series on the road.
Regardless of the fact that their playoff fate is essentially sealed with two games left to go, Lillard said that the loss was unacceptable, following his coach's lead.
"You don't chalk it up to nothing," Lillard said. "There's no excuse for it. It's the last home game and the fans deserved a better game from us. It was one of those games where we didn't bring it. We didn't play good enough. I don't think it was us not caring, it was just us taking it for granted that they're not going to be a playoff team and they had players sitting out, so I think the best way to explain it was unacceptable."
Batum echoed Lillard's sentiments of the fans deserving better.
"It's tough for us for the last game of the regular season at home, to lose that way," Batum said. "It's pretty bad. The fans deserve more than that. So, we just got to go out on the road now and get back and be ready for the playoffs."
At least they got their jerseys. Other than that, the Blazers fans that paid for tickets didn't get what they paid for.
Other things: 
Judging by Chris Kaman's postgame comments and Terry Stotts' comments pregame, as well as some reading between the lines, it seems that Wednesday is the most likely day for Aldridge's return.
Nicolas Batum tried to stay positive after his 1-for-10 night, saying it's better to happen now than next week.
Terry Stotts' postgame availability is worth watching. He's never been that heated, at least this season.
Talked to Arron Afflalo pregame about what he has to do to get back. He said he wasn't sure about the type of rehab he would have to do but was certain that the Blazers' staff has a program ready for him.
CJ McCollum had 26 points and was one-point short of a career high. He and Lillard scored 54 points. But Stotts didn't want to talk about anything else than their lackluster defense.
I tweeted a stat a few times that's worth repeating here. The Jazz normally score 97.6 points per 100 possessions without Gordon Hayward and 99.6 without Derrick Favors on the court according to NBA.com. Without those two tonight they posted a 111.6, which is inexcusable. In the Blazers' locker room, where they post defensive efficiency by quarter, the Jazz posted a a ridiculous 142 in the fourth quarter.
The Blazers take on the Thunder on Monday. Oklahoma City is in a deadlock with the New Orleans Pelicans for the 8th and final playoff spot in the West. But the Pelicans have the tiebreaker thanks to Anthony Davis' buzzer-beater 3 earlier in the season.
A look at the standings after April 11: 
The Nike Hoop Summit happened Saturday as well. Here's my wrap up from the week that was and the game on Saturday.