The Scouting Report: Utah Jazz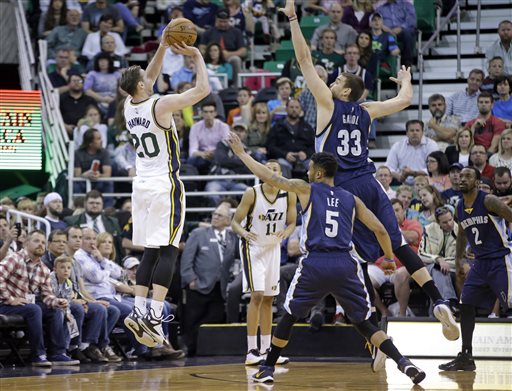 The Scouting Report: Dante Exum, Rodney Hood, Gordon Hayward, Derrick Favors, Rudy Gobert
The Trail Blazers will face the Utah Jazz for the fourth and final time this season on Saturday night. Saturday also marks the final regular season home game for the Trail Blazers.
The Blazers have won two of the first three meetings including some very tough wins. The Jazz also handed the Blazers their biggest loss of the season in their first game after the All-Star break.
Gordon Hayward has proven to be a match-up nightmare for Portland's defense and the Blazers dodged a major bullet when the two teams last played. Hayward was out due to injury and the Blazers scrapped together a comeback victory on the road. Portland went small with Dorell Wright and the Jazz simply could not match-up.
The Blazers won in Utah on March 25 92-89. It wasn't pretty by any means. Wright was a crucial part of that victory but he is now hurt and unable to participate this evening. Wright scored 15 points and his ability to admirably guard Rudy Gobert greatly helped the Blazers on a night when their stars couldn't buy a bucket.
The Blazers, however, did not have Nicolas Batum. And Batum will at least keep the match-up against Hayward respectable. At least he should.
Lillard was forced to play 40 minutes in the absence of Batum. He and Aldridge both stuggled from the field but they both also got tot he free-throw line. Lillard was 10-for-10 from the charity stripe and Aldridge was 5-of-6.
Gobert and Favors, as we've written before, are a playoff caliber frontcourt. Favors is a talented offensive player and has length on defense to contest shots at the rim. While Gobert's offense isn't very far along outside of dunking, his defense is an absolute plus for the Jazz. Portland has a front court advantage against most teams but not against Utah.
Hayward being back in the fold will make it a very tough win for the Blazers to get. The Jazz are going to try to end the regular season on a high note to build momentum coming into next season where they will have playoff aspirations.
In terms of the schedule and overall records, this is the easiest game left on Portland's schedule. But in terms of match-ups, it couldn't be more difficult. The Thunder are a one-man band, holding on to the playoffs for dear life. The Mavericks are resigned to their playoff fate.
Even though they are at home, tonight may be the toughest match-up of the final three games because of Utah's size and their desire to win this game.