LaMarcus Aldridge (left foot) OUT Saturday against Utah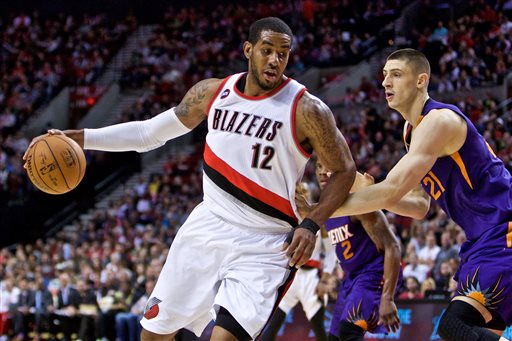 On Friday evening the Portland Trail Blazers PR team tweeted out that LaMarcus Aldridge would be out for Saturday's game against the Utah Jazz.
The team is calling the injury a left foot sprain. It's a new injury for Aldridge, who has been plagued by injuries on both hands this season.
"He had an MRI yesterday and there was soreness there," head coach Terry Stotts said. "So we thought it was best to hold him out and let him recover. Oklahoma City, we'll see."
Stotts said that Aldridge the foot started bothering him after the Golden State game and while the results were negative he still had some soreness. Stotts said he didn't have an idea for when Aldridge would come back or whether the injury had been nagging him prior to feeling soreness after the game in Oakland.
"I think it's good to maintain a competitive edge," Stotts said when asked whether he'd like  "I'd like for him to get some minutes in before the playoffs start."
Speaking cynically, this could be a cover to rest him in a brutal match-up against Rudy Gobert who has locked him up this season. Aldridge was predictably not available to reporters before the game.
The Blazers take on the Jazz at 7PM tonight. Expect Meyers Leonard to get the start at power forward alongside Robin Lopez since the Blazers don't have the option of going small with Dorell Wright. Leonard has also come along strong to finish the season.
With Arron Afflalo out of the line-up for 1-2 weeks with a shoulder injury, the Stotts can either start CJ McCollum or Allen Crabbe at the two. Both played down the stretch of Thursday's loss to the Warriors.
McCollum got his first career start this past Monday in Brooklyn. McCollum has scored in double-figures in six consecutive games, the longest such stretch of his career.