Trail Mix: Blazers 116, Timberwolves 91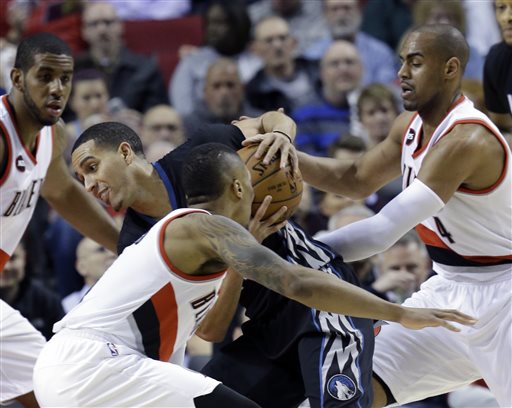 The Portland Trail Blazers handily defeated the Minnesota Timberwolves 116-91 on Wednesday night.
As the Blazers moved past the lowly Wolves, who probably with at this point the NBA had a mercy rule for the season, it was a pretty straight-forward affair.
The Wolves had no match-ups for LaMarcus Aldridge, no interior presence on the offensive end, and no hope at all of winning Wednesday's game.
As Flip Saunders told reporters after the game, it was "men playing against boys."  And while Saunders was candid and honest after the game, it doesn't mean he didn't have some questionable things to say before the game.
Before we get down to the nuts and bolts of the game, can we talk about Flip for a minute? Wait, I am in charge of this space. So, yes, let's talk about this.
It's 2015. Wiggins' shooting stroke does not look broken. In fact, it has very good mechanics. How many perimeter players in the league, especially ones we consider superstars, are ones that don't have a perimeter jump shot? Honestly? Who the hell is a considered an All-Star but barely shoots 3-pointers? Dwyane Wade and DeMar DeRozan are the only top perimeter scorers who attempt fewer than two 3-pointers per game.
I get it, Wiggins' percentage hasn't been very good. But how is he supposed to get good if he isn't given the confidence to try it?
We've seen this experiment of having your head basketball decision maker and head coach be the same person fail too many times to believe that it works. Look around the league: Doc Rivers just traded another second round pick for his youngest son (that's not actually true, but you'd believe it right?), Stan Van Gundy hamstrung his salary cap for the next few seasons by waiving Josh Smith instead of trying to find someone to take him in a trade.
Being the head basketball decision maker is hard enough as it is. How do owners keep buying into this scam these coaches sell them that they can do it all? Obviously, I'm not against them getting their money, and I commend them for getting top dollar. But you'd think that if you loved basketball enough to buy an NBA team you'd be wise to the fact coaching a team and putting one together are both extremely difficult.
I guess that lesson hasn't been learned in Minnesota. Hopefully their fans and Andrew Wiggins don't have to pay for it.
But back to the Blazers. After all the posturing all season about not resting guys, Terry Stotts finally decided to leave LaMarcus Aldridge, Nicolas Batum and Chris Kaman at home. He said that those days were meant to rest and he thought the trip would be hard.
Stotts has often referenced the fact that a young Tim Duncan nearly 40 minutes a game, which he did until the age of 26. But it seems that he, like Steve Kerr, has started to get something of an understanding of the benefits of rest. The "old days" argument, it appears, finally has a shelf life for Stotts, too.
It was almost as if Aldridge couldn't endorse the idea of resting enough.
"I felt great," Aldridge said. "It was a great decision by the coaches and medical staff. It's about going into the playoffs feeling great. And healthy but I feel good."
Aldridge later said that it was a joint decision by he and the coaches to not go to Brooklyn.
Batum, who has dealt with wrist issues and even had a platelet-rich plasma injection in his knee earlier in the season, looked fantastic. Even though Andrew Wiggins tuned him up for 29 points. Wiggins has played well against Batum and the Blazers all season long, and tonight was no different. He's special and I can't wait to see him with a real team.
Of course, the question of who the Blazers will play is the one that is most on the minds of Blazers fans.
But Terry Stotts is taking a Doris Day approach to the subject of who they will play.
[youtube http://www.youtube.com/watch?v=azxoVRTwlNg]
"What will be will be," Stotts said. "Next Thursday we'll know where we're playing, we will know where we are going. And we'll know where we were playing."
Even Robin Lopez, someone who almost always loathes answering questions about other teams and basketball in general, is looking at the standings. But if you ask Lillard or Batum, they aren't going to worry about it.
"I think very match-up is going to be tough," Lillard said.
As of most recent, ESPN's projections had the Grizzlies as Portland's most likely opponent in the first round. The Spurs, who are coming like the winter, have the second-highest odds of facing the Blazers.
But, we only have so much brain power for such computations.
Qué será, será.
Other things: 
Wesley Matthews was in the building tonight. Although he cut out before media got there. Prior to the game, his right Kobe 9 shoe was in his locker, where there had previously been two shoes. According to Blazers reporter Casey Holdahl, he was in the building to take the team picture.
When Batum was asked whether he would play in a back-to-back against the Warriors after resting earlier in the week, he had a funny response. "I'm 26. I'm not that tired."
Meyers Leonard has been snatching rebounds like a maniac lately. After posting a career-high in rebounds against the Nets, he grabbed 10 tonight, with eight coming on the defensive end. He finished with 8 defensive rebounds in consecutive games for the first time in his career. Without Dorell Wright in the line-up to act as a floor-spacing forward, they need Leonard to continue this. And his confidence is through the roof. It couldn't come at a better time. Almost all of his minutes recently have been coming alongside Robin Lopez. I wish all of my wishes could come true as fast as my wish of having these two guys play more together.
Damian Lillard didn't have quite as good of an offensive game on Wednesday after scoring 36 points on Monday. He wasn't bad by any means and he still scored 17 points. But thankfully for him, everybody else was rested.
When asked about whether he pays closer attention to the playoff seeding and does more scoreboard watching, Stotts said that his team is certainly aware. But then he mentioned that he's very aware of what's going on in the Eastern Conference playoffs. He called it "a great playoff race," which, I mean, come on. Stotts absolutely loves the NBA so I don't doubt that he's interested in the race. He's a braver man than I. I found myself voluntarily watching Heat-Hornets the other night and was seriously re-evaluating every life decision I had made up to that point.
Tim Frazier got some minutes in front of the home fans. He scored three points in 5:22. A new era began on Wednesday night.
Arron Afflalo was 1-for-7 on the night scoring four points. He only played 29 minutes. He's shooting the shots he needs to take and taking them in flow. Portland will just need them to go down come playoff time. He's knocked them down for the most part during his Portland tenure. He was shooting 42 percent from long range coming into Wednesday. He's said previously that he's felt comfortable in the offense. Portland will just need that to continue into the playoffs.
CJ McCollum scored in double-figures for the fifth straight game. I was asked many times about who the most intriguing player was coming into the season and I said McCollum every single time. His microwave scoring ability is a wildcard in the playoffs. To upset anybody in the first round, they need everything, including reliable bench production. McCollum has given them that consistently as of late.