Trail Mix: Playoff match-ups, home-court, phantom 3-pointers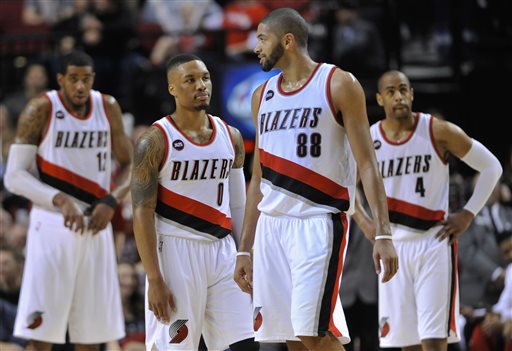 The Portland Trail Blazers have a pretty busy week. They flew back late last night after losing to the Brooklyn Nets and mercifully have the day off on Tuesday.
With just five games left, playoffs are on the mind, and rightfully so. There's still a lot to be decided in the final eight days of the regular season.
With Portland's decision to leave LaMarcus Aldridge, Nicolas Batum and Chris Kaman at home, it's evident that they are valuing having a healthy squad over home-court. Before we get into the merits of this strategy, who will they play? ESPN's Basketball Power Index projects that the Blazers are most likely to play the Memphis Grizzlies.
According to this chart, the Blazers are most likely to face the Grizzlies, Spurs, Clippers and Rockets in that order. They also have a very minimal chance to face the Mavericks, who is a team everybody wants to play.
The merits of their health over home-court strategy are sound. Remember the 2009 Blazers,  who busted their butts to get home-court only to have Yao Ming destroy the hopes and dreams of the only healthy team of the Roy-Oden-Aldridge era? Or last year when LaMarcus Aldridge and Damian Lillard went Kobe and Shaq in Game 1 followed by Aldridge going super nova again in Houston?
ESPN.com's Tom Haberstroh wrote earlier this season that home-court advantage has been in decline. Every team plays better at home and the Blazers have a great crowd. Sleeping in your own bed is always better than the alternative. But things like crowd noise and the atmosphere in the building probably mean considerably less than we think it does, especially in the playoffs.  These guys are professionals and the Blazers don't need to be coddled by their home crowd to win. If they do, they're going to lose the series anyway.
Whether in Portland, San Antonio, Memphis or Houston, the only thing that matters is that Portland's stars play like stars when the ball tips off in Game 1. Portland has to win on the road to win a series no matter what. The Blazers had a better road record last season (23-18) than they will this season (19-19). And if they play the Clippers, Blake Griffin doesn't think they have an advantage playing at home at all.
We saw how much the All-Star break helped Nicolas Batum. We saw Chris Kaman come back more energetic after sitting a few games with a shoulder injury. Without Matthews, the Blazers will need Batum to elevate his play to be somewhere near the same plane as Aldridge and Lillard. Batum is veteran and if he doesn't show up, it won't be because he wasn't playing at the Moda Center.
We don't have a lot to talk about as the season winds down and this is an important discussion. But even though the West's title contenders have really been whittled down to two teams in Golden State and San Antonio, the first round is where upsets are most likely. And even if Portland has homecourt, they'd be the underdog in basically every match-up save for a match-up against the Mavericks.
They have to win on the road. There is no way around it. And it appears that Portland's approach is to start with that trying to complete that necessary task straight away.
Damian Lillard was awarded a 3-pointer on a 19-foot jump shot last night. It was weirdly called by the ref on the baseline rather than the ref nearest the shot. Don't ever say the NBA refs didn't do anything for you, Portland.
[youtube http://www.youtube.com/watch?v=GHgr_JuZmRY]
Willy Raedy of Blazersedge wrote a beautiful poem about LaMarcus Aldridge. Aldridge loved it so much that he retweeted it to his followers. But I can't blame him. If anything, Aldridge doesn't have enough good things written about him. And Raedy's poem was as beautiful a thing you could write about him. I'm not going to pull an excerpt from it because you should just read the whole thing.
Kerry Eggers of the Portland Tribune did a Q and A with Aldridge which was published on Tuesday. In it, Aldridge talks about how he still has hopes of the Blazers winning a championship.
Hundreds of NBA scouts and front office personnel are in Portland this week for the 2015 Nike Hoop Summit. A good week of practice can turn into one of these guys becoming a first round pick in a few months. We brought in Seth Johnston to talk about this year's players and hoop summit's past on the latest episode of the Blazer Banter Podcast.
Casey Holdahl of TrailBlazers.com put together where the Blazers fall in the latest power rankings from around the league.