The Scouting Report: at Brooklyn Nets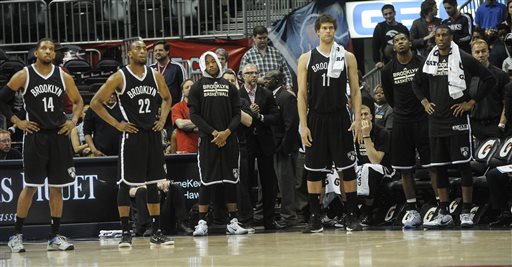 Projected starting line-up: Deron Williams, Joe Johnson, Markel Brown, Thaddeus Young, Brook Lopez
New arrivals: Young
Departures: Kevin Garnett
I'm going to level with you guys. I absolutely hate watching this team play basketball. It's a pretty unbearable experience, much like New York in the winter.
Joe Johnson, he has a big contract and can still get a bucket in a pinch by dribbling the ball a lot. Deron Williams was once one of the NBA's elite point guards and was arguably the league's best, helping lead the Utah Jazz to a Western Conference Finals appearance in 2007 before the Spurs hit them with the gentlemen's sweep. Brook Lopez is an All-Star and just won a Player of the Week award. Mason Plumlee was on Team USA! Thad Young can guard a lot of positions!
And still, these guys are absolutely unbearable to watch. Maybe it's that their three best players in Williams, Johnson and Lopez are slow. In the modern NBA era where pace, spacing and ball movement are not only pillars of winning basketball but entertaining basketball, these guys just don't have it.
Maybe it's that Jarrett Jack has never met a midrange jumper out of a pick and roll that he doesn't like. I really have no idea. But my scouting report on the Nets is that I absolutely hate watching them play.
I saw Jason Kidd's return, their game against the Blazers and I can't honestly remember the last time I sat down and watched a Nets game. The Blazers have to make this one-game trip after the threat of a massive snowstorm in late January, which eventually pummeled Boston and not New York, made the NBA cancel the game which was scheduled for Jan. 26.
Lionel Hollins helped turn the Memphis Grizzlies into who they are today. But the Nets haven't shown any indications they are on their way to becoming an elite defensive team, at least not this season.
But in fairness, they've started to hit their stride a little bit. Lopez battled injuries all last season and his scoring in the post is a rare skill set in the league these days. At his best, Lopez gets buckets when he rolls out of bed. He seems to have that rhythm back as they have gone 8-2 in their last 10 games.
They got handled by the Hawks because of course they did. But they got a nice win against the Cavaliers and took advantage of a cupcake schedule after that. It has also helped Brooklyn's cause the rest of the East, except for Cleveland, Atlanta and Chicago, (RIP my beloved Milwaukee Bucks being fun) have completely fallen off the rails.
The Blazers will be without LaMarcus Aldridge, Nicolas Batum and Chris Kaman as they have all been held out to save them from the brutal travel for a one-game road trip. The Blazers actually beat the Nets back in November without Aldridge and Batum in the line-up. They're considerably thinner without Wesley Matthews and Dorell Wright but Wright didn't play in the last meeting either.
With Young in the line-up over Garnett, what they lost in veteran savvy and confidence, they gained in athleticism and positional versatility. Young has also shot very well from long range during his Brooklyn tenure.
The Nets need this game badly to help secure their playoff hopes. Portland needs it for seeding but with a road heavy schedule against tough teams the rest of the way, the resting of their players shows them valuing health come playoff time over homecourt advantage, which they showed they could win a series without last season.
Allen Crabbe vs. Markel Brown! Steve Blake vs. Jarrett Jack! Joel Freeland vs. Mason Plumlee!
FEEL THE EXCITEMENT! An NBA TV audience can tune in two hours before the NCAA National Title game tips off.
At least it's early enough that brave souls who watch this game (myself included) can catch most of the title game between Wisconsin and Duke which promises to be much more entertaining. At least that's the hope. It would almost be too perfect if this game ended up going to overtime.