Poor second quarter dooms Blazers in Brooklyn make-up game 106-96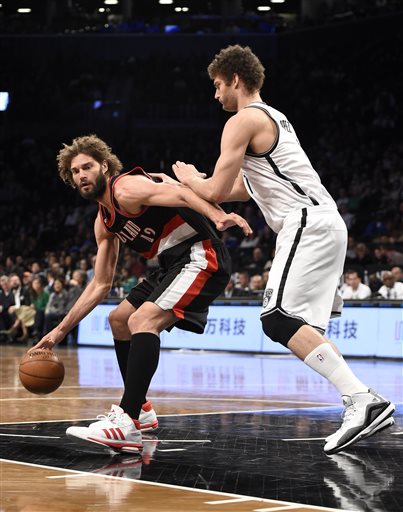 The shorthanded Portland Trail Blazers fell 106-96 to the Brooklyn Nets in a make-up game Monday night in Brooklyn. Brook Lopez had 32 points and nine rebounds to lead the home team past the Blazers who were without their best player (LaMarcus Aldridge), their best perimeter defender (Nicolas Batum) and their leading scorer off the bench (Chris Kaman).
The Nets needed this game for playoff seeding and they have been playing very well as of late. They won eight of their last 10 coming in and Brook Lopez has been in a real rhythm.
The Blazers won't say that they punted this game but by leaving three key players at home, that's exactly what they did. It's evident with this move that they value health over homecourt advantage. Judging by last year's first round win against the Rockets, a series in which they didn't have that advantage, you can't blame them.
And, if they face the Clippers, it's not like they have a major home court advantage to speak of. Just ask Blake Griffin. Home court may be more valuable to the Blazers than other teams but it just may not matter. Having Aldridge go bonkers was what won them a series last year and they need that to happen again, whether in Portland or in another city.
The Blazers got off to a great start in Brookyln. Instead of going with Alonzo Gee or Allen Crabbe at small forward, Terry Stotts went with a 3-guard look, riding the hot hand of CJ McCollum. McCollum rewarded his coach for the confidence by scoring some early buckets.
The Blazers had a nice flow offensively when their starters first took the court in their first shift. THey won the first quarter 25-22. Lillard and McCollum were the catalysts offensively and Meyers Leonard gobbled up all the rebounds, a theme which would continue throughout the night. But the good offensive production did not.
The Nets dominated the Blazers in the second quarter, moving the ball well and getting quality looks. The combination of poor Blazers offense and excellent play from the Nets and Brook Lopez, the Nets won the 2nd quarter 32-13. Portland went a long time without scoring and the absence of Aldridge was noticeable on both ends. It also hurt the Blazers in the first half that Joel Freeland picked up three fouls in just over two minutes of action late in the first quarter.
Without having another big man, the Blazers had to go to with Leonard at center and Alonzo Gee and Allen Crabbe filling the other forward spots.
The third quarter wasn't much better, at least at the outset. The Nets pushed their 16-point hafltime lead to has high as 22 in the third quarter. But then Lillard started pulling from the 3-point line without a conscious and it helped Portland get back into respectable distance. Lillard finished with 36 points and had one of his most efficient shooting nights, especially from long range. He made 6 3-pointers even though the Nets were scheming against him.
From a Blazers perspective, the best thing about tonight's game was the play of Meyers Leonard. Leonard had a career-high 15 rebounds as well as 17 points. But it was the way that Leonard scored, especially in the fourth quarter, that was most impressive.
In the fourth quarter, he was feeling confident enough to start calling for the ball against Thad Young in the post. He logged 37 minutes and picked up his fifth foul with 7:39 left in the fourth. He scored Portland's first 11 points of the fourth quarter in the first four minutes. But the foul trouble forced him off the court for a few minutes. But he was also noticeably gassed.
Portland cut the Nets lead down to six in the fourth quarter but the Blazers couldn't get enough stops down the stretch to make the game close. Whenever they needed it, the Nets got a bucket. Whether it was Lopez or Williams or Young, they got buckets. This has been an issue for the Blazers for the last six weeks. But it's obviously harder without good defenders like Aldridge and Batum in the line-up.
All things considered, it wasn't a bad outing for a shorthanded Blazers team. They are all pros and they won't take much pride in moral victories. Now they are a 1.5 games behind the Clippers and a game behind the Spurs in the race for home court, which it appears they okay to concede.
Other things: 
CJ McCollum is really finding his way offensively. I know this is something everybody is catching on to but his passing out of pick and roll situations continue to improve. He's also doing a nice job of not settling for jumpers. He's getting to the rim, something the Blazers don't really do at all.
Steve Blake has had better outings. He was a -14 in 18 minutes and his night included this skyhook gone awry. He also had a terrible turnover in the fourth quarter when the Blazers were charging. Blake has been a positive influence on the Blazers most of the season but he was a non-factor for much of the night. He did have four assists.
Not only did Leonard have a career-high in rebounds, he was tied with Blake for the team lead in assists with four. I've been talking about Meyers' passing for a few weeks now but it was on display tonight with more minutes. He plays quarterback style (cc: Men In Blazers) and his hands are so big that he has great control over the flight of the ball. He gets it where it needs to go. When I asked him about his passing earlier in the season he likened his style of throwing the ball to throwing it like a fastball as opposed to a change up.
 Arron Afflalo didn't have a great night, going 4-of-11 but he was 2-of-5 from 3. He nor Joe Johnson were particularly good tonight.
Did you know that Brook and Robin Lopez were brothers?
The NBA website has not updated the standings so no screen shot of them is available at the moment.