The Scouting Report: at Los Angeles Lakers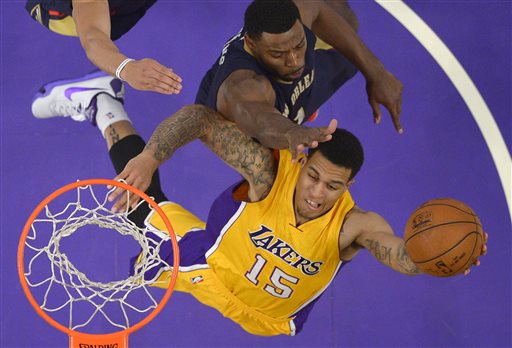 Projected starting line-up: Jordan Clarkson, Jeremy Lin, Wesley Johnson, Ryan Kelly, Tarik Black
Other than Jeremy Lin, you're surely asking to yourself, who?
The Lakers are terrible. They need to have a top-five pick in the upcoming draft to keep their pick and are currently in the pivotal bottom four of the draft.
They've had an injury plagued year, starting with losing Julius Randle to a season ending injury in the first game of the season. Steve Nash's season ended before it started and he was waived earlier this week after finally announcing his retirement last week (Joe Freeman of The Oregonian had a piece on the play that effectively started Nash's decline on a collision with Damian Lillard). Kobe Bryant put up all of the shots and passed Michael Jordan for All-Time scoring. His Showtime documentary is highly recommended.
The actual basketball has been as good as the rapping abilities of Nick Young's girlfriend.
Jordan Clarkson has been getting buckets, because, well, someone has to. But his numbers don't seem to be the product of shameless chucking. He isn't that great of a 3-point shooter but put up 30 a few games ago against the Thunder and the Blazers defense hasn't played much better than they have lately. But Portland has stood up well defensively against lesser competition, at least in the last two weeks, so they should deliver a good performance.
Jabari Brown was signed to the team (who replaced Nash) and he has been getting lots of significant burn since being called up from the D-League.
The Blazers really don't have a lot to worry about defensively against the Lakers. Young was one of the few real offensive threats that they had and he's been out for over a month. Lin is still pretty frisky with his first step and is a threat to get to the rim but his lack of a jumpshot has hindered his development. Being on a terrible team in a loaded conference, it's easy to forget Lin basically single-handedly buried the Blazers in Game 5 of last year's playoffs, forcing a 6th game.
The Blazers will clinch the Northwest Division with a win on Friday. They'll be without Dorell Wright, who still has no timetable for a return with a broken left hand.  But the division is basically gift-wrapped for them at Staples Center.