Blazers clinch Northwest Division, then beat up on Lakers 107-77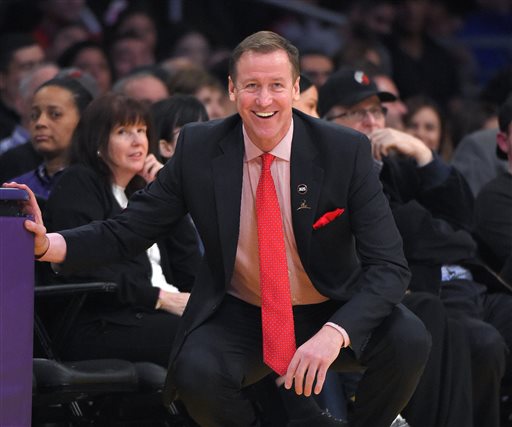 There's nothing quite like playing the 2014-15 Los Angeles Lakers to bring your team back to life. Thanks to an Oklahoma City loss, the Portland Trail Blazers clinched their first Northwest Division title since 2009 and then beat on the Lakers 107-77 to win the division outright.
It's their first outright division win since 1998-99 and their first in a non-lockout season since 1991-92. With all that the Blazers have gone through, they still had a banner year (divisions are stupid but I digress).
Damian Lillard got things going in the first quarter, making his first four 3-point attempts. CJ McCollum put the Lakers away at the start of the fourth quarter on his way to career-high 27 points. He also tied a career-high with six rebounds. Tim Frazier got his first minutes in a Trail Blazers' uniform.
It's hard to blame the Blazers for being all smiles after this one. Their bench did their job at the start of the fourth, making sure that LaMarcus Aldridge, Damian Lillard and Nicolas Batum didn't have to come back into the game. Aldridge was able to lay in the cut for most of this game as Portland's guards really took control offensively.
Lakers guard Jordan Clarkson played a nice floor game and also shot the ball well, taking advantage of opportunities against Portland's defense and Damian Lillard. But the Blazers were just too deep and too good for the Lakers all night long. ESPN announcer Dave Pasch was forced to say things such as "the Lakers cut it down to 16," throughout the evening. This is one of the many reasons why this game shouldn't have been on National TV in the first place.
The Blazers took care of business as they have been able to do for most of the season against teams with sub-.500 records. With Dorell Wright out for quite some time, the Blazers younger players, mostly McCollum, impressed with their ability to take care of the task at hand.
McCollum has only gotten better over the past few weeks. He was finding a rhythm before the trade for Afflalo and has seen the most real consistent minutes of his career in the month since the Wesley Matthews injury. He's showing once again why you shouldn't judge young players too early and especially a player with the ability to get his own shot like McCollum can. It's a skill that isn't replicated many other places on Portland's roster.
There isn't a whole lot else to say about this win. It was basically a given. The Blazers played good defense but the Lakers are also a putting out a D-League team. Portland will have a bigger test tomorrow against a Pelicans team with great offensive weapons like Anthony Davis, Ryan Anderson and Tyreke Evans.
Other things
With Dorell Wright out for a month with a broken, Terry Stotts has a lot of options. He had gone with Wright as the first power forward off the bench in previous games but against the Lakers he gave Meyers Leonard a first crack at those minutes. Some of the other minutes that Wright played at small forward went to Arron Afflalo while CJ McCollum saw an uptick in his minutes. This will likely change night-to-night. But it's not surprising that Stotts went to more 3-guard line-ups, an option I wrote about for tomorrow's Columbian prior to this game. Match-ups have dictated almost all of Stotts' substitution patterns this season. Injuries are playing a part but McCollum getting all the run he can handle isn't a bad thing for the present and especially the future of this Blazers' team.
The Tim Frazier era began tonight against the Lakers. He got his first minutes with 4:51 left in the game. He had two points, two steals and one turnover.
Your Western Conference standings after games played on April 3: 
The Blazers are a 0.5 games behind the Clippers and the Spurs in the West. Portland has played one fewer game than both teams. The Blazers also have the tiebreaker as the division winner if they were to be tied with either team when the regular season ends. Seven games remain and the Blazers have a tougher schedule which includes games at the Warriors, at the Mavericks and at the Thunder. But the Warriors are also in a position where they could rest players so you never know what might happen there.
Here come the Pelicans! New Orleans comes to Portland Saturday night, desperately needing a win to tie the Oklahoma City Thunder for the 8th seed in the West after they won in Sacramento Friday. The Pelicans own the tiebreaker after winning the season series. Will be another huge jolt to the Thunder's already unlucky season if missing the playoffs comes down to this.
If you've somehow missed it The Oregonian got amazing behind-the-scenes access for the recovery of Wesley Matthews. Words by Jason Quick and photos from Bruce Ely. Take a half-an-hour and maybe grab some tissues. Great journalism.
In case you missed it, we had two new episodes of the Blazer Banter podcast this week. One with Bleacher Report and NBC ProBasketballTalk writer Sean Highkin and another with my buddy Ryan McGoldrick talking NBA draft. Subscribe on iTunes and leave us a review!