Trail Mix: Clippers 126, Blazers 122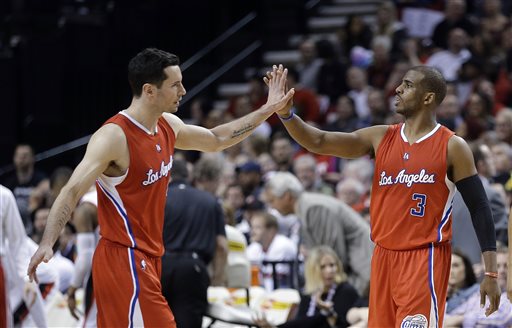 Orchestrated by Chris Paul's 41 points and 17 assists, the Los Angeles Clippers defeated the Portland Trail Blazers 126-22, erasing a 19-point second half deficit.
Before we go deeper into Paul's historic night, let's go back to last season, around the same time of the season. Portland, April 4, 2014.
The Blazers are on the verge of clinching a playoff spot in a game against the Phoenix Suns. Gerald Green goes nova in the fourth quarter and the Blazers lose. Suns GM Ryan McDonough and head coach Jeff Hornacek enjoyed beers in the media room. The Blazers were just glad they didn't have to see the Suns again.
We looked to the playoff match-ups and it was almost a certainty that they're going to play the Houston Rockets, who had dominated the Blazers all season long.
I haven't been covering basketball all that long, just three seasons, but it wasn't hard to see the similarities between then and now. The Blazers lost a downright heartbreaker that night, losing the fourth quarter 30-13. Their defense which had shown signs of improvement had a debacle. And opposing players (Gerald Green & Eric Bledsoe) had great performances. Starting to sound familiar yet?
As the post-game media session wound down Wednesday, where every Blazers' player, minding their check books (can't knock it), was not going to make a peep about the officiating, we gravitated to Nicolas Batum.
Batum had a pretty solid game, scoring 21 points as well as four assists, four rebounds and three steals.
Batum is as candid as they come on the Blazers. When asked about whether the loss may mean something going forward if the two teams meet, he reminded the media of a point that easily gets lostdue to the short attention spans that we are all used to having in the smartphone era.
"We lost 3 or 4 games last year against Houston before the playoff series," Batum said. "0-0 after that."
This is something to remember and it's just not about the Blazers. Did it matter that the Blazers had dominated the San Antonio Spurs in the regular season for the past few seasons last May? Does it matter that the Houston Rockets have had the same success against the Spurs in the regular season the past two seasons?
As the Spurs have proven time and again (or the 1999 New York Knicks, or the 1994 Denver Nuggets, or last year's Blazers) does the regular season really indicate that much?
Tonight was the second time in two Moda Center meetings that one of the two teams compared the match-ups to the playoffs. Tonight it was the Blazers, back in January it was the Clippers.
As tough as tonight's loss was to swallow for the Trail Blazers, their experience also showed through after the game.
After addressing the game, Robin Lopez hung around a little longer than normal, making small talk with Alonzo Gee, something that rarely happens post game.
"I think there are a few games left in the season," Lopez said. "I think either way, if we face them it will be a pretty competitive series."
Anybody against the Clippers is going to be fun. If you ask Matt Barnes, it's already the Clippers vs. The World.
"We have bad blood against the whole league and I think they have it against us," Barnes said. It's whatever, sometimes it gets physical and we're okay with that, just like tonight, it was a big win. It took 48 minutes to get it but we did a great job."
Although they are young, it's easy to forget that the Blazers have actually been here before. Damian Lillard is a quick study. And when he was asked about the importance of this loss, he shrugged it off.
"This, it's a regular season game," Lillard said. "You have injuries. You have time when you're playing well, other teams aren't. They've outplayed us. Today I thought we played a great game for 3 quarters. We let it get away in the 4th like I said. You know, come playoff time I think a lot ochanges. You don't have to worry about going to the next city to see the next team or what's next. It's all about what's in front of you. I think when you focus on one team for a 7 game series it changes everything."
Chris Kaman, the player who drew the biggest media scrum of the night, said the Blazers haven't played a full four quarters against the Clippers all year.
[youtube http://www.youtube.com/watch?v=nj8LNFTJX4o&w=560&h=315]
Chris Paul was a wizard. The Blazers defense continues to struggle. Both of those things remain unchanged. But what may not matter as much is the significance of Wednesday. The Blazers still hold the biggest trump card in a tiebreaker scenario (if the two teams are tied, Portland would have home court by being a Division Champions) although the Clippers have a much easier schedule down the stretch (2 games vs. the Lakers, 2 vs. the Nuggets and 2 vs. the Grizzlies).
Wednesday was a bad loss for the Blazers They knew they left a W and a chance to clinch the Northwest Division out on the court.
Even though it's easy to get caught up in the moment of a 19-point lead that evaporated, history as recent as last season gives us reason to pump the breaks.
What is bigger for the Blazers now is the injury to Dorell Wright and the health of Damian Lillard's back. Lillard said he hurt it earlier in the game and it got worse when he slammed into the Clippers bench late in the game. He also injured his back earlier this season against the Miami Heat. So it's been something that's bothered him all season.
"I'm good," Lillard said when asked about his back and the collision with Barnes that sent him into the Clippers' bench. "I didn't even know who ran into me. In the first quarter of the game, it was two guys came up and set a pick. My back had already been sore. Just from like a week and a half two weeks ago. I was going underneath the screen from Blake and I guess it was DeAndre in the back of me and he just pushed me in my back and I was backing up and it made my back tighten up. It pretty much after that was real tight. You know in the end I just ran into their bench. I hit one of the seats."
Paul played one of the best games I've seen in the Moda Center in my short career. Up there with Paul George's 43-point explosion and Kobe Bryant's 47-point masterpiece in April 2013. It was as good of a game as you could see from anybody and The Point God put everybody on notice once again after getting turned into a meme for the last 24 hours.
The Clippers got a huge win and the Blazers suffered a tough loss. But it would be a (April) fools errand to find a deeper meaning than that. The Blazers have been here before. So have the Clippers. And if they do in fact meet again in the playoffs, we should know by now not to put too much stock into the regular season.
But damn. That game was a lot of fun.
Other things:
Chris Paul on whether the scuffle helped elevate his game: "No the shove didn't take me to another level, it gave me a chance to make it to the free-throw line and get a little rhythm but I think it was just a gutsy win. I think our bench was huge, when they started the fourth quarter, it gave us life. At any time if Portland were to have went on a run we might have said "Alright, y'all can have this one' but we just stayed the course."
Paul said he was surprised getting shoved by Kaman. "I was really surprised," Paul said. "I used to sort of know Kaman really well but I didn't know what happened or not. I stole it and then with the push, it's all good. No hard feelings."
Doc Rivers could run for President. He presses all the right buttons. For all of his shortcomings as a general manager (he just traded a 2020 2nd round pick), he gets guys to play.
Hedo Turkoglu played some very important minutes for the Clippers down the stretch. Can you imagine if come June we're talking about IMPACT PLAYER IN A WESTERN CONFERENCE FINALS Hedo Turkoglu? After tonight, I'm convinced Chris Paul can make anything happen. Turkoglu had a +/- of +15.
Lillard on Paul's play: "He played great. Our defense we like to force midrange jumpers. He hit contested midrange jumpers. He got to spots on the floor and made them. In pick and rolls he was dragging us out and if he couldn't get a pull up off he was dropping it down to blake. He was knocking it down tonight. So, he played really well. But he played well with us getting him to do things that we wanted him to do. The unfortunate thing is we let them hit 3's too. We didn't get rebounds when we needed to. It came back to bite us."
Stotts on the Blazers play after the Kaman-Paul altercation: "They made a lot of shots. A lot of shots outside the paint. Part of our defense is to force contested midrange shots which we did. They had a lot of guys shoot the 3 very well. Blake Griffin made 8 3's on the season and he made two tonight."
Afflalo on the game after the scuffle: "I thought they just played with a lot of intensity in the 3rd quarter. They made a run, we made another run back. They made another run in the 4th quarter. They did what they had to do to win."
Stotts on how much the loss hurt: "You hate losing at home and you hate losing to a team that you might see in the playoffs. There's a lot of things not to be happy about tonight. But we were competitive as were they. All four games with the Clippers have come down to the last couple minutes. That's part of the NBA. You don't like dropping games at home but sometimes you do."
Blake Griffin played pretty good defense on LaMarcus Aldridge late in the game. That doesn't happen a lot. Griffin had a quiet but great game with 24 points, eight assists and seven rebounds.
Lillard was asked about what a series with the Clippers would be like. "Probably be a little bit chippy," Lillard said "They play a physical game. Saw what happened out there today. We didn't like some of the stuff that was happening. Those kind of things happen over the court of the game. I don't think there's no hard feelings between the teams. I think it's just competitive nature."
Batum on what a potential Clippers series would be like: "Like tonight," Batum said. "Like the last two games. I mean it's playoff in the west. Like this. last year the first game or the last 3 have been in overtime. It's going to be that way again."
Your Western Conference standings as of April 2: 
The Blazers have eight more games. Five of them area against non-playoff teams in the Lakers, Pelicans, Nets, Timberwolves and Jazz.
In case you missed it, the great Michael Lee from The Washington Post had a nice profile on LaMarcus Aldridge.
For more context on Paul's amazing night, I leave you with this knowledge bomb from Ben Golliver of SI.com.