The Scouting Report: Los Angeles Clippers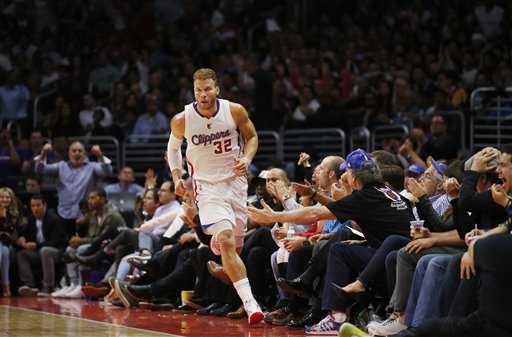 Projected starting line-up: Chris Paul, JJ Redick, Matt Barnes, Blake Griffin, DeAndre Jordan
Injuries: Jamal Crawford (calf)
The Los Angeles Clippers had been quite a roll heading into Tuesday night's nationally televised game against the Golden State Warriors who were resting Draymond Green. But the Golden State machine of imminent death unleashed it's fury on the Clippers who tried their hardest to win the game and even led by 17 in the 2nd quarter.
(New podcast with Sean Highkin of Bleacher Report and NBC's ProBasketballTalk.com)
The game was incredibly entertaining. The game was played a breakneck speed with each team sprinting down the court to beat the other one after every shot. The ball zipped around and it was a high quality, entertaining game of hoops. But as my colleague at The Oregonian Mike Richman noted, every Clippers starter played 38+ minutes last night only to fly to Portland over night.
Doc Rivers is still a great in-game coach but my goodness, how does he mismanage this? Yeah, I get it, Clippers-Warriors is a "rivalry." A "rivalry" that includes just one FIRST ROUND playoff series meeting over the last few seasons. Sure, maybe that's why Doc extended his key guys so long. It's also because the Clippers don't have a real bench and that Crawford, their most useful bench guy, can't play.
But now he's set his team up for an uphill battle in a game of even more importance when they take the floor Wednesday night against the Blazers. The Clippers have a pretty good record on the second night of back to backs when they hit the road (10-3). But that doesn't measure for the type of loss they had last night.
They were completely shut down by the Warriors in the fourth quarter. The last time they came to Portland, back in January, Rivers played an eight-man rotation and would go on to call the victory a "playoff type" game. Obviously, Doc is a master motivator and was embellishing the moment to help prop his team up who had been struggling before that game. And there's no doubt he'll have them ready for tonight's key match-up.
This is another big game for them and even though it's not a "rivalry," they need it and so do the Blazers.
With Blake Griffin back in the fold, Portland can comfortably play Robin Lopez, especially down the stretch. The Blazers have often closed games with small line-ups against the better teams in the West but the Clippers present them with one of the few opportunities to stick to their starting five.
Portland's starters played much better in the third quarter of Monday's win against a small line-up. The interior passing of the Clippers, mostly because of Blake Griffin, is something other teams wish they could have. But it does allow Aldridge to be where he is most comfortable as the power forward.
Portland also has a clear advantage in the bench match-up.
Obviously, the point guard match-up is another one to watch for. Chris Paul has outplayed Damian Lillard in the last two meetings. Lillard isn't fazed often but judging by some of the shots he took in the last meeting, Paul was in his head. Lillard grabbed a career high 18 rebounds in that game and still found a way to contribute.
One other thing to watch for: Paul is notorious for getting on the referees and making sure that they bend to his demands. If that happens tonight and Lillard isn't getting the same calls, he's going to blow a gasket. He's already been on the verge of exploding because he's been unhappy with the type of calls he hasn't been getting around the basket.
Kevin Durant started racking up techs and it resulted in more respect from the referees. Who knows if Lillard will go down the same route but he's come pretty darn close the last few games.
Tonight will be a game of high intensity and the Clippers are the league's most mercurial contender.
Portland's transition and pick and roll defense, two areas that have been targeted by players and coaches as concerns, will be tested like they haven't been in a few weeks.