Trail Mix: Blazers 109, Suns 86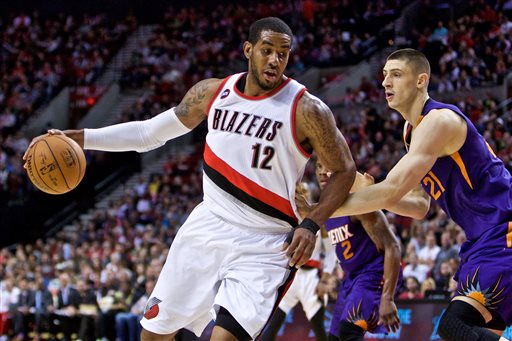 The Portland Trail Blazers made quick work of the Phoenix Suns in the second half Monday night to clinch a playoff spot, 109-89.
LaMarcus Aldridge was hilarious after the game and while the team insists that their work is not done having clinched a playoff spot, they took some time to enjoy their accomplishment. But not too much.
While the Blazers put Phoenix away with a fantastic third quarter, the Blazers still have some questions to answer on the defensive end. After being a top-3 unit for much of the season, they are hanging around at the back end of the top-ten.
Led by their starters, they turned up the defensive intensity. The starting line-up has been where the Blazers have seen their worst defense since adding Arron Afflalo into the line-up. That it was the starters who led the run in the third quarter, against a Western Conference team above-.500, wasn't lost on Nicolas Batum.
"We just got to step up," Batum said. "The way we end up int he first half, we did a bad job. We just had to step up and show the way. Especially the way, the starting five got to show a way to do it. We are a unit. The second unit did a good job in the first half. We messed up. The starting five messed up the first half. We had to go do our job and we did it."
The defensive numbers for Portland's new staring line-up are not good. There is no way getting around it. They've posted a defensive efficiency of 110 points per 100 possessions and have been outscored by their opponents in 243 minutes.
But there is hope that the third quarter on Monday was a step in the right direction.
"I think so. We got to keep going that way," Batum said.
Aldridge was critical of the team's pick and roll defense following Saturday's win where they allowed the Nuggets to score 114 points.
"We've been up and down with it lately," Aldridge said.  "I thought in the third quarter we locked in on it and I thought guys played great all the way around trying to guard their small line-up. So it was good for us."
Terry Stotts was pleased with the fact that Portland was not only able to defend the Suns, but did so while keeping Robin Lopez on the court. They closed their last win against the Suns with Aldridge as the lone big man but tonight was a different story.
"That was probably the most important part of the game for me because the way we ended the first half was concerning and we knew we were going to see that line-up again," Stotts said. "We were able to keep RoLo on the floor and take advantage of some things on both ends."
The Blazers held it together defensively and their new starting line-up made some progress in improving their defensive metrics by allowing just 97.1 points per 100 possessions.
"We just talked about how we got out to a 16 point lead and we got loose," Damian Lillard said of the talk at halftime after the Suns made it a game when it shouldn't have been. "We didn't value possessions, we stopped sprinting back and we got back into the game. We addressed the problem, we made the adjustment and pulled back away."
After another game in double-figures, Afflalo says he is ready to go.
"I'm good to go," Afflalo said. "Now it's just a matter of using these two weeks in April to ramp it up as much as possible and get it going."
He also says he is comfortable with the playbook now.
"I'm good to go in terms of plays, me being comfortable," Afflalo said. "You know, caring less about how aggressive I am and just it's winning time now."
 A lot of the players approached the subject of Wednesday's game against the Clippers potentially determining home court advantage differently.
LaMarcus Aldridge said he would put no added emphasis on a regular season game than he would any other game. Nicolas Batum knew that when he was asked it was about a possible match-up, but he just called it a big game, which is something he does about every week.
"I don't know what's going to happen, if we face them in two weeks, if that's your question. I don't know yet but it's going to be a big game anyway," Batum said.
Afflalo and Lillard didn't shy away from the importance.
"This is a team that as of now, we could be potentially playing and a team that we may see, so it's a big game," Afflalo said.
"I think it's one of the teams that we could see in the first round," Lillard said. "And with us being 4th and them having a better record than us, it could be one of those games where home court advantage could be up for grabs. We want that. I'm sure they want it too. I think both teams are going to play like it."
Other things: 
The Blazers announced the signing of guard Tim Frazier from the NBA Development League Monday evening. Chris Reichert, editor of the Fansided D-League Blog "Road to The Association," helped us get to know the guard who leads the D-League in triple-doubles.
Afflalo has been in something of an NBA purgatory for the last few seasons, split between Orlando and Denver, unable to play in games that matter in the postseason. He addressed how refreshing that is for him personally. "Not just this season but the past few seasons trying to progress individually (and) not being able to put my stamp on the real reason why you play the game is to win a championship. I'm not going to look too far ahead. We still have 9 games and some important games. It does feel good."
The magic number for the Blazers to clinch the division title now stands at two. Meaning any combination of Blazer wins and Thunder losses the rest of the way that add up to two clinches the Northwest and a top-four seed. Lillard talked about the importance of winning the division for both the team and the franchise as a whole. "I'm not even sure the last time we won a Division title," Lillard said. "I'm sure it's been tough having OKC around. But if any year was a great opportunity it's this year. Like I said we just need to keep playing, focus on ourselves and everything will workout the way it's supposed to." According to David Aldridge of NBA.com, the division win would be Portland's first outright non-lockout division title since the 1991-92 season. They shared the division title in 2009 with the Denver Nuggets and were eliminated in six games by Yao Ming and the Houston Rockets.
Although the game between the Blazers and Clippers is of great importance, it will not be nationally televised but will be shown locally on KGW.
Tonight was Terry Stotts' 250th career victory. He said he was unaware of the stat until he saw that someone had texted him after the game.
According to Adrian Wojnarowski of Yahoo! Sports, Meyers Leonard has jumped ship from Octagon to CAA. Leonard confirmed the news pre game but would not expound on why he made the decision.
A special belated happy birthday to Blazers PR man Jim Taylor, one of the best in the biz.