Trail Mix: Blazers 120, Nuggets 114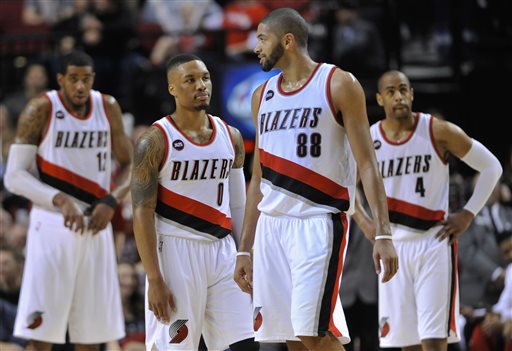 The Portland Trail Blazers won their third straight game Saturday night and took one step closer to clinching the Northwest Division title 120-116 against the Denver Nuggets.
This game seemed like a blowout for much of it and even though the deciding margin was four points, it felt like it was a lot more. The Nuggets didn't ever appear to have chance, even when they took a 3-point lead for a time.
The biggest reason why it seemed like the Nuggets had no chance was because of LaMarcus Aldridge. His presence loomed large all night long and the Nuggets had no answers for him. When Damian Lillard picked up his fourth foul with 9:20 left in the 3rd quarter, Aldridge took it to the Nuggets even more.
Leave it to Nuggets  interim head coach Melvin Hunt to describe how tough it was to guard Aldridge tonight.
"If you look right out there on the corner of our bench, there's probably a kitchen sink sitting there," Hunt said. "We threw everything at him. We threw size, the size that we did have. We threw athleticism, with Wilson (Chandler) on him. Jusuf (Nurkic) came in and threw his body around. The guy is a great player, he knows it, they know it. He gives Terry Stotts a great luxury. He can always kind of settle the game, we can go to him and he generates a lot of problems as far as match-ups. You're afraid to death to double him because he's such a willing passer but at the same time you can't let him make shot after shot. You're kind of pushing a dilemma."
Aldridge's head coach is also loving what he's seeing.
"He's playing at a very high level," Stotts said. "His offense, he's in a groove. On the hels of last night's performance in the fourth and then tonight, he's just in a really good place offensively with his hot. I think the one thing that doesn't get enough credit is his defense. In both Utah and Phoenix particularly, he's very vocal. He communicates on the back line and that gets overlooked. He's playing at a very high level."
Aldridge is an absolute monster and he has been ever since he returned from his hand injury. And the Blazers offense was clicking even though Lillard couldn't get into a rhythm from the floor (though he did have a team-high 10 assists).
"It's easier to play like that," Batum said of when Aldridge has it going. "We don't know it, then we make shots. I mean I make shots, Dame make shots, Arron make shots. So, if he got 30 points and we still make shots. Double team together and then we be tough sometimes."
The Nuggets had their moments. Will Barton and Jameer Nelson helped cut the Blazers' lead to as low as two points in the fourth quarter. Though Barton has his best player earlier in the game, showing the veteran Dorell Wright a thing or two about savvy play after Wright had blocked his first shot attempt.
https://vine.co/v/OL7trF00HHY/embed
The player Barton was traded for, Arron Afflalo, continues find where he fits within this Blazers team. He scored 19 points and started to make a lot of the shots that he's been taking as of late. But it's still not 100 percent there, something that everybody knows. But they were encouraged with the way he's played.
"I'm seeing where the game needs to be played for me personally," Afflalo said.  "When the time comes I'll pick that spot. I don't want to have an on and off switch about playing with effort. Transition is going to be a big one."
When asked whether he's feeling more comfortable about where his shots in the offense will come from, he thinks that will show with time.
"I'll be fine, at the end of the day. In two weeks it will be evident what my strengths are."
"I mean he close to Wes sometimes," Batum said. "He can post up and shoot 3's and the drive. ANd play defense too. They pretty similar. It's not that difficult to play with."
Of course, the biggest concern for Stotts and the Blazers is their defense. They scored allowed 114 points Saturday and Stotts has been publicly concerned with their defense for about two weeks now.
For Aldridge, Portland has to improve in the pick and roll.
"Tonight definitely was a step in the right direction," Aldridge said. "Last few games we've been better in the pick and roll. I think we just have to keep being solid in the pick and roll. I think that's been our biggest problem lately."
The Nuggets took a lot of shots early in the shot clock and hit a lot of tough ones. But they were able to get some good looks in the pick and roll as well as second chances. Portland's turnovers didn't help their defense numbers either.
The Blazers are taking a day off before coming back to the office Monday against the Phoenix Suns with a chance to clinch a playoff spot and get one step closer to clinching the Northwest Division and a top-four seed.
Other things: 
Damian Lillard got whacked in the fourth quarter by a Jusuf Nurkic elbow on a drive to the rim, which he made. He yelled at the ref after the play but nothing came of it. This is starting to reach a tipping point with him.
University of Texas head coach Rick Barnes was fired on Saturday. Barnes recruited and coached LaMarcus Aldridge to come to Texas and according to Aldridge, the Texas athletic department gave Barnes an ultimatum to fire assistants or be fired. "It's tough. I knew it was coming," Aldridge said. "They called me and told me he had an ultimatum to fire guys or be fired and he's a very loyal guy. I knew the the wouldn't fire guys. It's sad because he was definitely big for me and my growth, confidence and getting me to this level. It's sad to see him go but I'm sure he'll be picked up pretty quick." Aldridge wouldn't name his sources other than saying it was people in the know. Perhaps he has a future covering the NBA after he's done dominating its front lines.
The Blazers are having a "blackout day" on Sunday. Batum talked about the fatigue they are going through after playing nine games in 14 days. "We travel a lot the last. Last week we were out on the east coast. We just get back from two games on the road again. So, mentally too, we've been on a five-game losing streak. So I think we need this day off. We need this day off. Coaching staff, training staff, everybody need that." Batum also said that he finally felt like himself after playing on Friday. "I needed a game to come back. Last night I was worried about my back. I was scared of running and moving and all those things. I felt okay this morning."
Casey Holdahl of TrailBlazers.com has video of the Blazers' wonderful full court inbounds play that resulted in an Afflalo corner-3 at the end of the first half.
Before the game, Stotts expanded on his concerns about Portland's team defense. "Honestly we were playing some very good teams during that stretch. I thought we had a stretch of playing good offense. I don't know if we let our guard down defensively because the offense had picked up. Utah is not necessarily a high scoring team. Phoenix can be and I liked what we were able to do in transition against Phoenix. The consistency more than anything else."
 After the game, Stotts said, "At this stage of the season, I would have liked to hold them to fewer points but it's good to get one."