The Scouting Report: Denver Nuggets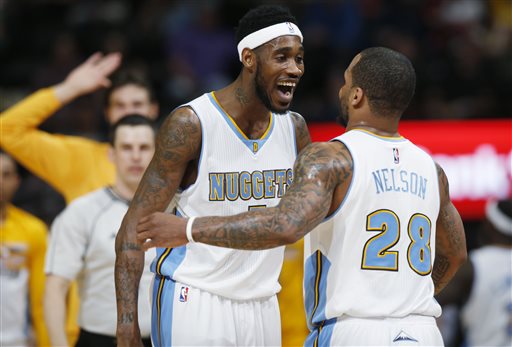 Projected starting line-up: Ty Lawson, Randy Foye, Danilo Galinari, Wilson Chandler, Kenneth Faried
New additions: Interim coach Melvin Hunt, Will Barton, Joffery Lauvergne
Departures:  Head coach Brian Shaw, Arron Afflalo, Alonzo Gee, JaVale McGee, Nate Robinson
It's a been a season of change in Denver. After injuries sabotaged a team that many had picked as a possible title contender just two seasons ago, they completely overhauled their team and it put them in a rough place.
Danilo Gallinari missed all of last season due to a knee procedure after tearing his ACL towards the end of the 2012-13 regular season. They hired Brian Shaw to replace George Karl and he initially tried changing their identity to that of a triangle-type team, though that didn't last long.
And then this season, they got off to a terrible start. The Blazers set a record for points scored in a first half against the Nuggets in the first month of the season.
Having some pretty decent talent on their hands, they still were able to string some wins together and resemble a professional basketball team. Shaw decided to "experiment" with getting rid of shootaround so his player's wouldn't have to wake up early. But in February, the wheels came off totally came off which resulted in Shaw getting fired before the season had even ended. Shaw was fired in March just days after the now infamous "1-2-3- 6 weeks!" chant to break the huddle came to light.
Before the firing, it was clear that the Nuggets were sellers and not buyers in the trade market. Portland eventually traded for their starting two guard and earlier in the season they sent Timofey Mozgov to the Cavaliers. They clearly valued Wilson Chandler as they did not want to give him up at the deadline even though several reports indicated that Chandler had more value because of the extra year left on his contract.
Nonetheless, the Nuggets have played much better since the firing of Shaw under coach Melvin Hunt. They have gone 8-6 in the last 14 games under Hunt and have gotten some impressive wins in the process including an overtime win against the Pelicans. Danilo Gallinari had a 40-point game against the Magic last week and it looks like they've been having fun playing even though they can't make the playoffs.
Gallinari is going to be the player to stop for the Blazers. He's looking more and more like the old Gallo as of late, moving better than he did at the beginning of the season and his 40-point game was a culmination of that improvement. If nothing else, he can be a player that they can build around.
Will Barton has gotten consistent minutes off the bench unlike he was back in Portland and he has rewarded the Nuggets with production. Since Barton joined the Nuggets, he has the best True Shooting percentage on the team. He's shooting a respectable 35 percent from 3-point range and he's having the type of finish to the season that Neil Olshey expected he would have with the Nuggets. He's having great success playing alongside Jameer Nelson.
The Nuggets are a much more lively unit than they were a month ago. Both teams are on a back-to-back so they will likely be dragging a little bit. But it should be a tough match-up for the Blazers. This is the final meeting between the two teams as the Blazers look for the season sweep and to get one step closer to clinching the division.
Portland's magic number for clinching the division is now 5, which is any combination of Blazer wins and Thunder losses that add up to five wraps it up.