Kevin Durant, D.J. Augustin,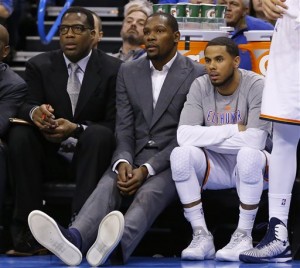 FILE – In this March 4, 2015, file photo, injured Oklahoma City Thunder forward Kevin Durant, center, watches from the bench with guard D.J. Augustin, right, and assistant coach Mark Bryant, left, during the first quarter of an NBA basketball game against the Philadelphia 76ers in Oklahoma City. Durant will have bone graft surgery next week to deal with a fractured bone in his right foot, and he will miss the rest of the season, the Oklahoma City Thunder announced Friday, March 27, 2015. (AP Photo/Sue Ogrocki, File)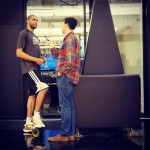 Erik Gundersen is the Trail Blazers beat reporter for The Columbian. He's a graduate of the Allen School of Journalism and Communication at the University of Oregon in addition earning a degree in Spanish. He's covered the NBA for four seasons. You can also occasionally find his work on ESPN.com's NBA section for their TrueCities series. He also fist-bumped with Kanye West once. Follow @BlazerBanter on twitter for more Blazers and NBA news.