The Scouting Report: at Utah Jazz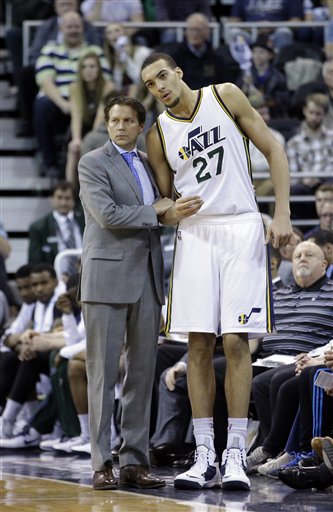 Projected starting line-up: Dante Exum, Joe Ingles, Elijah Millsap, Derrick Favors, Rudy Gobert
Doubtful: Gordon Hayward (shoulder)
Out: Rodney Hood
The Utah Jazz look like they are in the middle of building something great even though they have no chance of earning a playoff spot this season in the brutal Western Conference. They jettisoned Enes Kanter to make more room for Rudy Gobert in the middle.
By the numbers and the eye test, it was a very obviously easy decision for the Jazz to make as Kanter couldn't defend the basket almost at all. Not only does Gobert's length and athleticism work to protect the rim but everything an opposing offensive team wants to do.
If Hayward doesn't play, which is very likely as doubtful means he has 75 percent chance to miss the game, Portland's responsibilities on defense likely won't be as taxing. However, as we've seen in trips to Minnesota and Orlando, having an advantage isn't a guarantee for victory. Portland gave it their all for much of last night's double digit loss to the Warriors.
Lillard looked great and it's not as if Utah's perimeter defenders are any scarier than what the Warriors were able to put out there. Nicolas Batum didn't even sit on the bench during last night's loss so it wouldn't seem likely that he'd play tonight. LaMarcus Aldridge and Chris Kaman both were in street clothes.
As far as the Blazers in this one, they need Robin Lopez to break out of whatever funk he is in. Memphis and Golden State made Lopez look like a non-factor in the last two games. The Jazz have a playoff-caliber frontcourt already and Portland needs Lopez to step up, especially if Aldridge does not go.
The Blazers started Alonzo Gee at the starting small forward spot against the Warriors and started Dorell Wright at power forward. While it was what they did last night I would be very surprised if Meyers Leonard didn't start. Stotts likes to play match-ups and Dorell Wright guarding Favors is something I don't think he wants to see.  On the other end, it would space the court but so does Leonard. So, although Stotts will keep the media in the dark til then, if Aldridge doesn't go I'd guess Leonard gets the nod tonight.
As far as Chris Kaman, he played well against Utah during Portland's biggest loss of the season on Feb. 20 against the Jazz. He's missed the last two games.
Guard Joe Ingles, a lefty, went 4-of-6 from long range in the last game. Hood has the size and skills to be a real contributor and Portland can't leave.
Trey Burke will be the toughest threat for Portland's defense off the dribble if Hayward doesn't go. Lillard played admirable defense on Curry and Golden State. If he can bring that type of effort tonight against Burke, Portland should be able to pull it out.
Although the Jazz have had the league's best defense since the All-Star break by a wide margin, they just suffered a bad loss to the lowly Timberwolves and gave up an offensive rating of 113.6.
Tonight might well be an indicator of how much the Jazz need Hayward's size and athleticism on defense in addition to his wonderful offensive talent. Portland hasn't taken advantage of these situations lately and without Aldridge it will be harder to do so.