Blazers drop 4th straight game to Grizzlies 97-86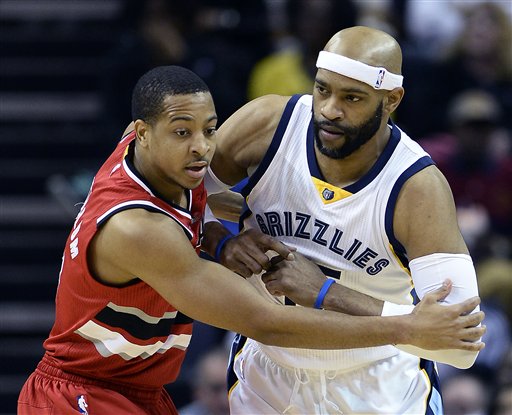 The Portland Trail Blazers lost their fourth consecutive game on Saturday as they fell Memphis Grizzlies 97-86. Forwards LaMarcus Aldridge and Nicolas Batum were both held out of the second half of the loss.
Of course, the most concerning news for their future was the injuries to Aldridge and Batum. X-rays came back negative on Aldridge's hand (he was also playing the Grizzlies who are very physical) while Batum told reporters that he wasn't sure about his status for Tuesday's game against Golden State.
[youtube http://www.youtube.com/watch?v=D6ZVSeizOHE]
From what each player has said, it appears that Batum's injury is a little more concerning in the long run. From Aldridge's perspective, would you want to play against Zach Randolph in a regular season game when your hand with a torn ligament in it hurts more than usual? Yeah, thought so.
But back to the game. The Blazers looked ragged and the Grizzlies continued to beat them up as they've done all season. The Blazers were sloppy and the Grizzlies were physical, leading to 17 turnovers for Portland.  The Grizzlies also had an 11-5 advantage on the offensive boards even though the Blazers miraculously outscored them in 2nd chance points.
Damian Lillard led the Blazers with 27 points and looked good at times offensively. But his shot from the outside hasn't been falling the last few games as he is 2-for-11 in the last two losses. Without Aldridge, the Blazers started Meyers Leonard and Dorell Wright. Wright looked especially good, handling the ball and finding opportunities to attack the defense. It's not a dimension he's usually asked to bring when Aldridge and Batum are fully healthy.
But this game was about the Grizzlies wearing down the Blazers with their physicality. One of the few bright spots for the Blazers was the play of CJ McCollum for the second straight night. He helped keep the Blazers afloat in the second quarter and was getting many of his buckets against Memphis' best defender, Tony Allen. But he cooled off a bit in the 2nd half.
Robin Lopez appeared frustrated and so did Lillard even though he had a big game. Portland's defense continues to slip with Arron Afflalo in the starting line-up and Memphis put their offense in a vice-grip. According to NBA.com, the Blazers starters with Afflalo are now giving up 114 points per 100 possessions and their scoring has dipped slightly as well. Afflalo took only three shots but it also could be a case of Memphis' defense not allowing initial breakdowns that lead to open shots.
Memphis makes it hard to score for everyone and that they held the Aldridge-less Blazers to 18
Jeff Green killed the Blazers again and making matters worse for Portland, he had his outside shot going. Green finished with 23 points including 5-of-7 from 3-point range. Mike Conley was great as he always is and so Z-Bo was himself. Memphis won even though Marc Gasol was 4-of-20 but with the Blazers not having Aldridge for an entire half it's not all that surprising they held on.
Portland fought hard and made things interesting late. Wright made plays and made shots but the shorthanded Blazers were fighting an uphill battle. They made things close and then a Zach Randolph 3-pointer with under three minutes left basically put the game away.
With the loss, Portland basically kissed their hopes of getting the 2nd seed goodbye.
Other things:
Chris Kaman didn't play in this game with a shoulder injury. Although Kaman's been criticized at times for his play (turnovers, the shots he takes, etc.), they could have used him without Aldridge. Without Aldridge, the Blazers don't really have anyone who can catch the ball on the block and be trusted to do something with it. Although the Kaman experience can be uncomfortable to watch at times, it may have helped Portland get better possessions.
The Lopez-Leonard line-up alongside Wright, Lillard and Afflalo didn't have a great outing, being outscored by six points in nine minutes of play. We wrote about the intrigue of playing that duo together. They were outplayed by Memphis' starters.  However, the starting line-up was outscored by nine in the same amount of minutes. To recap: the Memphis' starters crushed.
Up next for the Blazers it's the NBA-leading Golden State Warriors at the Moda Center. If they are going to break their losing streak they'll have to do it against the league's best team. Without Matthews and possibly Batum, the Blazers will have to pray to the basketball gods that Stephen Curry has an off night. Either that or that Steve Kerr decides to rest him on the 2nd night of a back to back. And even then, Golden State's defense is the stingiest in the league. Portland could be in for another repeat of Saturday if they don't bring their A-plus game even though being at home will certainly help.