The Scouting Report: at Memphis Grizzlies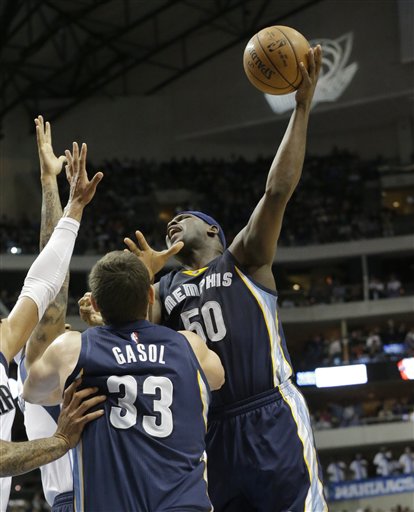 Projected starting line-up: Mike Conley, Tony Allen, Courtney Lee, Zach Randolph, Marc Gasol
The Memphis Grizzlies cracked the door open ever so slightly for the Trail Blazers and Houston Rockets to try and sneak into the West's No. 2 seed. Their win last night against the Mavericks went a long way in securing that but with 14 games to go, there's still enough time for anything to happen.
The Blazers have lost three straight games going into this crucial tilt against the Grizzlies and they have a 2.5 game lead over the Blazers. A win would bring the Blazers within 1.5 games but the Grizzlies already have the tiebreaker. The Blazers will need to finish with a better record than Memphis to seal the win.
The Blazers nearly knocked off the Grizzlies in the last meeting but they blew a double-digit lead in the fourth quarter to lose the season series. There is no doubt that Memphis has Portland's number so far this season. The Grizzlies won the final period 34-15 in their meeting in Portland nearly a month ago.
The Grizzlies are Spurs-like in their ability to make their opponents pay for their mistakes, at least this season. Against the Blazers that has been evident as they've taken advantage of opportunities in transition as well as on the glass.
The Grizzlies have also scored at will against the Blazers in the last three meetings. Portland's defense has been something of an issue as of late as they are 2nd to last in the NBA in defensive efficiency over the last seven games, which was when Afflalo was inserted into the starting line-up
So far, swapping Matthews for Afflalo hasn't produced good results. According to NBA.com, the line-up of Lillard-Afflalo-Batum-Aldridge-Lopez is being outscored by 7 points per 100 possessions because they are giving up 113 points per 100 possessions in 12 games that the line-up has played. It's still early but it's not an encouraging start. Per NBA.com, the starters including Matthews allowed only 97.4 points per 100 possessions. So, yeah, that's been a difference so far.
With how the Blazers have been able to play offensively, they've been close in games where they haven't played well defensively. The Blazers need to play a great game to beat Memphis and that would be the case even if they weren't struggling to stop people.
Gasol, Randolph and Conley are trouble. Portland's chances of taking the No. 2 seed will be almost done if they lose tonight. Memphis' bench has outplayed the Blazers' reserves this season. Kosta Koufos, Beno Udrih and Vince Carter are going to be problems as well.
No matter the ending tonight, you can bet the Blazers are glad they won't see Memphis again this year, at least not in the first round of the playoffs.