The Scouting Report: at Orlando Magic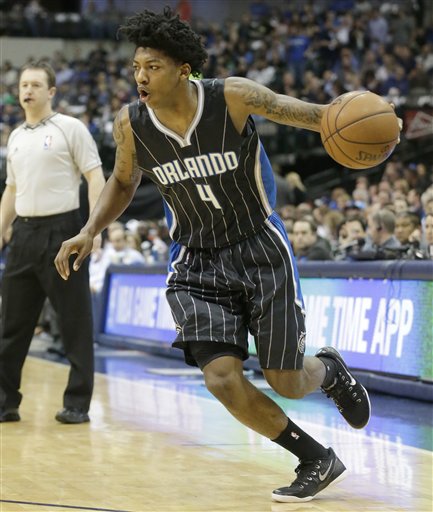 Projected starting line-up: Elfrid Payton, Victor Oladipo, Maurice Harkless, Channing Frye, Nikola Vucevic.
Departures: Head coach Jacque Vaughn fired, replaced by James Borrego
As you may have seen on social media, we've been covering the NCAA tournament for the last three days at The Columbian. We, just like you, have been getting knee deep in the madness of March.
But the show must go on for the Blazers and their five-game road trip takes them to Orlando where they will play the Magic in the first game of a back-to-back.
Starting Magic point guard Elfrid Payton just notched the first triple-double of his career in a loss to the Mavericks. The most impressive part of Payton's line was that he hit a 3-pointer as he is notoriously averse to shooting from long range. But he's young and that will likely come along.
There is no doubting Payton's competitiveness. In the previous match-up between the two teams, Payton went right after Damian Lillard. Payton's length and size are huge advantages for him and he used them to pick up Lillard full court, making things tough for him.
Of course, Lillard isn't one to worry about who is guarding him but it's hard to ignore the fatigue, both mental and physical, that full court coverage and attention can do. Lillard was 3-for-10 in the last meeting and will want to have a better performance. And with the Blazers on a two-game skid, a Lillard explosion game would go a long way to making it easier to break the skid.
Without Wesley Matthews, the Blazers have to deal with the threat that Victor Oladipo brings. Oladipo has continued to improve in his second season with his consistency. He's also a highlight waiting to happen and his flashes of brilliance show you how special he can really be.
But priority number one for the Blazers will likely be Nikola Vucevic. Vucevic had 34 points and 16 boards in the last meeting in Portland even though the Blazers were down both Robin Lopez and Joel Freeland at the time. Having Lopez in the middle should help their team defensive against Vucevic.
Harkless didn't see the floor in the last meeting as he appeared to be in Jacque Vaughn's dog house. Harkless is starting now and his athleticism and size are a tough match-up.
The Magic aren't exactly playing well, but they are a little more respectable. Ahead of a big game with potential playoff seeding implications on Saturday, this has trap game written all over it.