The Scouting Report: at Miami Heat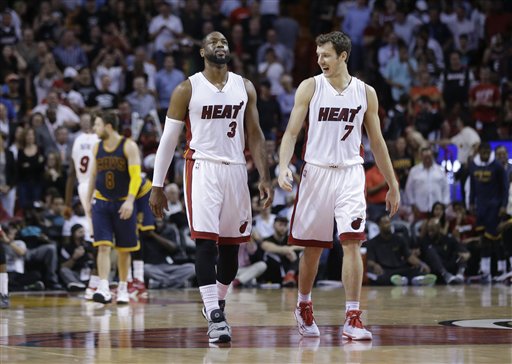 Projected starting line-up: Goran Dragic, Dwyane Wade, Luol Deng, Udonis Haslem, Hassan Whiteside
Key addition: Dragic
Key injury: Chris Bosh (blood clots) out for the remainder of the season
The Miami Heat are in the thick of the playoff race but it's not where most and even there fans hoped they would be. Hours before the trade deadline passed, they acquired the point guard that they lacked in All-NBA 3rd teamer Goran Dragic.
The prevailing thinking at the time was that the Heat would have a starting line-up capable of at least winning a first round series with Bosh, Wade, Dragic, Deng and Whiteside and maybe more. But the Bosh injury as replaced those hopes with just trying to make the playoffs. The Heat played well on Monday getting an emotional win against former Heat member LeBron James and company.
Kevin Love didn't play in that game but the Heat still played very well. Mostly, it was Wade who impressed with 32 points as well as five steals on the night. Dragic had 20 points and was always a problem for the Blazers when he played for the Suns. Dragic has one of the best first steps in the league and the Blazers individual defense will need to be ready against him.
As for Wade, I think we've seen before, even in the last meeting in Portland, that sustaining his great play is the biggest issue. After stepping up big in a game against his best friend LeBron, I doubt he will have enough in the tank to really go after the Blazers on Wednesday. He might come out hot but he slowed down in the second half in the last meeting which could very well happen again.
A difference for Portland defensively this time around will be contending with Miami's Hassan Whiteside. Whiteside only played minutes off the bench for the Heat when they were in Portland, though he did play very well in those minutes. Now he's a starter playing over 30 minutes per game so the Blazers have to deal with a very different team.
Deng is a good defender and player in general. It should be a good match-up between he and Batum. But Portland's bench should clearly have the advantage against the Heat tonight and that's where they really extend a lead. But a good start will be important although not required for Portland to come out with a win.
Without Bosh, the Heat really don't have any answer for Aldridge and can't really make him work on the defensive end. The Heat do things a little differently with Whiteside in the middle on pick and rolls.
Don't be surprised if the Heat become the third team on the trip to start throwing the kitchen sink at Aldridge. Spoelstra is a wizard and he likely saw how the Raptors and Wizards attacked Aldridge and forced everyone else to beat them.