Breakdown: Meyers Leonard and Robin Lopez double-screen
The Portland Trail Blazers lost Monday night for just the second time in 10 games in the Nation's Capital. They've been playing well despite the fact that they are playing without their best defensive player and 3-point shooter for the rest of the season, Wesley Matthews.
The Blazers are starting to develop a new identity. And it's not just the starting line-up where the Blazers are finding themselves. Today we are going to talk about one small wrinkle in Portland's attack: the Meyers Leonard and Robin Lopez dual ball screen.
It doesn't happen for long stretches of the game, but the Blazers have found another avenue for getting quality shots when LaMarcus Aldridge goes to the bench.
Come playoff time, we know Aldridge won't sit very much. But there will be times where he will have to sit and perhaps the Blazers need to find an identity in those times where Aldridge isn't on the court.
The Blazers need to find ways to survive offensively without Aldridge as they currently score 99.6 points per 100 possessions when he sits compared to 108.1 when he is on the court according to NBA.com.
Against the Rockets, Blazers coach Terry Stotts was forced to go to Leonard earlier than usual because Aldridge had four fouls. In 15 games this season, the Blazers have found stretches, even if just for a handful of possessions, to play Leonard and Lopez together. Recently it's mostly comes in the middle of the second quarter.
The best weapon the Blazers have when these two are on the court is using them both as a screener. And the most dangerous combination is when they are both setting up screens for Damian Lillard.
Individually, both Lopez and Leonard have been efficient scoring out of pick and roll situations. And because they both do it in different ways, it creates a nightmare for defenses.
Against Houston:
"Coach really likes those especially out of transition," Leonard said.  "A lot of times it's hard for teams to guard. Dame, Steve, a lot of our guards come off, they're scoring threats. Then Robin going to the basket is a huge threat. Then, spacing to three."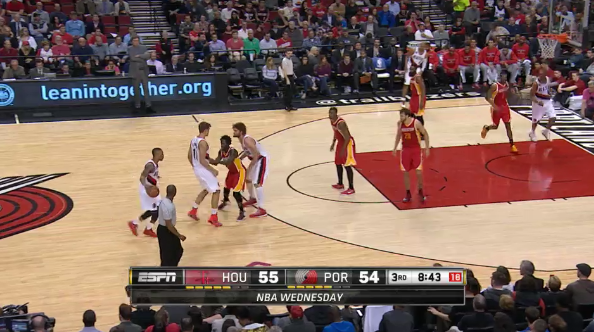 Here Leonard and Lopez set the double pick, which frees Lillard going to the left. The Rockets are forced to switch and Beverley maintains a relationship between the ball and Leonard. But it leads to a lefty lay-up for Lillard against Terrence Jones, the type of look Portland's offense would gladly take again even though Lillard missed.
Here, the Blazers look for the pick in transition again. This time, Leonard spaces away from the Lopez pick as Lopez's man tries to trap Lillard. Lopez's rolling threat commands the defense's attention and Leonard gets a wide open look. Leonard isn't involved in a double screen here but you see the shot he gets by using his spacing.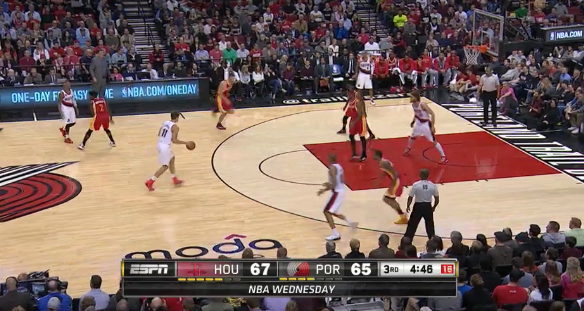 "When you're talking about, when I get 10 feet of space off my big bumping RoLo and trying to help on the screen or sometimes they stay with me, RoLo gets a dunk or Dame gets shots."
When the Blazers put away the Pistons in the fourth quarter last Friday they did so with heavy doses of this action. Once again, this play doesn't lead to made shot, but you can see what it does to the defense. Batum gets a corner three from this as the defense had to be aware of all options.
Monroe prepares himself to meet Lillard on the other side of the screen as Lopez sets up to Lillard's left side. Leonard lurks on the right presenting another option and soon both Lopez's man goes to Lillard. Leonard's man, Anthony Tolliver, has the unenviable task of having to choose between the rolling Lopez and the popping Leonard.
Lillard's choice, of course, was neither. Spencer Dinwiddie crashes down from the corner but Lillard sees this. This presents the type of opportunities Portland's offense needs without Aldridge on the court so it's with good reason that according to Leonard, Stotts wants the Blazers to look for that.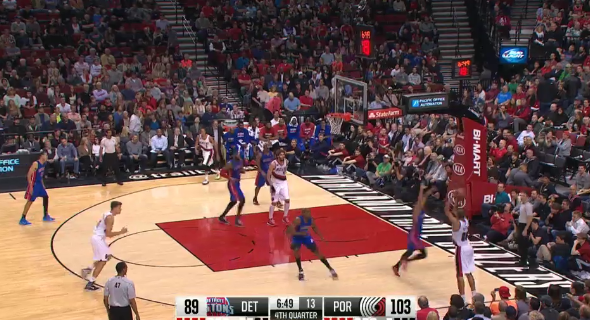 The Blazers also ran it again and it freed up Lillard to step into a 3-pointer to help put Detroit away.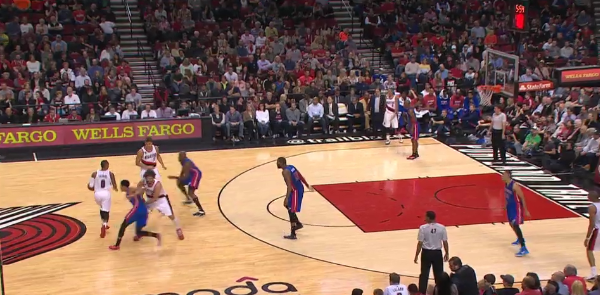 Once again, notice Tolliver both playing the passing lane on Leonard after hedging on the initial Lillard screen. The Blazers do this with perimeter players often. They used to do it with Matthews and they do this action sometimes with Afflalo, too. After sending his defender around two screens, Lillard launches just when he thinks he's had a break. Poor Spencer Dinwiddie.
"RoLo is going to roll hard to the rim and draw a lot of attention," Lillard said. "(Lopez has) great hands and he's catching that roll pass and finishing in traffic. With Meyers if the bigs don't want to leave me, he's popping back and getting a lot of space. We got a lot of confidence in him taking that shot. That's how it's been working."
According to Synergy Sports, Leonard has been one of the best shooters in pick and pop plays. He has shot a ridiculous 16-for-30 from the field and scored 45 points on 30 such plays.
Lopez was the best roll man last season and while his field goal percentage around the basket has dropped, he is still one of the best in the league at rolling and finishing. He is currently in the 84th percentile of roll men according to Synergy in points per possession while Leonard is in the 99th, in a much smaller sample.
They've even run it with Steve Blake and it led to an easy look for Lopez against the Pistons.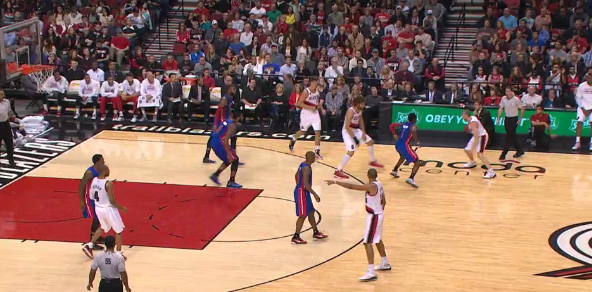 Monroe has to make sure he shows back out to Leonard, which leaves the lane open for Lopez to roll.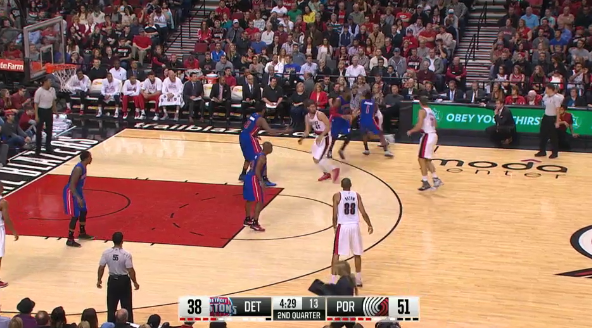 Blake makes a nice bounce pass and it's a bucket. 
Together, the duo has not blown anybody away. They've barely outscored their opponents in 105 minutes together per NBA.com. At least in spot minutes, it looks like the Blazers will keep going to this play. And if Portland can at least tread water offensively when Aldridge sits that's a huge win in the long run.
Against the Raptors, it resulted in a missed lay-up by Lillard that could have and probably should have been rebounded by the Blazers.
This time Lillard splits the pick and it sets up a one-on-one against Tyler Hansbrough in a situation where Lillard has greatly improved. But Hansbrough plays good defense and Lillard cannot convert.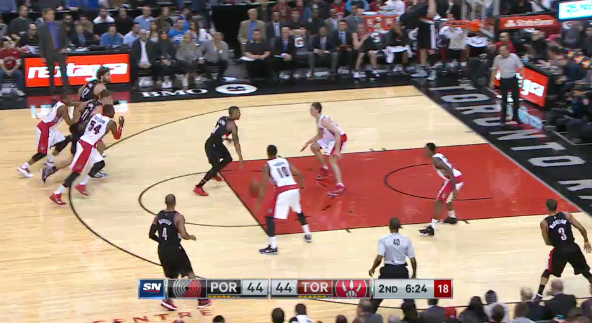 Both Lopez and Leonard have position for a rebound but can't come up with it. 
Every minute in a playoff series will be crucial and the Blazers will need as much help from the bench as they can get now that they don't have the depth they did a few weeks ago.
It will be interesting to see how or if Stotts is able to find more time for the Blazers to try out this wrinkle down the stretch. Chris Kaman has been a fixture in the rotation and it doesn't look like that will change any time soon. Lopez and Leonard played for just under two minutes in the second quarter Monday, which may have been because of the back-to-back situation.
But considering Portland's struggles defensively against the Wizards, it was nearly impossible to get that look in transition though it did lead to an open midrange jumper for Leonard on one possession, which he missed. Imagine if the Blazers actually start hitting shots out of this set.
Will Portland be better served playing more minutes with Aldridge as the lone big man platooned by this unit? That will likely have to do with Leonard's defense and rebounding than anything else. Kaman's on-court plus-minus is slightly worse than Leonard's but it is in a much larger sample. Kaman also has a wealth more of experience. Stotts hasn't budged that Kaman will play if he is available but he seems to be opening up the look of Lopez and Leonard a tiny bit.
Stotts is finding little stretches of time to try and use this weapon. Only time will tell how important it will be. Portland finding efficient offense while Aldridge rests is going to be a key task for the Blazers and they'll need it from anywhere they can get it. This play has the potential to be important if Portland can find the right spots to use it.
But when the Blazers can get to it, using Lopez and Leonard up high as screeners at the same time has a lot of potential and has already produced some good results.