The Scouting Report: at Toronto Raptors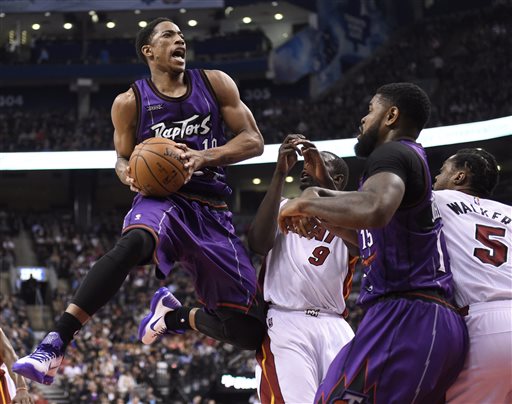 Projected starting line-up: Kyle Lowry, DeMar DeRozan, Terrence Ross, Amir Johnson, Jonas Valanciunas
The Toronto Raptors have had an up and down season. The release of Drake's new album hasn't really sparked the Raptors on a stretch of winning basketball. After starting the second half of the season by clinching the season-series against the conference-leading Atlanta Hawks, the Raptors continued to battle with inconsistency.
They have made changes in the starting line-up and then they've had some injury issues. But they have simply been inconsistent. They lost four straight games before handling the Miami Heat on Friday behind solid performances from everybody without Jonas Valanciunas, who had the night off after the birth of his first child.
However, the last time these two teams played, the Raptors got up for the game and they played the Blazers very well. Obviously, the Blazers are a different team and things they did, such as basically ignoring Batum, won't happen this time around. Batum is playing much better and without Matthews, he has a much bigger scoring burden.
The Raptors did not have DeMar Derozan in the last meeting but that didn't stop the two teams from needing overtime to win the game. The Raptors also threw the kitchen sink at Aldridge, not letting him get up as many shots as he is used to. He had 23 points and 11 rebounds but the Raptors worked hard to make sure he didn't just go to work on the Toronto big men.
The Raptors bench is also an issue for the Blazers to contend with, specifically their backcourt. The Blazers bench has played well recently and the rotation will be much different than it was when these two teams played on Dec. 30. Lou Williams went 1-for-10, which killed the Raptors second units. And we will likely see a little bit more Meyers Leonard than we did in the last meeting.
But looking to the last game to try and find clues as to how the teams will attack each other is hard to do. Dwane Casey knows Stotts well from their Seattle and Dallas days as assistants and Casey employs a Rick Carlisle-type strategy with throwing everything at Aldridge and making the other Blazers beat them.
The Blazers have to make plays but they should have an advantage against a team that hasn't been able to play consistently well for the past two months.