Blazers lock up Raptors in the second half 113-97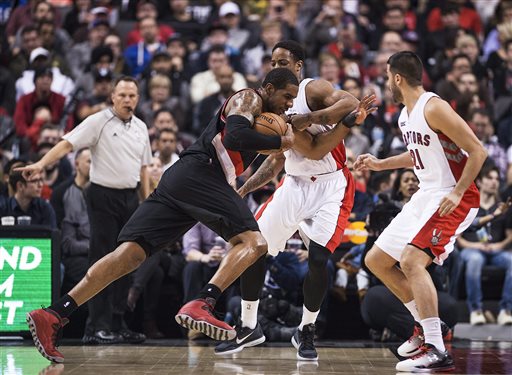 The Portland Trail Blazers handily defeated the Toronto Raptors Sunday 113-97. Led by their three best players, Portland rolled to victory after surviving an early flurry from the Raptors.
LaMarcus Aldridge had 24 points and 10 rebounds. Damian Lillard had 23 points and five assists while Nicolas Batum had a double-double of 10 rebounds and 12 assists. Portland's trio took over from the outset of the game and then they brought their defense towards the end.
Their ball movement was sublime at times and their defense suffocating. The Raptors are also still wildly inconsistent on both ends and the Blazers consistent attack prevailed by the end of the game.
The Raptors tried once again to take Aldridge out of the game. They would single cover him but they also fronted him and doubled him. What I like to call, "the Rick Carlisle special." But Aldridge found his spots and was highly efficient when he did. Aldridge took just 14 shots and made nine of them. It also helped that the Blazers.
But once again, Arron Afflalo got the Blazers going by showing a quick trigger on the jumper. Afflalo is resourceful and it looks as though he is starting to really fit in with Portland's offense even though he didn't shoot too well after a hot start. He was 5-for-14 but the Blazers likely won't be concerned with that and will be pleased with his aggression.
Portland's bench also played well. CJ McCollum had nine points and so did Steve Blake. McCollum showed some nice patience all though Lou Williams did get him on a jump shot with a modified rip through type move like he did in the previous meeting between these two teams. Dorell Wright also had some great moments in the second half which included a pair of dunks and a 3-pointer.
The Blazers shot 45 percent from long range as a team and continue to flow on that end. Batum has a lot to do with that as he continues to find his game. His passing tonight was up there with the best he's had all season and he's also starting to make defenses cover him. With Afflalo filling into the role he needs to as a weakside shooter, the Blazers offense is finding it's form behind the play of Batum.
Aldridge called Batum the team's x-factor, telling Blazers broadcaster Mike Barrett that he makes the team elite. The Blazers have scored 116 points per 100 possessions in the last three games and have defended passably, although not great. Right now, the Blazers are winning with elite offense, something that hadn't really happened all season until now.
Their defense has been passable but their offense has been fantastic as they've shown a quality that was dormant for most of the season.
Other things:
DeMar DeRozan was a tough guard for the Blazers tonight. Toronto's shooting guard hit some very tough shots against good Blazers' defense and he showed why he is a difficult guy for the entire league to handle. He was 9-for-18 from the field with eight rebounds. But the Blazers basically shut down everybody else. Kyle Lowry, who started this year's All-Star game had a very odd performance. Lowry was 3-for-11 with 10 points and six assists but also had four turnovers. Turnovers were an issue for the Raptors in general. Lowry was clearly frustrated with his game and then when he tried to post up on Steve Blake late in the 2nd quarter and came up empty, it just made things worse.
Aldridge also had five assists on the night. He tied a season high in that category. When teams try to take Aldridge out of the game, his passing has to continue to exploit that.
Meyers Leonard played just eight minutes tonight with most of it coming in the first half. Dorell Wright played well at both forward spots.
Afflalo was 4-of-6 from three. He took 19 3-pointers in his first six games but he has taken 20 in the last four games. It looks like he's settling into his role well as the Blazers offense continues to buzz through defenses.
The Blazers have won seven of eight and are one game back of the Grizzlies for the 2nd seed. They'll take on the Wizards Monday night in Washington.