Trail Mix: Blazers 118, Pistons 99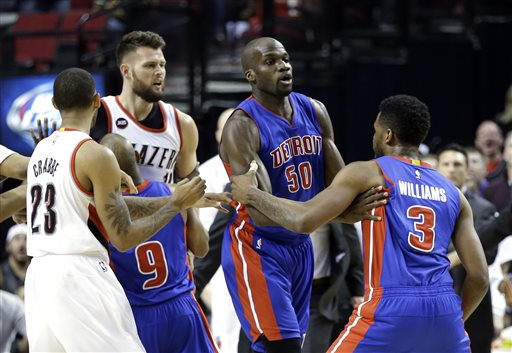 The Portland Trail Blazers handily defeated the Detroit Pistons on Friday night 118-99 at the Moda Center. And Joel Freeland won the hearts of all Blazers fans by the end of the night.
As I'm sure you know, this is the second Friday The 13th that we've had in a row. And boy, were things weird tonight at the Moda Center and it wasn't just the Pistons.
Steve Blake had a line that nobody else in NBA history has had and then Freeland-Meyers Leonard had an altercation with former Blazer (he was sent over in a trade then bought out) Shawne Williams.
Thank goodness this happened because honestly, what else was there to say about this game?
[youtube http://www.youtube.com/watch?v=3IGwg-0mwyA&w=560&h=315]
Beat into the ground that the trade for Reggie Jackson might have been a total waste? How much Stan Van Gundy yells compared to the rate his team executes what he's yelling? Joel Anthony is on Detroit now?
The game wasn't that close after the opening tip. The fans at the Moda Center knew better than anybody. When the Pistons were getting to within 14 or 12 in the fourth quarter, they would start to chirp in the stands, knowing that was the bare minimum Portland should have been leading by.
In all seriousness, the Blazers should be commended for taking care of business. Arron Afflalo got things going and the Blazers' stars, Damian Lillard and LaMarcus Aldridge, followed suit. Lillard got off to a great start and then put the finishing touches on the win after the Pistons trimmed the lead down. Lillard had a personal 6-0 run to push the lead from 14 to 20 in the span of 31 seconds.
The Pistons suck and it's a shame, but they haven't been the same since losing Brandon Jennings and you can't win without having SOMEBODY who can break down a defense. It felt like the best thing the Pistons had going tonight on the perimeter was getting Jodie Meeks going off the ball.
Afflalo did look more comfortable Friday than he has at any point so far in his Blazers' tenure with 15 points on 5-of-9 shooting.
"They were looking for me along the way," Afflalo said of his teammates. "It was good to make our first few shots. If it had been a more competitive game I probably would have had a more explosive game. It felt good tonight."
"I think he's feeling more and more comfortable," Stotts said. "I think the shots are there. I think he's feeling, I think he has a better idea of where shots are going to be, moving without the ball."
"He was just being himself," Lillard said of Afflalo. "From the tip he was being aggressive. Running the floor, being aggressive in transition. When we see him more comfortable, it make us more comfortable. We're a better team when he's comfortable. When he's not trying to fit in, he's being himself."
Notes:
From Batum on the fight that didn't make the paper: "I knew it," Batum said. "Joel and Meyers are like twins, brothers. When the first thing happened to Meyers, the first thing I did was look at Joel. I saw his face and was like 'uh oh.' Then he got him and boom, I knew it."
Terry Stotts was coy with his answers as usual, joking that he thought Freeland's response was more of a "head push." "I don't know what happened with Williams and Meyers," Stotts said. "What I saw on the replay was the head butt and Joel was kind of a head push. Thought he kind of pushed him with his head. He didn't strike him with his head. He more pushed him with his head."
Stotts did love the camaraderie that it showed. "I like the way he stood up to his teammates," Stotts said. "Things like that happen and you make light of it sometimes. I think the biggest thing is Joel came and stood up for his teammate. And I liked how the fans stood up for Joel when he was on the big screen."
 "From the start, we did it on defense," Batum said.  "We got some stops, control the rebounds. We knew the rebounds would be huge with Monroe and Drummond. LA make some shots. We make some shots. Everybody play good tonight."
Stotts on the play of Meyers Leonard who had 15 points off the bench: "He's playing with a lot of confidence more than anything else," he said. "Obviously he's playing well at the offensive end. And that's good. I know what he can do offensively. He's making shots and that's good for his confidence. The important thing for him is rebounding and when he does that it just makes us a better team."
When Leonard played in the fourth quarter with Lopez, they brought back the Leonard-Lopez double pick and roll with Lillard. That is one of the best play's Portland has offensively. Lopez is one of the best roller's in the game, Lillard is a lethal shooter and then you have Leonard popping out and he's the team leader in effective field goal percentage. That's a pretty darn good play to have in your back pocket when Aldridge is sitting on the bench.
Your Western Conference standings as of March 14: