Trail Mix: Blazers 105, Rockets 100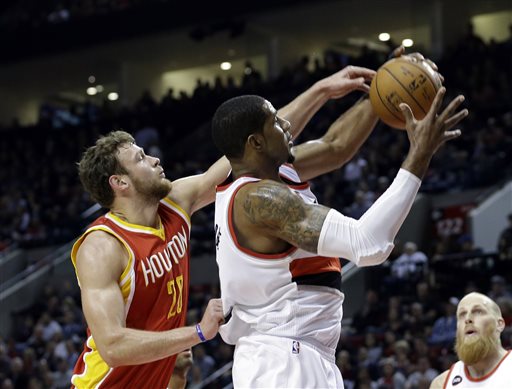 The Portland Trail Blazers defeated the Houston Rockets 105-100 Wednesday night at the Moda Center in their first home game without shooting guard Wesley Matthews.
They honored Matthews before the game an during it, with a stellar team effort against Houston's James Harden.
The Blazers followed up one of their worst defensive performances over the past two weeks with a notch they can put on their belt, the first since losing Matthews. That it was against the premier player at the off-guard position and MVP candidate in Harden was just icing on the cake.
The Blazers also pushed around the smaller Rockets, perhaps proving, that even with Harden's greatness, the Rockets will need players like Dwight Howard to match-up against teams like the Blazers.
Arron Afflalo didn't have a good shooting night, but he made a big triple late from the corner behind a Robin Lopez screen. It was the type of quick release with full confidence and two players charging at him that the Blazers offense thrives upon.
Afflalo isn't really a catch and shoot guy, not in the way that Matthews is. But he took seven triples tonight, even though he only made one, the most he's taken in a Blazers uniform. His volume was Matthews-esque. If he can start hitting on those at a good rate while maintaining that volume, it will be interesting to see how the Blazers offense evolves in the final 20 games of the regular season.
Afflalo has been known to be a hard worker and a smart player who earns what he gets. But it seems that another similarity between he and Matthews: getting in where you fit in. Afflalo is starting to do that.
Corey Brewer almost ruined everything for the Blazers with a fantastic end to the game. He scored 17 points in the final 3:53 but missed a three over Steve Blake that would have tied the game in the final 10 seconds.
Between Afflalo and the defense, you could see a team that looked like it belonged in the West's top three. Their discipline on Harden was fantastic and where it needed to be after a combined 89 points in the first two games.
"Make him work," Batum said about the keys to success against Harden. "Make him work as hard as we can. Like Westbrook, like LeBron and like Steph, you can't really stop them. You got tot make them work, that's what we try to do tonight. He got 45, 43 the first two games. We couldn't do worse. We try to make him work. He missed some shots but that was good team defense tonight."
What about his five free-throws, roughly half his nightly average?
"He had 23 last game," Batum said. "If he had more than 23 that would be bad too. We did a good job."
The Blazers were happy with the win, but they weren't too happy, with only Batum describing the importance of the wins in terms of the seeding between the two teams who are neck and neck.
"It was huge," Batum said of clinching a possible tiebreaker between the two teams by winning the season series 2-1. "We have less than 20 games. That kind of win is big for us. Now we have to play without Wes against a team like this. The tiebreaker is good."
Other notes:
Terry Stotts on the Blazers' defending James Harden: "I thought Arron and Nic did a ver good job on him. As a team, we did a nice job of corralling him, but those two guys worked really hard to try and take away some of the things he does well. He didn't shoot a lot of free-throws. For whatever reason, he didn't shoot a lot of free throws, he didn't get a lot of clean looks, so good individual defense, good team defense."
On the play of Meyers Leonard who scored 8 points in a short shift in the third quarter when Aldridge picked up his fourth foul. "I thought Meyers coming in really helped turn the momentum of the game. Obviously, LA went out with his fouls and the game started turning the other way against us. The shots that Meyers hit really gave us some momentum."
Joel Freeland and Allen Crabbe were the only Blazers not to get in the action tonight. CJ McCollum played 30 seconds in the first half and then was subbed out for Alonzo Gee, only to make an appearance in the second half.
Wow did the Blazers almost throw this one away. The Blazers were up 11 with 2:42 left and Brewer almost single-handedly brought the Rockets back even though he did get away with some extra contact. Batum agrees they panicked a bit at the end. "A little bit. We got to close this game. Up 11 with 2 minutes to go, we can't be in this situation at the end of the game so we got to be careful with the ball."
Kevin McHale would have liked better ball movement. "We've got to move the ball better than that, we've just got to move it earlier. We've got to make better decisions once we get the ball, we could have better spacing, need an extra pass. A couple of times we didn't get them. I say we weren't very good. It seemed like for a while we got some really good shots and we didn't make them and then everybody didn't really flow offensively."
The Western Conference on March 12: