The Scouting Report: Houston Rockets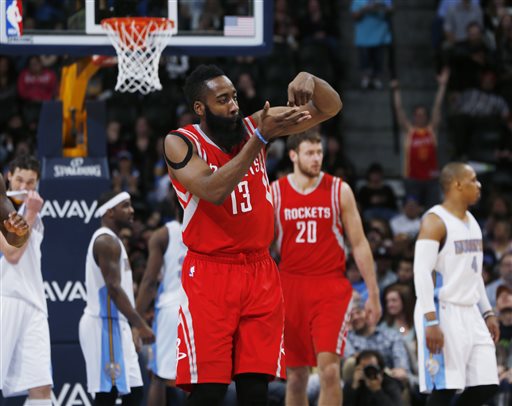 Projected starting line-up: Patrick Beverley, James Harden, Trevor Ariza, Terrence Jones, Donatas Montiejunas.
Injuries: Dwight Howard (knee) out indefinitely
The Houston Rockets are still humming along with an improved defense and bolstered roster despite the fact that they haven't had Dwight Howard in the middle for most of the season.
Not having Howard and having just as good, if not a better season, is a big reason why many are pointing to James Harden as the league's MVP. And those that point to that argument have a great argument: no team relies more on a single player than Harden. Even though they've added players such as Josh Smith and have a more veteran presence in Ariza, the Rockets are all Harden.
That claim, at least for the entire season, is more true for Harden that it is even for Russell Westbrook. Additionally, Harden's team has consistently won at an elite rate all season long. Harden has had a usage percentage of 31, meaning he ends 31 percent of Houston's possessions with a pass or a shot.
While Harden doesn't lead the league in usage (Westbrook does at a peak-Kobe esque 38.45), he has the trump card he has played in almost every game with the only one he missed coming via suspension.
If Westbrook continues to put the pressure on, Harden and the Rockets will need to keep themselves atop the West to have chance at the MVP against Golden State's Stephen Curry and Cleveland's LeBron James.
Of course, the Blazers also now have to face Harden for the first time in a few seasons without Wesley Matthews who has had some great battles with him over the years. Matthews had him for the majority of the time in last season's playoffs but the Batum guarded him a great deal and Lillard had his chances too.
We saw the Blazers' first game without Matthews where they gave up 121 points, however, the Rockets are completely averse to the shots that the Timberwolves thrived on. Minnesota did a good job of generating good midrange shots from the post and on curls. The Rockets notoriously avoid the midrange, but Harden presents its own difficult challenge. Arron Afflalo, Batum, Alonzo Gee, CJ McCollum, Steve Blake, everybody that will be on the perimeter guarding Harden tonight. Afflalo has a lot of experience being matched-up with him being a starter in the league for the last five seasons.
Trevor Ariza can always knock down shots and get hot occasionally. Terrence Jones coming back has resulted in productive basketball for the Portland native. He and Motiejunas both like to work in the post and follow up Harden's misses in the lane. Josh Smith is a good athlete and passer off the bench and Portland's bench will be in a tough match-up.
With the way Houston likes to play with no real big men, it will be interesting to see if Stotts goes with Chris Kaman or choses to go with the more athletic Joel Freeland or Meyers Leonard in the middle. Outside of Montiejunas, the tallest players that are healthy and getting minutes currently are Jones and Smith.