Timberwolves snap Blazers' winning streak with big second half 121-113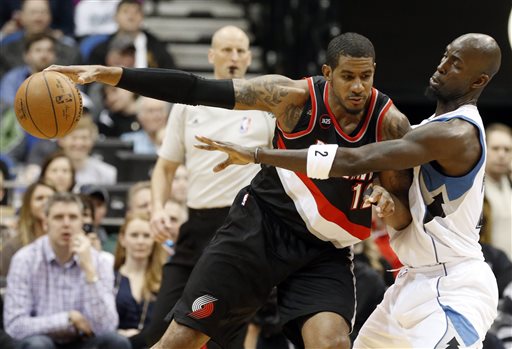 A 70-point second half propelled the Minnesota Timberwolves to a 121-113 win over the Portland Trail Blazers, snapping their five-game win streak. The Blazers had a 55-51 lead at halftime but could not sustain it as the Timberwolves caught fire from the midrange but overall just outplayed the Blazers.
Gary Neal caught fire in the fourth quarter, scoring 17 of his 27 points. The Wolves were 19/40 (47.5 percent) from the midrange and a super-efficient 8-12 in the painted area. And it seemed like different players chose times to catch fire for Minnesota while Ricky Rubio ran the show.
Nicolas Batum looked aggressive and he was efficient to begin the game. He needs to be both for Portland to help make up some of what Wesley Matthews brings and he did that early on. But his big night didn't continue in the second half, especially when Andrew Wiggins got going in the third quarter.
Damian Lillard finished with a game-high 32 points but a lot of those points came at the very end of the game when the Blazers were in desperation time. While they were getting buckets, they could not get a single stop down the stretch. The Blazers weren't flawless but Rubio also drained a 3-pointer in Aldridge's face with the shot clock running down. Bottom line: the Blazers defense was not where it needed to be, especially late, to give themselves a chance.
Is some of that missing their best perimeter defender in Matthews? Absolutely. How could it not be? But some nights Gary Neal gets hot in the fourth quarter and you can't do anything about it. But they Blazers could have been better on the defensive end.
Rubio flourished on the offensive end, getting a near triple-double with 10 points, 15 assists and eight rebounds. The Wolves offense is allergic to 3-pointers, and they got the shots that they work to get. But when they did take a 3, they likely hit it, going 4-of-7 from long range.
The Wolves are the worst team in the West and this is the second time the Blazers have lost to them in Minnesota. With Garnett playing down the stretch and the intensity they played with, they were eager to end their losing streak with a win against a playoff team.
Other things
The Blazers shot 52 percent (14-27) from the 3-point line and still lost this game. After putting together fantastic defensive performances against good offensive teams like the Clippers and Mavericks, the Blazers gave up 121 points in regulation to the 26th ranked offense in the league. Without Matthews, it was reasonable to expect a defensive adjustment period for the team as well. Executing Portand's defense requires coordination among five players and having Afflalo out there more may be causing some issues there.
CJ McCollum hit his first shot of the game but finished the night 1-for-5 in 18 minutes. After that shot, things didn't improve a whole lot. With Afflalo in the starting line-up, the Blazers will likely need McCollum to be the player to provide a scoring punch off the bench that Afflalo was originally brought in to provide.
The Blazers played a lot of small line-ups on Saturday and Joel Freeland and Meyers Leonard both finished with DNP's. We saw all three of McCollum, Alonzo Gee (just five minutes) and Dorell Wright.
Chris Kaman had 8 points, 6 rebounds and 4 turnovers. He makes plays sometimes but then he also seems to get the Blazers offense in trouble. The Blazers will keep rolling with him and he had a good shooting game Saturday. But it will be interesting to see moving forward if he continues to be the lone big man. But knowing Stotts it will be a night-to-night deal.