The Scouting Report: at Minnesota Timberwolves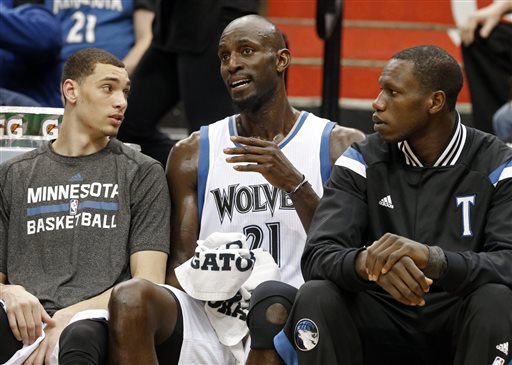 Projected starting line-up: Ricky Rubio, Kevin Martin, Andrew Wiggins, Kevin Garnett, Nikola Pekovic
Departures: Thad Young sent to Brooklyn in trade for Garnett, Mo Williams traded to Charlotte
The Minnesota TImberwolves are in last place in the Western Conference after trading away Kevin Love and starting from scratch. And one of those wins was against the Trail Blazers back on Dec. 10.
At the trading deadline, they traded away Thaddeus Young (whom they traded a top-10 protected first round pick for) to the Nets to set up a homecoming for franchise legend Kevin Garnett. Sure, they basically traded a first round pick for an aging KG but narratives! KG getting into Nikola Pekovic's face in the huddle! Scowling at young Andrew Wiggins!
But while it is easy to poke fun at the trade since it doesn't necessarily make the Timberwolves that much better it does give a young nucleus a veteran presence which is very helpful for the growth of a young core. And when the team's sage veteran is a sure-fire Hall of Famer, they have someone who has a proven track record so they will automatically command the respect of young players. Blazers general manager always made sure to have veterans around the Blazers when they were still in their growing stage and it's value has shown in teaching young players how to be professionals.
Garnett's first game resulted in a win against the Washington Wizards (who have recently taken a dive) in late February. But since then the growing pains have continued for the young T-Wolves as Garnett's intensity and veteran example has not led to immediate success, which nobody was expecting.
What the Blazers will have to be ready for is facing a healthy Ricky Rubio and the dynamic Andrew Wiggins who is already showing flashes of superstar ability. Due to a great deal of injuries, Wiggins was forced to become a featured player on the offensive end but it ended up helping his game blossom.
He, like most of the players on the Timberwolves, shies away from the 3-point line but has shown an ability to score from the post and off pin down screens. His athleticism is elite and the Blazers don't have much of a match for him in that respect. But if Wiggins gets loose, I'm sure Stotts won't hesitate to play Alonzo Gee to have someone give him a tough time.
Without Matthews in the line-up, the Blazers will need more from everyone and Nicolas Batum will likely shoulder more of a scoring load.
The Blazers finished the last game without Matthews and won by 19.  But Saturday they will be playing their first full game without him in three seasons so there will likely be some kinks to work out over the next few weeks.