Nicolas Batum comes up big in Blazers comeback over Clippers 98-93 OT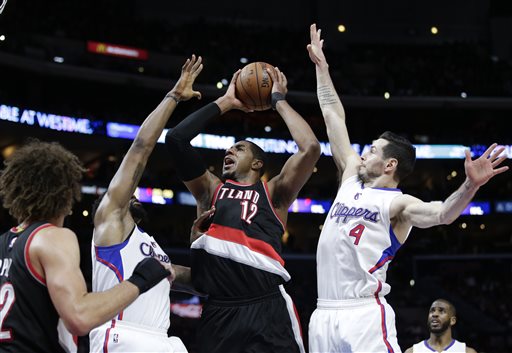 The Portland Trail Blazers came back from 10 points down with 2:38 left to defeat the Los Angeles Clippers Wednesday night in Los Angeles.
The Clippers had completely taken Damian Lillard out of the game. And he started putting up frustrating shots, despite not being able to make any. And they were a little bit early. He did however find a way to impact the game by helping the Blazers secure rebounds, with a career-high 18 rebounds, which were especially key when Portland went small.
But nobody was more decisive for the Blazers in the final minutes than forward Nicolas Batum. The French forward has heard deservedly drawn criticism for his lack of production. But tonight he answered the bell when Portland most needed him. Lillard had been taken out of the game offensively by the Clippers excellent blitzing defense. DeAndre Jordan was the key but players like Glen "Big Baby" Davis also made an impact defensively.
Enter Batum as well as the small line-up that Portland closed with vs. Oklahoma City last Friday: Lillard, Wesley Matthews, Arron Afflalo, Batum and Aldridge as the lone big man. Afflalo had a nice post-up bucket during the rally when Portland needed a quick bucket.
On a broken play where Lillard attempted a risky jump pass, the ball got to Batum and he held off charging Clippers players. Batum calmly collected himself and knocked down a three like the type of crunch time performer he was last season. Then in overtime Batum took things to a new level.
This stretch of the game shows just what Batum is capable of and just a small sample of his brilliant play down the stretch.
[youtube http://www.youtube.com/watch?v=Qr6iJ3Au_Q8]
Aldridge had a great game and made some clutch shots down the stretch, as did Matthews. And while Lillard couldn't buy a basket, he did a job on the boards, often skying above everybody to get them.
Portland clearly dodged a bullet and Chris Paul was the best player on the court tonight, dominating his match-up with Lillard and finishing with 36 points and 12 assists. And the Clippers did an excellent job attacking Lillard and trying to take him out of the game with Jordan's traps.
The Blazers proved again that they are never out of a game. Granted, the Clippers also didn't have three key members of their attack, including superstar forward Blake Griffin as well as their third-leading scorer Jamal Crawford and their best wing defender in Matt Barnes.
But as far as seeding, this was big for the Blazers to have a chance to tie the season series when the teams meet in Portland in April.
Other things:
The Blazers masterfully used the Hack-A-Jordan when they were trailing in this game. At the 2:38 mark, after the Blazers had already been fouling him for the final few minutes, Rivers took Jordan out of the game in favor of Spencer Hawes. That gave the Blazers a golden opportunity to come back and then the lead suddenly evaporated and got down to three. The Blazers made some big shots down the stretch, but they were nowhere without the Hack-A-DAJ. And it also seemed to affect Jordan's game, too. I do wonder if Rivers will play that differently next time considering he had already done a several possessions of the strategy but Portland just could not score. Jordan went 0-for-8 at the line during that stretch from the 4:01 mark to the 2:38 mark and the Clippers had actually increased their lead by two points. The Blazers love the Hack-A-____, so if they face the Clippers or Rockets, I'm sure we'll see it some more in the playoffs.
Meyers Leonard got the first call off Portland's bench as the fourth big man. However, Stotts quickly switched to Dorell Wright to better match the size that the Clippers were playing with. They went small a lot around Jordan and Portland answered later with the small line-up to close the game and give them the win.
Batum finished with 20 points, 8 assists, 7 rebounds and two blocks. Other people who have had a line with at least 20 points, 8 assists, 7 rebounds and two blocks this season: James Harden (5), Eric Bledsoe (3), LeBron James and Michael Carter-Williams. He had a great first quarter, scoring 10 points and dominating against Jordan Hamilton and Hedo Turkoglu, as he should. The Blazers getting back a dangerous Batum was key to their hopes of a deep playoff run. And Batum showed some things tonight that had been dormant, especially the confidence to attack late in the game.
All of the games between these teams have been close so far this year. Portland had some key mental lapses back in November and the Clippers made plays in a close one in Portland. Portland got lucky tonight, there is no way around that, even though they were brilliant and calm down the stretch. But as always in the NBA, you need a little luck.