Blazers guard Damian Lillard named Western Conference Player of the Week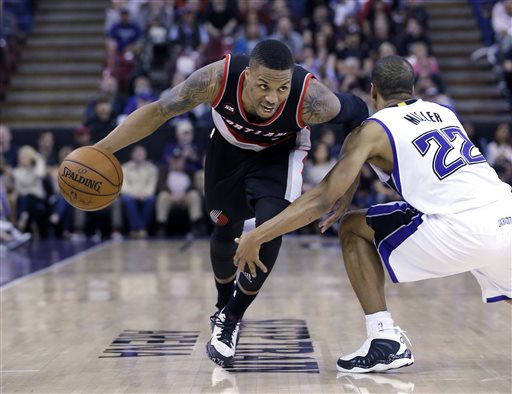 It's been a pretty good last few days for Portland Trail Blazers guard Damian Lillard. First, there was news that he will receive his Bachelor's Degree from Weber State and then Monday afternoon the NBA announced that he was the Western Conference Player of the Week.
Lillard averaged 26 points, 4.7 rebounds and 5.7 assists on 50 percent shooting from the 3-point line and 49 percent shooting from the field. The Blazers went 3-0 on the week including two impressive victories at home against San Antonio and Oklahoma City.
Lillard had struggled for about six weeks to get a shot to go but was lights out last week as it appears that poor stretch of shooting is behind him. Lillard's 31 point game on Sunday was his highest scoring game since Jan. 11, which followed a 29 point outing Friday.
This was the second time this season and the second time in his career that Lillard was named Western Conference Player of the Week.
Another milestone of note for Lillard this week was that he set a new NBA record for 3-pointers in a player's first three seasons, which was previously held by Golden State's Klay Thompson. With 24 games to go, Lillard has a lot of time to build on that record.
Lillard beat out Oklahoma City's Russell Westbrook, who had a historic month of play. The Blazers 3-0 record on the week and the Thunder getting two losses and Westbrook missing their game Sunday vs. the Lakers were likely factors into why Lillard won the award.
Other nominees for the Western Conference included Golden State's Steph Curry, Houston's James Harde, DeAndre Jordan and Chris Paul of the Clippers, Tyreke Evans of the Pelicans and Phoenix's Eric Bledsoe.
Lillard was clutch in the late stages of Sunday's win at Sacramento by making some clutch shots to end a late rally.
Lillard is averaging 21.6 points, as well as career-high's in rebound percentage and assist percentage. Lillard is also the team's leader in Win-Shares at 8.5.
Boston's Isaiah Thomas took home the honors for the Eastern Conference.