The Scouting Report: at Sacramento Kings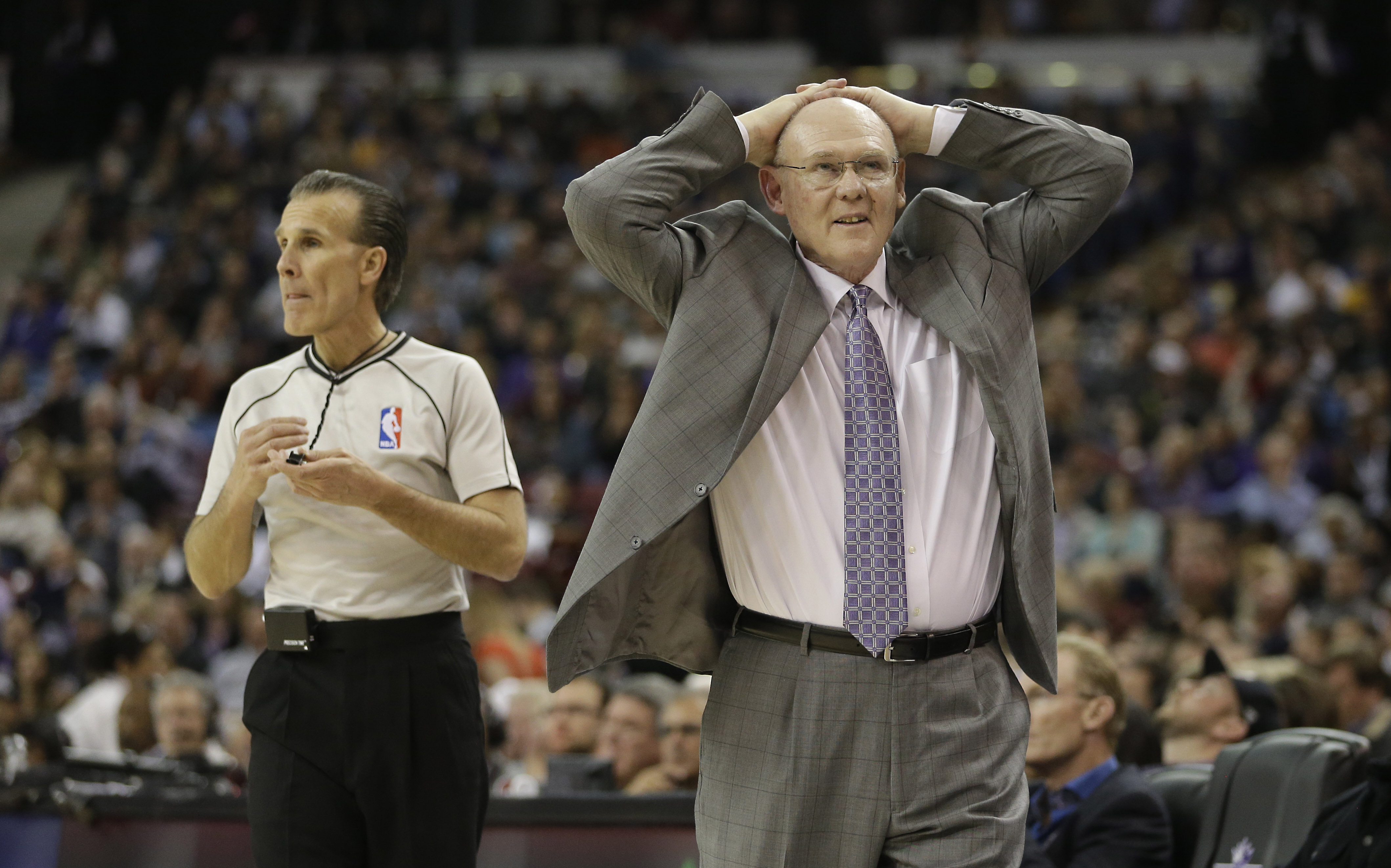 Projected starting line-up: Ray McCallum, Ben McLemore, Rudy Gay, Jason Thompson, DeMarcus Cousins out in public
New additions: Head coach George Karl, Andre Miller Ph. D
The Sacramento Kings are a Western Conference basketball team, this we can confirm.
What  is going on with them I'm not entirely sure. But they have finally selected a new head coach after making poor Tyrone Corbin coach the team for a few months after the team decided to fire Mike Malone, who got the Kings off to a winning record start.
The Kings signed Karl during the All-Star break and then after that, the traded for one of Karl's all-time favorite players and former Blazer Andre Miller. Miller had been cut out of the rotation in Washington and the team used a first round pick on point guard Ray McCallum and they needed to give him more playing time, so they sent away Ramon Sessions.
Other than what's going on with Karl and their new addition to the bench in Miller, there isn't a whole lot else to look at when talking about the Kings. In some ways, it may be difficult for the Blazers to scout the Kings. They took four 3-pointers in their last game! FOUR! But if Cousins is back it doesn't take someone who watches basketball professionally to say what the Blazers have to deal with if he plays.
The Kings are at their best when playing a style that's aesthetically unpleasing to most, mostly because it allows Cousins to flourish. They were succeeding with that style until their owner wanted "basketball Jazz" while ignoring the opinion of his Louis Armstrong. The Kings are at their best when Cousins can control the game and generally, that's been at a slower tempo. Their tempo has gone up since November so much to the point that they are now in the top-ten in pace.
So, there are a lot of things that the Kings need to figure out. The Blazers won the last game against Sacramento, without Aldridge, mostly because Cousins fouled out in the last few minutes. If Cousins misses the game after missing their game against the Spurs on Friday.
If Cousins doesn't play, the Blazers should have no trouble making quick work of the Kings.
Rudy Gay has also been a Blazers-killer so far this season, averaging 33 points per game against the Blazers. He went off in the last meeting against the Blazers but that was before the break and before Batum got some peace of mind back in his life and his game.
The match-up between Batum and Gay should be much better than it has been lately as Gay has dominated the first two meetings.