Trail Mix: Blazers 111, Spurs 95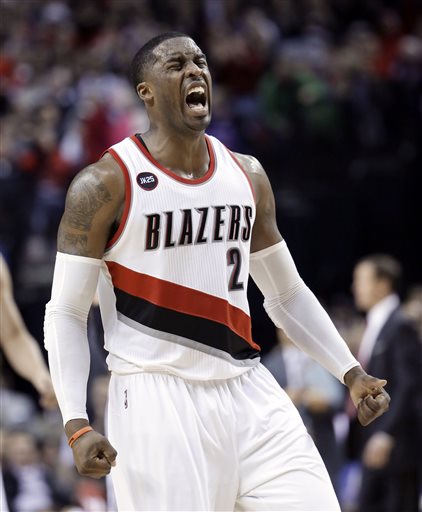 From the jump, the Portland Trail Blazers went right after the defending champion San Antonio Spurs. The fruits of their labor was a 111-95 win, which was their first win in two calendar weeks.
In those two weeks, a whole lot happened, both on the court and off. But the Blazers finally got back into the win column Wednesday with one of their better performances of the season against a good team.
Of course, this brings us to the Spurs. They are still a good team and are 11 games over .500 but something seems to be missing.
Tony Parker was 1/8 and the focus after the game continued to be on him.
"It's tough right now," Parker said. "It's tough. Since I've been with the Spurs I've never really experienced that in a three game, four game stretch. We're not really making shots and it starts with me, I'm not making shots and our three point shooter isn't making shots and then everything is tough. We just have to stay positive. I was excited after the Clippers game because even though we lost, it was a great game and I felt good and now it's just struggle time. Sometimes we've just been so successful, you just have to stay positive and hope it will turn."
The Blazers beat the Spurs for the 11th time in 13 regular season, as The Dean Kerry Eggers reminds us. So this wasn't exactly a groundbreaking win. But it was a win that both teams needed. And Portland did their jobs while the Spurs are making people wonder whether they are fading.
Matthews had a season high. Batum strung a pair of games together, arguably looking better than he did when he hung 17 against the Grizzlies on Sunday with 15 points, nine assists and four rebounds.. Remember Damian Lillard's terrible shooting slump? He was an efficient 3-of-4, had seven rebounds and five assists, the type of effort that had become ho-hum only a few months ago.
"We played hard. We got stops and got out and moved the ball around. We played Trail Blazers basketball," Lillard said. "We got the W now, it's great momentum going into a tough game."
"It's a combination of things," head coach Terry Stotts said. "We have a lot of good shooters. I thought the shots were good, I thought the ball movement was good. You know, in the past, we haven't been able to get on rolls that I think that we can. I thought tonight we did. We've been kind of waiting to break out. But in comparison to say the whole season, I don't think we've shot the ball as well. I think the shots in general have been good. It was good to have a break out night."
The Blazers haven't shot the ball this well. Wednesday was the first time in the 2014-15 season that they've shot 50 percent from the 3-point line and from the field all season. Their offense has been a shell of itself most of the season, but especially recently, and the hope is that it was a sign of things to come.
The Blazers had six guys score in double-figures and Arron Afflalo started to look more comfortable in finding places to get aggressive in Portland's offense.
"What I like about him right now is that he's picking his spots when to be aggressive," Stotts said. "Obviously he wants to fit in, but he's picking his spots and taking advantage of them when they're there, rather than just trying to fit in. We need him to be aggressive when he's in there and I thought he felt a little bit more comfortable in some of our sets and just being out on the court with the other guys on the court."
Matthews exploded in the fourth which led to this.
https://vine.co/v/O2bE11iYMdA/embed
Other things
Stotts went with basically a positionless 2-3-4 rotation with all three of Batum, Matthews and Afflalo. Batum was the nominal power forward in the line-up. Stotts didn't anticipate going to that line-up. "Pop went small. We had Meyers and Chris in there. I just thought it was best to kind of match-up. I thought Meyers on Kawhi was a tough match-up so I wanted to go with Nic."
Lillard was asked about Batum's start and joked that playing against his French national team mates like Diaw and Parker may have motivated him.  "I mean he did everything. He made plays he rebounded, he blocked shots. He scored. He was getting deflections and things like that. I don't know if it was because he was playing against those French guys or whatever but he got off to a great start."
Matthews was asked what it meant to win the series against the Spurs. And Matthews answered properly. "Nothing. It means nothing. They're built for the playoffs and built for runs. It means something in the fact that we got 3 wins. But it means nothing because once the playoffs start it's a whole new series." The Blazers have learned their lesson by now when it comes to regular season wins against San Antonio. "We were 2 out of 4 with them last year with a chance to be 3 out of 4 last year," Matthews said. "You know, they were a different team in the playoffs. It doesn't mean anything other than we'll take a win anytime."
Batum said he felt Matthews' 3-point explosion coming. "That was big," Batum said. "Especially after the last game he was 0-7, he was kind of mad. And you know when he's mad, so I was ready for today, I knew he was going to be ready. That was good for him. I was happy to see him make all those shots."
Both Popovich and Tim Duncan were asked about Jerome Kersey, who was on their first title team back in 1999. Popovich: He was a big part of our championship just because of his maturity, his experience, his toughness…He was a great teammate for everybody. Guys like Timmy learned from him and respected him because of the way he conducted himself, and that waqs huge when this group was really young. Like everyone else, just shocked when we all got the news, but he was a huge factor for us." Duncan: "I loved Jerome. Great energy, always smiling. He took the game very, very seriously and took winning and losing very seriously and I loved his approach to the game int hat respect. I was just absolutely floored by the news, I had a great conversation with him the last time we [the Spurs were here, five or ten minute conversations. To hear that is just unbelievable." Popovich and the Spurs coaching staff all wore the same JK25 pins that the Blazers staff wears, identical to the patch the team will wear on their jersey's the rest of the season.
I asked Arron Afflalo what he thought about the iPad's the Blazers use that contain their scouting reports. According to him, the Blazers are the first team that he's been on that have their scouting reports on something other than traditional paper. He said he doesn't pay too much attention to a lot of those things. The iPad's are customized for each player who uses them. Guys like Aldridge, Matthews and Meyers Leonard are basically religious users of the iPads which could contain anything from heat maps to video clips.
Today we had the launch of the Blazer Banter public kave in the FanKave app. It was a pretty cool change for a place for conversation during games other than twitter and we are going to be doing more in the kave in the future.
Great friend of Blazer Banter, ESPN Insider Kevin Pelton published his great analytics rankings of the NBA.
Up next for the Blazers is Oklahoma City. They will be without Kevin Durant whose season may be in jeopardy. But they still have Russell Westbrook. "Russ is playing great. Like an MVP right now and we got to be prepared for that team because he's making everybody else better also."
Your Western Conference standings as of Feb. 26: