The Scouting Report: at Utah Jazz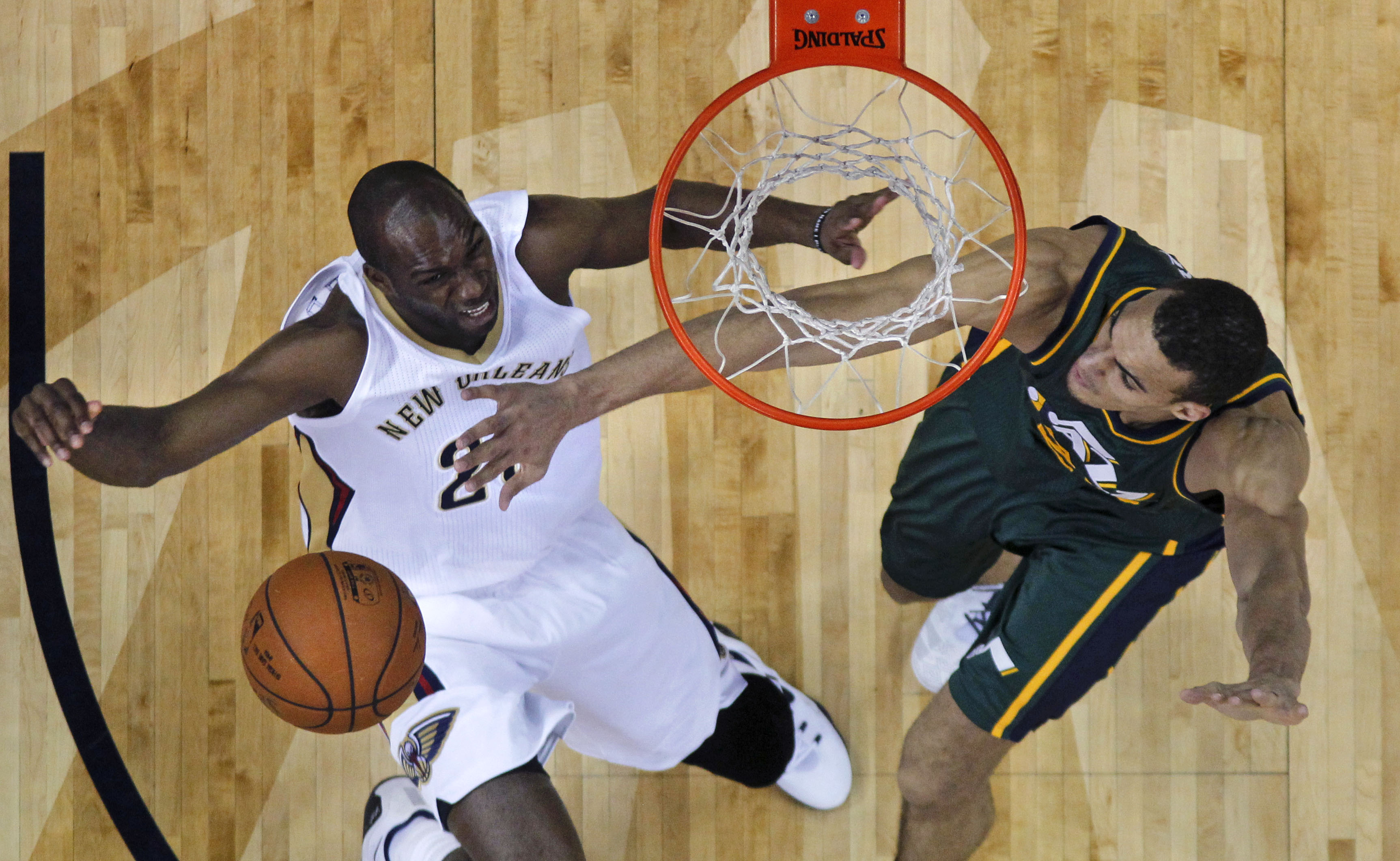 Projected starting line-up: Dante Exum, Joe Ingles, Gordon Hayward, Derrick Favors, Rudy Gobert
Departures: Enes Kanter, Steve Novak
The Utah Jazz sent starting center Enes Kanter packing on Thursday just before the NBA trade deadline. They also shipped out Steve Novak and in return they got back Grant Jerrett and veteran Kendrick Perkins, who was subsequently bought out.
But the reason why it was so easy to deal Kanter and not pay him the big money that he wanted, was because they already have a starting caliber front court for the future in Rudy Gobert and Derrick Favors.
Favors signed an extension just before last season and Gobert aka The Stifle Tower, has been a revelation.
Opponents are shooting 37.8% at the rim against Gobert. But, as Gobert said, sometimes the NBA's best rim protector gets dunked on.
https://vine.co/v/OFiqLLBjD7v/embed
Gobert also managed to single cover Aldridge for much of the game. His long arms were able to bother his dribble and block his fadeaway jumper. What makes Gobert even scarier than Anthony Davis on defense is a pest-like quality that Davis doesn't quite have yet on defense.  Gobert seeks to disrupt passes and dribbles because he can almost at will.
With Kanter out of the fold it will be interesting to see where Quin Snyder goes with his rotation and how many minutes he lets Gobert play.
Gobert bothered Aldridge when he was on him and while Aldridge finished with good numbers and had a good fourth quarter, he wasn't exactly pleased with his performance after the game.
But Aldridge is always one to study his opponents so I should expect nothing than a throwback battle at the pivot between these two when Portland has the ball.
Defensively, the Blazers have to contend with Gordon Hayward who is an absolute monster in every facet of the game. In the open court he seeks out driving opportunities and 3-pointers and he will also get fouled. Hayward will be priority number one for Portland's defense.
Dante Exum is still finding his sea legs as the starting point guard but it's a role that suits him and it allows back-up guard Trey Burke settle into a scoring role coming off the bench. Burke worked well against the Blazers coming off the bench and played very well in his match-up with Steve Blake.
Of course, the Blazers players who were just acquired, Arron Afflalo and Alonzo Gee, will not be available for Friday's game against the Jazz. The Blazers envision them playing on Sunday against the Memphis Grizzlies.
The final stretch begins tonight and even though the Jazz are lowly and won't make the playoffs, they are a young, talented team that looks primed to be a tough opponent for years to come.
This is Portland's first trip to Salt Lake City this season and the Jazz are 10-15 at home on the season.