Report: Hotel lawsuits could block Portland's bid to host NBA All-Star Game in 2017, 2018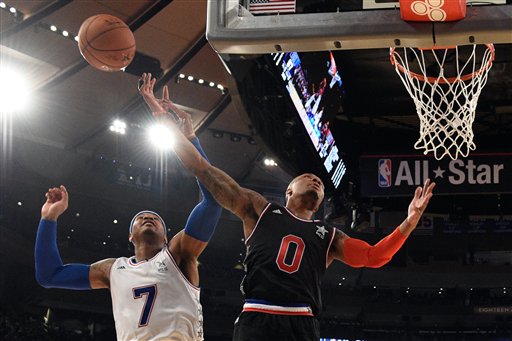 In a press conference in Brooklyn, New York last Saturday, NBA commissioner Adam Silver expressed concern with regards to Portland as a host for a future NBA All-Star game.
From Sports Illustrated's Ben Golliver:
"One of the issues historically for communities like Portland is frankly the number of hotel rooms," he said.  "We have 1,800 credentialed members of the media alone in need of hotel rooms. Then we have thousands of guests who come to town as well. I would love to end up having an All‑Star Game in Portland. It's really just a function of ensuring that we can fit in town."
The Blazers and the City of Portland put together bids for the 2017 and 2018 games.
Aaron Mesh of the Willamette Week reports that Portland's Metro President is concerned that lawsuits could push back the construction of a 600-room Convention Center hotel beyond February 2018.
Two lawsuits by the project's opponents, led by downtown hotelier Gordon Sondland, are holding things up. Both cases—which seek to halt public funding of the hotel—are pending in the Oregon Court of Appeals. 

Silver's condition—awarding Portland the All-Star Game only if the city builds a new Convention Center hotel—gives Metro and the Blazers a valuable bargaining chip in trying to negotiate with Sondland to drop his lawsuits.

Metro President Tom Hughes says the clock is running out on landing the all-star game.

"We are working really hard to meet the 2018 deadline," Hughes tells WW. "However, we are in danger of missing that window of opportunity. Every day the opponents delay the project makes it harder to meet the NBA's deadline."
Having available hotel space, especially concentrated hotels, has always been a major sticking point for the NBA regarding Portland's candidacy to host the All-Star game. A hotel by the convention center would be much easier to transport people back and forth.
Blazers President and CEO Chris McGowan told The Columbian in August of 2014, when the Blazers placed their bids, he wanted the league to keep an open mind and know that they have enough hotel rooms to accommodate the game.
For McGowan, the only thing he says that can be done outside of submitting the bid itself is the hope that decision makers at the NBA offices in New York keep an open mind.

"The thought of coming to the Pacific Northwest first and foremost," when asked what else he and the Blazers can do to try and convince the biggest celebration of basketball to Portland. "Reiterating that we have enough hotel rooms. Last time we placed a bid there weren't enough hotel rooms. 1,500 hotel rooms have been added and we wanted to make the league aware of that."
Over the weekend in New York, they had two different hotels for media credential pick up, a players hotel and an official media hotel.
So, the convention center Hyatt would likely be just one of many places for the NBA to set up shop during the weekend.
It will be interesting to see how this develops as it appears that this is the major sticking point for the league in terms of Portland's All-Star game bid.