VIDEO: LaMarcus Aldridge and Damian Lillard 2015 All-Star Game highlights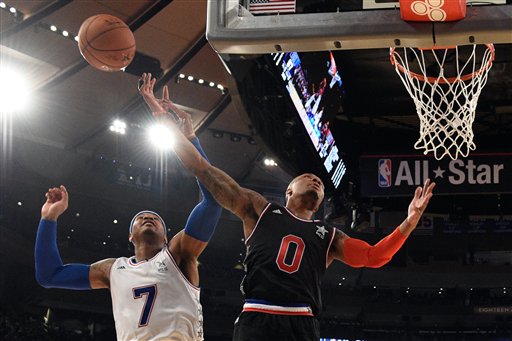 [youtube http://www.youtube.com/watch?v=uvjL-Xqz4J8]
The great DawkinsMTA of YouTube put together the highlights of Portland Trail Blazers LaMarcus Aldridge and Damian Lillard.
The video includes all of their baskets from last night's affair in the Big Apple.
Damian Lillard's best highlight may have been his freestyle on Sway In The Morning.
[youtube http://www.youtube.com/watch?v=kr_Z1J0LE-s]
Also, if you'd be so kind, check out the two pieces in The Columbian that came out of the weekend.
Wesley Matthews' journey to the NBA's 3-point contest as told by Stephen Curry and Kyle Korver.
And our story from last night's game where LaMarcus Aldridge had his best All-Star performance.
But now, it's time to get out of New York.
Reminder that the Blazers are off until Wednesday.