Trail Mix: Blazers 108, Suns 87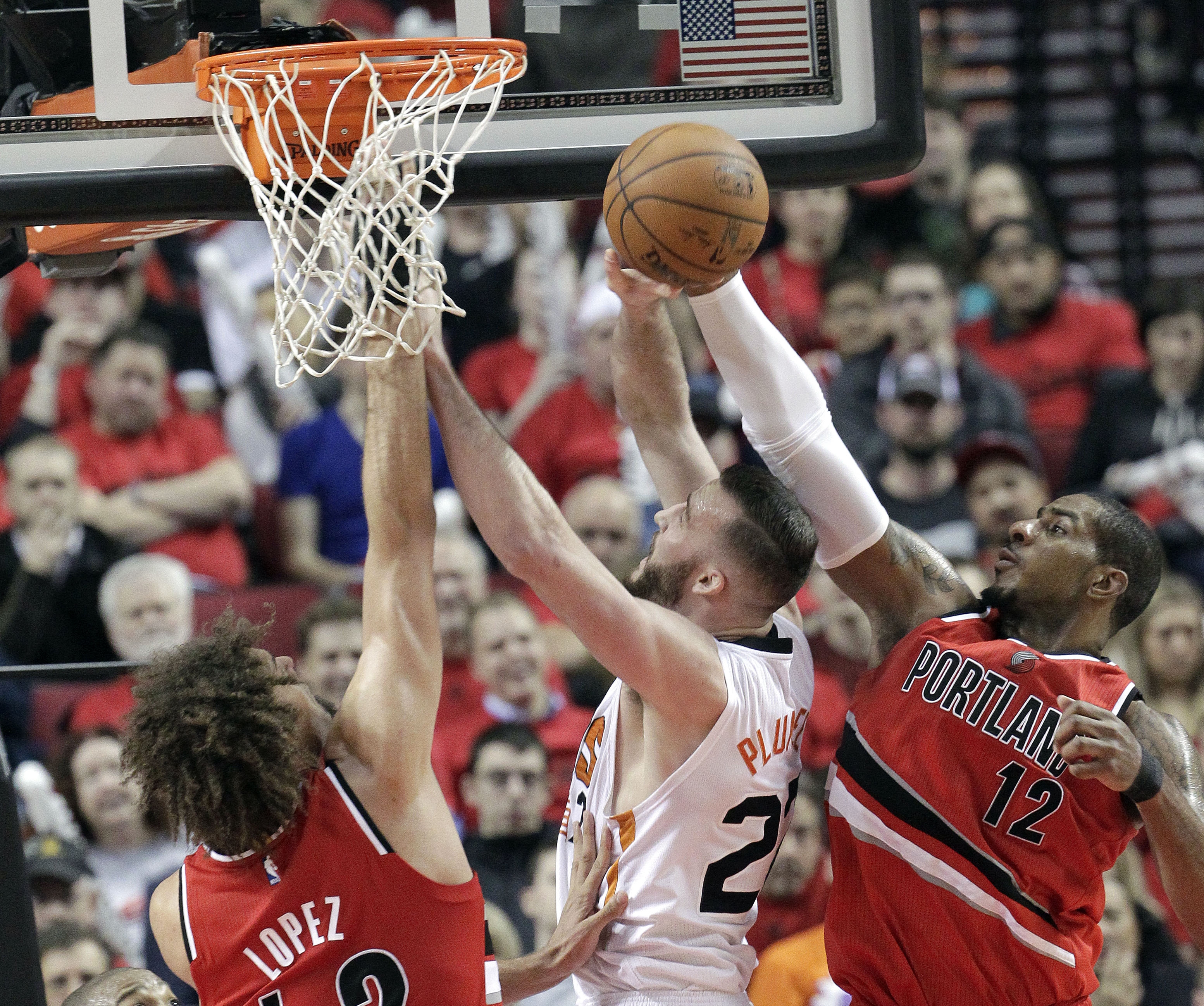 The Portland Trail Blazers defeated the Phoenix Suns in surprising blowout fashion 108-87, giving them their first win over a team in the Western Conference playoff picture since Dec. 19.
Nicolas Batum had a game-high 20 points to go with four rebounds and seven assists.
But did you see how the Blazers bench played in this game? If you'd brought a being from another planet along to the game they would have thought the Blazers, not the Suns, had one of the league's most potent benches and that a large man wearing a beanie with a scraggily beard was a kind of hero to these people (SHEEEEEEEEED).
The Blazers  demolished the competition with a bench heavy unity in the fourth quarter that allowed the starters to build their lead into double-digits and hold it there. And it was the bench heavy unit of Steve Blake, Wesley Matthews, CJ McCollum, Meyers Leonard and Robin Lopez that did the damage.
The Blazers led by as much as 19 in the first half, mostly because the Suns struggled to make shots and get out of their own way. Eric Bledsoe, who scored 33 in the last meeting, had just 17 and six turnovers.
But by the start of the fourth quarter, Suns only trailed by a point and had even taken the lead for a time in the third quarter.
A Blake 3-pointer kickstarted the Blazers on their run and the unit played well together and well off each other. Leonard consistently ran the floor hunting for easy buckets and even the safety Orange on the Suns jerseys couldn't save them. Robin Lopez ate up Suns drives and got offensive rebounds. McCollum worked well as a safety valve and in the pick and roll and Matthews was Matthews.
"I didn't think we'd see a game where both teams struggled offensively," head coach Terry Stotts said. "I thought both teams played pretty good defense. For the most part we were able to pull away in the fourth quarter. I thought the group that was int he game at the beginning of the fourth gave us a nice jump. Got the lead up and we were kind of able to expand on it."
"It was a good win against a Western Conference team that we will play a couple of more times."
The Blazers have been known for their fourth quarter heroics but this was heroism of a different kind against an opponent that thrives during this time of the game. Leonard and McCollum both had wonderful games off the bench.
McCollum got his floaters and drives to the rim to fall. With Chris Kaman out due to back pain, Leonard played both the back-up center spot and power forward. He played with Aldridge and Lopez and basically any line-up that had Leonard in it was a positive Thursday. He grabbed eight rebounds and had eight points with no 3-pointers, something almost everyone has come to expect from him.
"You know I was glad CJ had a nice little run in the first half," Stotts said. "He made some shots, he was confident. That's what we need him to do. He's a terrific scorer, we need him to come in and do what he does well. I thought Meyers played a great game at both ends of the court. He runs the court consistently. He's locked in on the defensive schemes that were in. For the most part he's been rebounding the ball well at the defensive end and that was important for us."
If Leonard continues to play like this it's going to get harder for Terry Stotts to justify not playing him more even when everybody is healthy. And yes, Leonard is having a 40-50-90 season in terms of 3-point percentage, field goal percentage and free-throw percentage. However, it looks as though Leonard will not be able to qualify for it this season barring an explosion in his usage rate.
To be admitted to the 50-40-90 club, you have to qualify by making 300 field goals, 50 3-pointers and 125 free-throws. He has a chance with 3-pointers but it will be hard to achieve the other two, at least this year.
McCollum looked to be in a nice rhythm before breaking his hand in November and it looked like he hadn't really gotten it back, at least in a game where the Blazers won. And he appeared to be more comfortable tonight. Portland's bench needs scoring and if McCollum can provide consistent, efficient offense along with solid defense he should earn minutes.
The third wing spot has been an issue for the Blazers all year long as everybody whose played it hasn't earned consistent minutes. McCollum's scoring, as Stotts' comments indicate, is a way he can do that.
But the Blazers legitimately outplayed one of the league's best benches tonight, no gimmicks. And as the starters continue to regain their rhythm, the bench providing positive play when they aren't at their best like tonight, will be huge as Portland navigates the minefield of the Western Conference.
Batum had a solid outing and a near triple-double in Portland's win over Utah on Tuesday. He continued his success against the Suns against whom he is averaging 23.5 points per game during a season where he's scoring his fewest points per 100 possession of his career. Batum had to be aggressive tonight as Damian Lillard continues through the toughest shooting stretch of his career.
Stotts on Batum's night: "He made big shots. Again, I thought he mixed it up. HE took the ball to the basket a few times. They were going under his screens, still made aggressive drives to the basket. He took tough shots that were there. I thogutht that he started defensively well on Bledsoe. He was locked in defensively. So, he had a good all around game."
The All-Star snub got a lot of attention but soon there is no doubt that Lillard's struggles will come into focus if they don't turn around. Lillard didn't hit a 3-pointer on Thursday for the second straight game. It's only the second time in his accomplished 3-year career that he has failed to make a 3-pointer in consecutive games. And the other time that happened was only a few weeks ago in losses to Phoenix and Boston. Stotts said he didn't see anything going on with Lillard's shot. Lillard told The Oregonian's Jason Quick that he just needs to keep shooting.
LaMarcus Aldridge passed Sidney Wicks for double-doubles in franchise history with 19 points and 13 rebounds. "It's tremendous," Stotts said. "He's had a such a remarkable carrier already with the Blazers. The Blazers, it's a great franchise and to be on the top of any of these lists, he's on the top of a lot of them already, but I mean, he's had a great career so far and he's got a few years ahead of him too."
Yes, Rasheed Wallace was back in Portland tonight to take in the game. Wallace sat near courtside and appeared to be enjoying a Widmer Hefewizen. He was shown on the big screen and it led to a mix of boos and cheers of "SHEEEEED". Yes, there were both. But then after he was initially showed on the screen, the rowdies in section 314 started a chant that soon filled the whole stadium of "RA-SHEED WAL-LACE". Wallace then stood and waved to the crowd. It was pretty cool.
The Blazers dominated the Suns at the rim and had 34 shots inside the restricted area. "Some of it might be some of their defensive coverages," Stotts said. "Obviously Robin at the rim makes a difference. Transition, that's shots at the rim. Offensive cutbacks are shots at the rim. I think it's a combination of a few things." Here's a visual representation: 
I haven't done a food review in a minutes and that's mostly because I've got them on a back log. But I do hope to roll some reviews out over the All-Star break and we will review SOMETHING from Barclay's Center while Wesley Matthews tries to win the 3-point shootout. From what I've heard from sources, Brooklyn is the class of the NBA's arena food so of course I have to try.
Yes, I will be at All-Star Weekend this year trying to give you all the best coverage I can of the weekend Blazers-wise with Matthews and Aldridge. We are just about a week away. I've already Grizzlies owner Robert "The Answer" Pera and his shooting sleeve down as my favorite to knock off 3-time MVP Kevin Hart. The guy's got a chip on his shoulder. Tony Allen wouldn't play him one-on-one. He's got the nobody believes in me storyline going for him.
The Blazers head to Dallas to kick off a brutal back-to-back Saturday. They'll play the Mavericks who dominated the Kings tonight before playing the Houston Rockets Sunday. The Rockets gave the Blazers their biggest loss so far this season, beating them by 15 back in December. The Blazers only have three more games before the All-Star break.
Your Western Conference standings as of Feb. 6: