Blazers guard Wesley Matthews selected to compete in NBA 3-point contest
Portland Trail Blazers guard Wesley Matthews was officially named as a participant in the NBA's 3-point contest during NBA All-Star weekend next Saturday night in Brooklyn.
Matthews, the NBA's leader in 3-pointers made and attempted, will compete against Golden State's "Splash Brothers" Stephen Curry and Klay Thompson, defending champion Marco Bellinelli from San Antonio, Atlanta's Kyle Korver, JJ Redick of the Los Angeles Clippers, Cleveland's Kyrie Irving and Houston's James Harden.
Matthews is the 6th player in Blazers franchise history to be selected to compete in the 3-point contest joining Damian Lillard (2012), Cliff Robinson (1996), Terry Porter (1991, 1993), Clyde Drexler (1991) and Kiki Vandeweghe (1987).
Here's a visual representation of the field.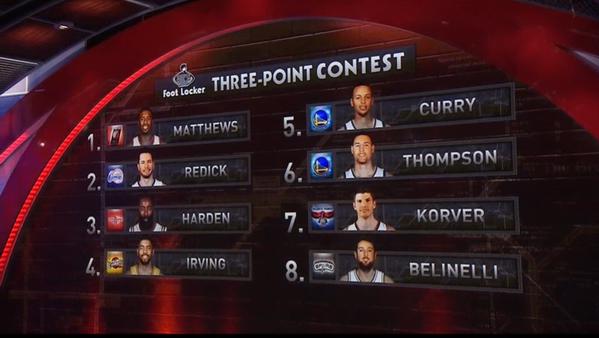 Earlier in the week Matthews was seen practicing for the shootout with coaches rebounding for him and setting up racks at the Blazers practice facility.
https://vine.co/v/OFuhlJuTLFd/embed
As the announcement was not yet official, Matthews played it coy. "It's just a new shooting drill we're working on," he said.
The 3-point shootout is the third of four events during NBA's All-Star Saturday night which begins at 5:30 PDT.