Trail Mix: Blazers 103, Jazz 102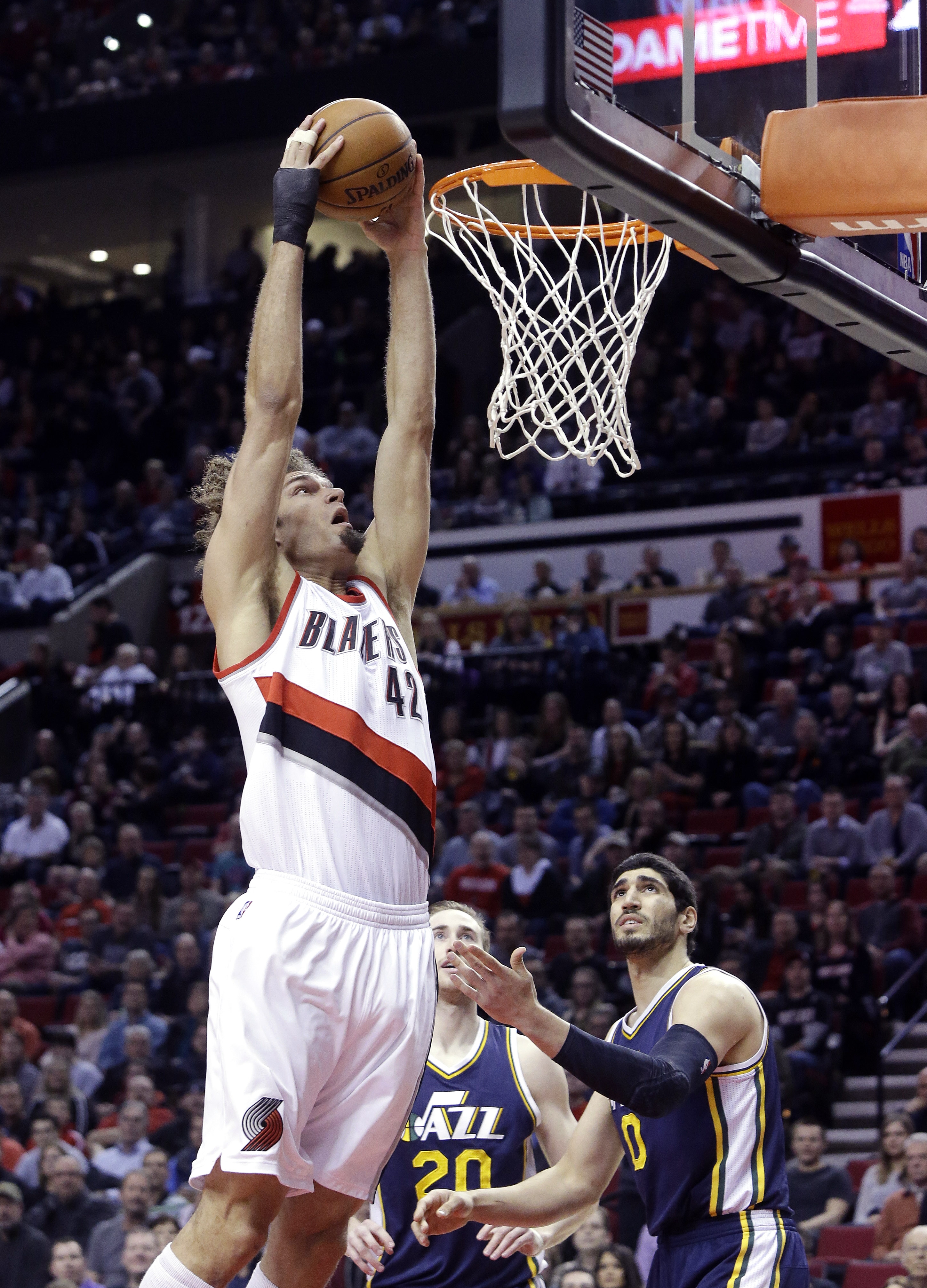 The Portland Trail Blazers got back in the win column Tuesday night at the Moda Center 103-102 over the Utah Jazz. Robin Lopez made his return after missing 23 games with a broken hand and scored 11 points, six rebounds and two blocks in 25 minutes.
Damian Lillard had a game-high 25 points and got out of a bad shooting slump by attacking the rim. But that's only a part of the story and the Blazers, as much as they are characterized by Lillard and LaMarcus Aldridge to the casual NBA fan, it was collective play of the starting five that really gave Portland a shot.
And how Lopez connects things for the Blazers on both ends was shown in so many moments it was hard to count and several of those aren't shown in the box score.
His screens helped free shooters, ball handlers as well as himself, giving Portland a presence around the rim in their starting unit they did not have on both ends. The Blazers don't get to the rack a lot, but Lopez basically only shoots from around the rim and does his job.
One play late in the fourth quarter, Lillard drove the lane and Robin Lopez smartly sealed of Rudy Gobert, giving Lillard a clear lane for a lay-up. Lillard finished with 25 points although he didn't make any 3-pointers. He attacked the rim.
Tonight his two-man game with Nicolas Batum was back and Batum, in a season-long struggle with his game, nearly had a triple-double.
"I missed my first four jumpers so I saw the paint was open," Lillard said. "I was getting into the paint at the start of the game. I was kicking it out for 3's and I was making simple plays. In the 2nd half it just started to open up a little bit more because I was making those plays earlier in the game. And I just had to take advantage of it. "
Lillard punched this powerful dunk on 7-foot-2 Rudy Gobert who was the game's most influential defensive force, acting as a one-man blanket on LaMarcus Aldridge. Aldridge did have six points in the fourth quarter but Gobert denied him the ball and even blocked one of his normally unblockable fadeaway jumper. Gobert joins basically Anthony Davis as the only players who can currently accomplish this.
But Lillard brought the "Stifle Tower" some damn croissants.
[youtube http://www.youtube.com/watch?v=1mOS1uuhUDA]
The Blazers didn't quite ride off into the sunset after the dunk but it also never seemed like they were going to ever lose this game even though they didn't exactly put their foot on the throat.
The final score was a lot closer than the game felt. The Blazers had a possession with four missed shots before Utah's Joe Ingles cashed a transition 3-pointer to cut Portland's five points lead to just two with 9.7 seconds left.
Aldridge made his free-throws on the next possession and then after a couple of chances, Trey Burke made a three-pointer with 0.4 seconds left to cut the game to one.
The game finally ended after a missed free-throw from Lillard.
Lillard's dunk sparked the Blazers on a 16-6 run and the Blazers led by as much as 9 with 3:26 left. The Jazz made it interesting with some shots at the end but Portland found a way. Something they struggled with over the last few weeks.
The Blazers were in a sing-song mood again.
"I got baking soda! I got baking soda!" sang Damian Lillard as quoted the internet sensation "Coco" on the night when Portland got back their "RoLo" was all too fitting.
Things were back to normal for everyone, it seemed. The Blazers got a win before facing three teams currently in the Western Conference playoff that they needed.

So how did Lopez feel to be back on the court: "Any basketball player would prefer to be on the floor as opposed to sitting on the bench, I think. I don't think that's anything special."
Head coach Terry Stotts' opening statement post game "Well first of all, obviously it was good to get Robin back. You could feel his impact on the game from the very beginning. Hopefully we'll be able to ramp up his minutes a little bit but he played the minutes that we kind of anticipated that he'd play."
Wesley Matthews, who had 21 points, on having Lopez back: "Just comfortable. The starting unit – not only does he help the starting unit, but he just helps the team all together because it sets rotations. Everybody is back to what they're accustomed, where they've been playing for so long. He just gives us something that we don't have. He rolls, he's a true grit five-man."
Lillard: "It was great. I think it was obvious how big his presence is for our team."
Batum was elated to have Lopez back. "RoLo is back," Batum said. "That's what it was the first play. Batman and Robin. We're back. Huge difference for me personally. And we miss him. See the difference. That was a good win. A win is a win. Especially right now."
The Blazers outrebounded the Jazz 45-41. Utah has the second best rebound rate in the league according to NBA.com. Stotts liked the numbers but thought Portland could have been better late in the game, which was a concern overall. "For the most part if you look at the box score, it was alright but I thought they got offensive rebounds late. We had a nice stretch in the third quarter where they didn't have any offensive rebounds, but then they kind of got them in bunches and they were able to convert. What did they have like ten second chance points in the second half? (Yes) So I thought on the whole, we did a good job but I thought their offensive rebounding kind of kept them in the game a little bit."
Lillard said he changed his pace against the Jazz, who tend to play lower possession basketball. "Last couple of games I've just been playing fast," Lillard said. "I was playing at one speed. I wanted to come out and be a little bit more crafty. Kind of play with the defense a little bit. Change speeds. And that play specifically I kind of manipulated the defense to where I wanted them to go."
Stotts didn't mince words about Batum, who also shed a great amount of wrapping on his wright arm, and played well. The Blazers need Batum to play at least this good. "He looked like he had good energy," Stotts said. "He was aggressive in his ball handling decisions and in getting out in transition looking to make plays. He flirted with a triple double. Again, I'm sure h'ed like to make every shot, but I thought he played a very good all around game. He was guarding Trey burke at the end. So it was what we need from Nic." Batum was only 2-for-7 from the field but he got to the foul line six times and hit one of his two 3-point attempts. The foul shots are especially big in the context of the Blazers general lack of trips to the charity stripe. The Blazers are second to last in free-throw rate.