Kyrie Irving's 55 points leads LeBron-less Cavs past Blazers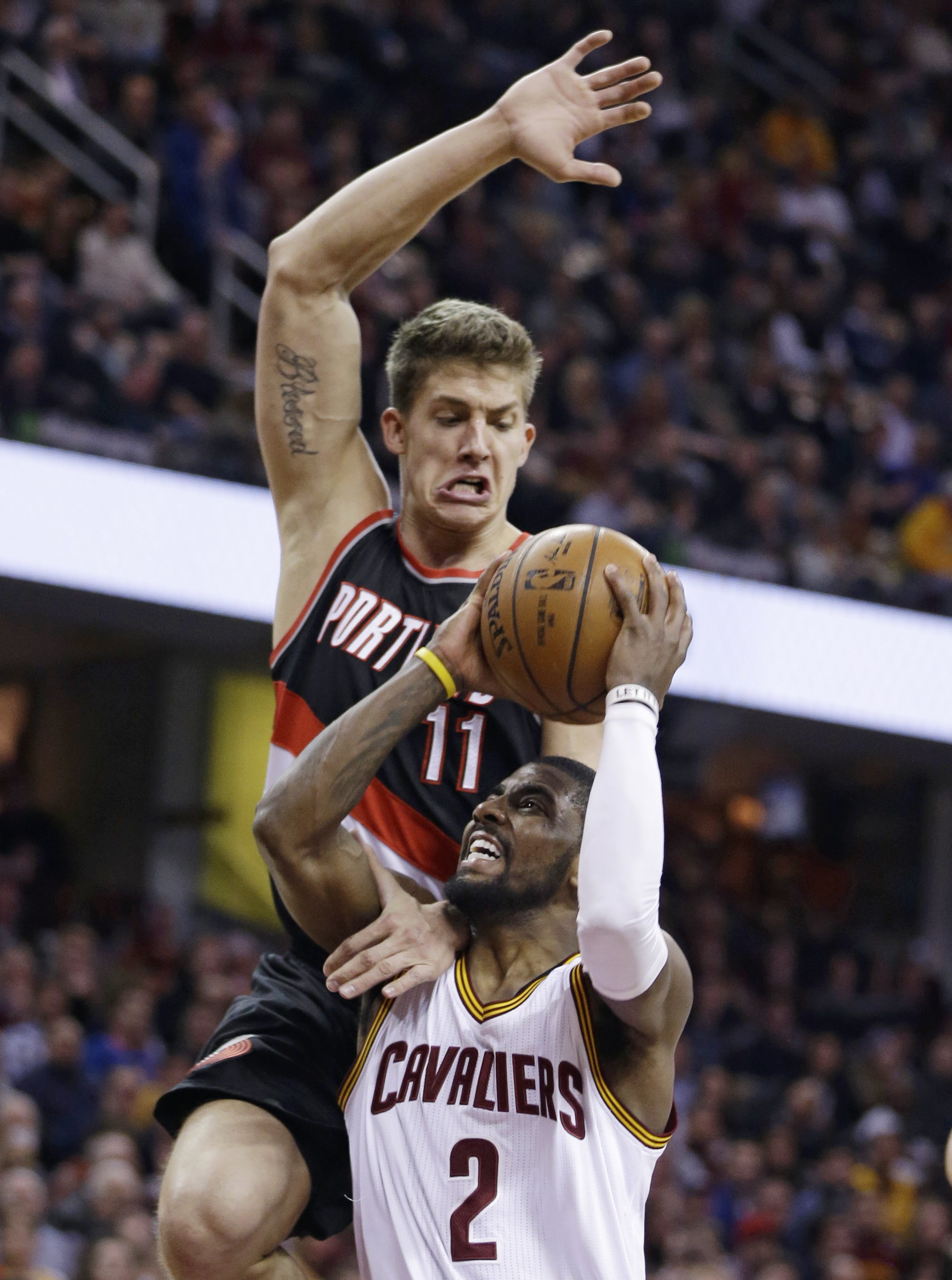 Kyrie Irving dropped an NBA season high 55 points Wednesday to lead the Cleveland Cavaliers to a 99-94 victory. LaMarcus Aldridge had 38 points to lead the Blazers and it looked like Portland was going to steal this one, taking a 3-point lead a couple of times in the fourth quarter.
But in the last 3:44 of the game, Kyrie Irving outscored the Blazers 10-4 to get the win as LeBron James watched from the sideline.
The Blazers had several chances and open looks that we've been accustomed to seeing them make. But Wesley Matthews missed a pair of open looks. Damian Lillard badly missed a look at a corner 3 after he chased down a pass and ran to the line to try the game with under six seconds left. But it was about the shots that Kyrie Irving made tonight, and there were many. Lillard, Steve Blake, Matthews and Batum all took their licks against Kyrie. Following 38 points Tuesday in Detroit, Irving had a career night to extend the Cleveland's winning streak to eight games.
Aldridge carried the load for the Blazers all night long. Portland stayed close even though nobody save for Aldridge could get it going. Irving's historic night helped the Cavs survive a terrible final three quarters from the field for Kevin Love. But Love helped the Cavs outrebound the Blazers 46-39.
While Aldridge kept the Blazers close, they did so with an uncharacteristic fourth quarter from Damian Lillard. Lillard went 0-for-5 in the fourth quarter and looked like he was playing through some nagging injuries.The broadcast showed Lillard getting his right shoulder checked out by trainer Geoff Clark during a timeout but he played the whole game and Stotts still drew up the play to tie the game for him.
Knowing his track record, he'll be in the line-up Friday against the Hawks. A couple of more thoughts from tonight:
Tonight illustrated once again why the Blazers need Robin Lopez. Chris Kaman has performed admirably and Meyers Leonard has made huge strides, but Lopez gives the Blazers another dimension. The Cavs have decent size, but the Blazers shouldn't be getting outrebounded by them. Iman Shumpert grabbed six rebounds off the bench for Cleveland. Having Lopez or Freeland back could get extra possessions that many times lead to open 3's when the defense sucks in. But basically anybody not-named Aldridge was going to hit them tonight. Still, the Blazers had 0 second chance points in the 4th quarter.
Nicolas Batum played tonight after leaving in the 3rd quarter of Thursday's loss to the Boston Celtics. He wore a big sleeve on his right wrist/arm and looked pretty good at times. He was 1-for-5 from 3 and just 3-for-8 from the field. But Batum did lead the Blazers with seven assists and made insightful drives that set up good looks.
Meyers Leonard keeps on bringing a scoring punch off the bench. He scored 9 points but grabbed only two rebounds in 22 minutes. He battled with Tristan Thompson and stood his ground. The Cavs bench out-rebounded Portland's bench 19-9.
Aldridge got fouled down the stretch while attempting a left handed shot with that torn ligament in his thumb. It looked like he got hit on it or fell on it a few times throughout the game. He still carried the Blazers but it will be interesting to see how Aldridge continues to adjust his game and play through this injury.
Despite Irving's 3-point barrage, the Cavaliers actually had a lower effective field goal percentage than the Blazers tonight according to NBA.com (48.8-50.0).